Our latest local chef recipe is this Tijuana-style Grilled Broccolini Caesar from plant-fueled (and filled) feel-good Mexican vegan restaurant Rosalinda. They feature a rotating menu of vibrant, plant-based dishes from Head Chef Matthew Ravenscroft that celebrate the best of Mexico and Baja California, with big, bold flavours and seasonings to create complex dishes from simple, vegan ingredients.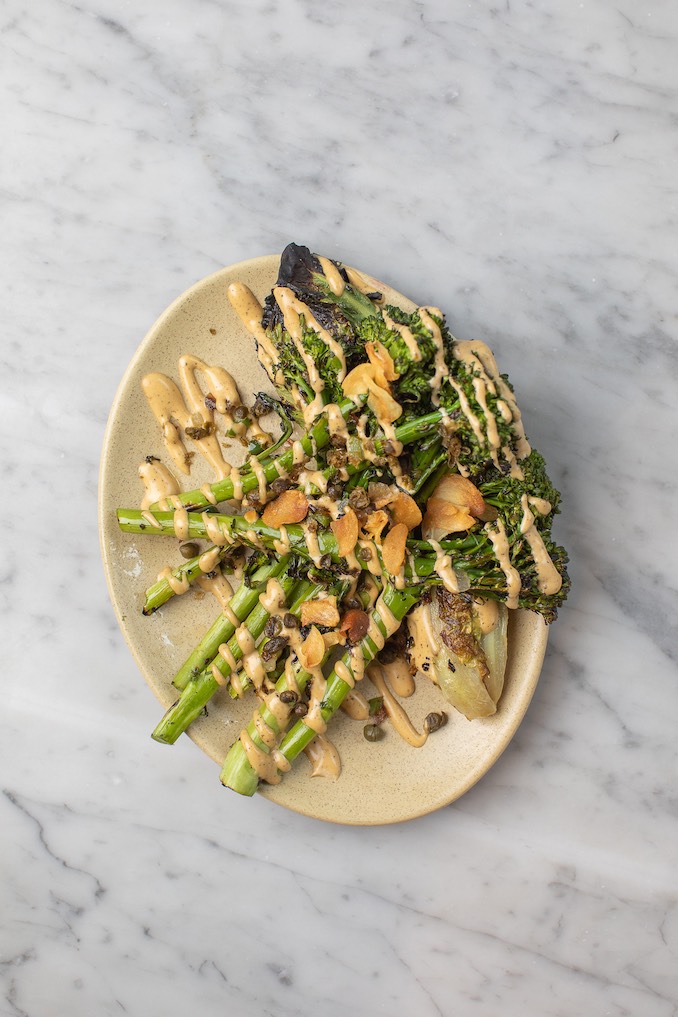 Tijuana-style Grilled Broccolini Caesar Recipe
Serves 4
Ingredients
-2 Bunches of broccolini (Make sure it's firm, has a good snap and is bright green)
-1 head of romaine (we use baby gem, but both are fine)
-1C Caesar aioli (recipe below)
-1C Caper Onion Vierge (Recipe below)
-1/4C Sunflower Seeds (toasted) / some sort of nut, or just something crunchy
-2 TBSP Chopped Dill
Directions
1. Season the greens (both lettuce and broccolini) with oil and salt. Start to heat up your grill (maybe it's winter out there – if this is the case, use a pan) to high heat and until it begins to smoke a little bit
2. Add in your greens and brace yourself for the cracking and commotion it will cause until the greens are charred (know the difference between charred and burnt though).
3. Once you see the good char, remove the pan from the heat (or the broccolini from the grill and place it in a bowl) and add in the vierge – toss it vigorously and give it a couple tastes.
4. Remember that lemon you had before? Now is the time for that lemon! Add some lemon juice, the dill and whatever seed/nut/crunchy thing you decided on.
5. Place a large drop of caesar aioli on the bottom of the plate, and the flat side of the lettuce down on the plate – place the broccolini down on top. Drizzle more caesar aioli along with the onion vierge on top.
6. Garnish with more crunchy things and dill.
7. Pat yourself on the back, pour some wine and have a great time.
Caesar Aioli
Ingredients
(A)
-1 head of garlic
-1 TBSP Dijon Mustard
-1 Teaspoon Ground Black Pepper
-1 TBSP Capers, rinsed
-2 TBSP Worcestershire (vegan options are out there!)
-2 teaspoons Tabasco
-1/4 Lemon zest (only the zest! Keep the lemon for later)
(B)
-1 C Vegan Mayo
Directions
1. Take a head of garlic and roast it at 350F until it is tender, aromatic & getting kind of sticky; remove from oven and let cool entirely
2. Combine all ingredients from (A) into a blender and blend until smooth (for the garlic, cut the top off and just squeeze it all out into the blender)
3. Add the vegan mayo into the blender and combine entirely
Caper Jalapeno Vierge
-1/2 C Diced Shallots (or onions – no one is judging you here)
-3 TBSP Jalapeños, deseeded & diced
-1 tsp Capers, rinsed
-Canola/Olive/your favourite oil (you will need just enough to cover all the ingredients in a pot)
Directions
1. For this, we will be confiting the onions in oil; so combine the onions, jalapeños & capers in a small pot and pour your oil over just enough to cover
2. Turn onto medium heat and bring the oil up to just enough to see a bubble or two slowly come up.
**Keep an eye on this stuff, and never add water to put out an oil fire – I welcome you to google a video to see the mayhem that ensues.
3. Once the onions start to become tender, turn off the heat and remove from the stove entirely – the onions should still have a small amount of bite without being too soft (they will keep cooking even as they are no longer "cooking")
For more information on Rosalinda, please visit their website.