There are more and more option every day for people with dietary restrictions and those looking for healthier alternatives. Unbun Foods is looking to provide more options with their local company that provides certified keto, paleo, plant-based grain-free & gluten-free bakery items.
We spoke with the founder of Unbun, Gus Klemos, to find out more about his company.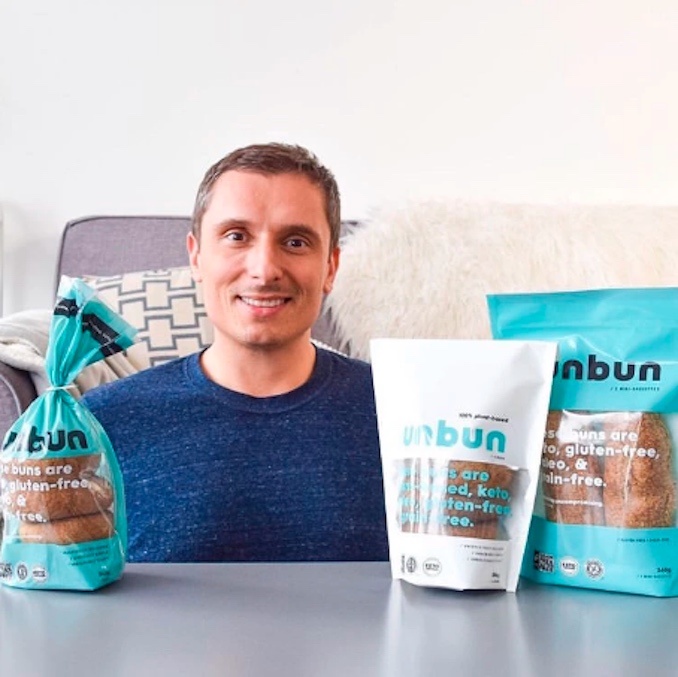 What is your business called and what does it do?
Unbun Foods is an unconventional Toronto based, certified keto, paleo, plant-based grain-free & gluten-free bakery company. The mission is simple: to give people that follow low-carb, paleo gluten-free, grain-free and plant-based diets the option to still enjoy their favourite restaurants, chains, fast food and meals at home without compromising taste or quality of dining experience.
What made you want to do this work?
I wanted to be able to eat the foods I enjoy – especially sandwiches and burgers – without the gluten, and empty carbs associated with buns made from processed white flour. And when I searched for gluten-free options, I found that they were essentially the equivalent of sugar, preservatives, and chemical binders/gums. This problem in the market motivated me to develop Unbun.
What problem does this solve?
Thanks to Unbun, the growing percentage of keto, paleo & gluten-free diners now have a way to enjoy their favourite foods without compromising their lifestyle resolutions or exposing themselves to ingredients they're intolerant to.
Who are your clientele/demographics?
Our products are for anyone looking to enjoy low carb, grain-free, gluten-free, plant-based, keto and paleo products. Whether you have a dietary restriction, follow a keto lifestyle or just want to uncarb your lunch, Unbun products are for everyone. We look forward to bringing our products to even more Canadians as we continue to expand our distribution with restaurant partners and grocery chains.
How does your business make money? How does it work?
Unbun works closely to provide consumers with deliciously uncompromising products. Canadians in all provinces can enjoy Unbun products whether it's at their closest grocery retailer, or leading restaurants such as Pizza Pizza and Mr. Sub. To find the nearest Unbun retailer to you, visit: https://unbunfoods.com/pages/where-to-buy
Where in Toronto can we find your profession/products?
Unbun is proud to partner with foodservice leaders including Pizza Pizza, Mr. Sub, Firkin Pubs and Burger's Priest as well as some of Toronto's favourite restaurants like Planta Burger, Gusto 101 and Kupfert and Kim. Torontonians can enjoy Unbun products at these restaurant partners, and they can purchase our range of Keto Buns, Mini Baguettes and Vegan products at grocers and health food stores across the city.
What is the best question a prospective customer could ask a member of your profession when comparing services? Give the answer as well.
The best question a prospective customer could ask is 'What makes Unbun different from other gluten-free products on the market?' The answer: Unbun represents gluten-free 2.0, our products are free from sugar, preservatives, and the binders/gums present in many other gluten-free products on the market.
What is the best part about what you do? What is the worst part?
The best part is when a customer shares how much being able to enjoy their favourite food again means to them. The worst part? Not being able to keep up with demand!
What is your favourite joke about your own profession?
We make a lot of bun puns!
What do you currently have in the mix? Events? Promos?
Unbun has partnered with Pizza Pizza to offer a Keto Uncrust at more than 420 Pizza Pizza locations across the country. We're excited to be partnering with Pizza Pizza to help provide Canadians with more choices that meet their dietary needs and preferences. In the coming weeks, we will also be launching two new products: tortillas and sliced bread. Expect to hear more from Unbun over the course of 2020.
PAY IT FORWARD: What is another Toronto business that you love?
I am a huge fan of Burger's Priest – not only do they have great burgers (and keto buns), they were one of our very first restaurant partners! My go-to order is a plain hamburger on a keto bun.
For more information on Unbun Foods, please visit their website.