Forget about spring cleaning (for now anyway), today's post is all about spring eating. Goodbye heavy stews, hot teas and thick breads! We're all about light, citrus, raw, and 100% delicious treats this spring.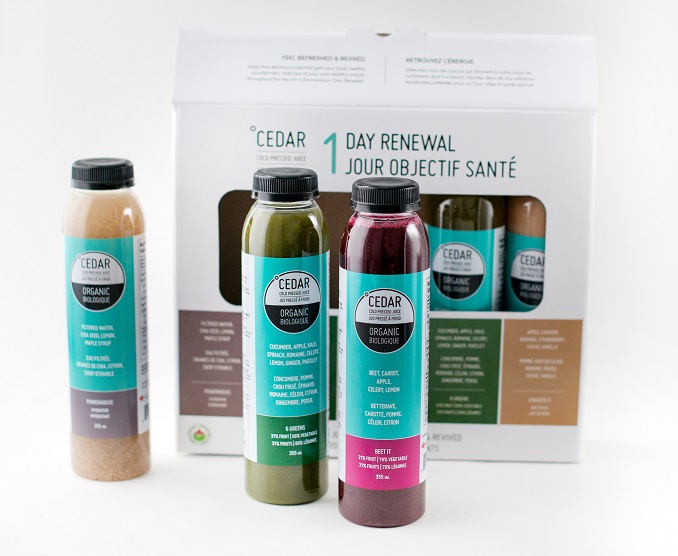 First up: CEDAR Juice. This recently launched 1-Day Renewal pack features five great organic juices that are a surefire way to kick-start your spring eating. Pair the juices with two of your own healthy snacks (recommendations are listed on the box) and you'll finish the day feeling fully refreshed and ready to rock!
I started the day with POWERHOUSE -filtered water, chia seed, lemon and maple syrup- which was a great way to hydrate first thing in the morning. The lemon and maple syrup gave it a nice zip and the chia seeds kept me satiated until the next juice.
A few hours later I reached for 6 GREENS –cucumber, apple, kale, spinach, romaine, celery, lemon, ginger and parsley. Consisting of 69% vegetable and 31% fruit, I was pleasantly surprised by the sweetness of this juice. The cucumber and apple notes are so energizing. I grabbed a handful of HANDFUEL Almonds (more on that later) and continued with my day. No tummy grumblings so far!
For lunch I had BEET IT –beet, carrot, apple, celery and lemon- and loved it! Unlike other beet/carrot juices I've tried, this one didn't feel too thick and I really enjoyed the texture. I caught hints of lemon which really balanced out the flavour.
[rspad300x250]
After another 6 GREENS for an afternoon snack and a small bowl of lentil soup (wasn't on the suggestion list but I made an executive decision), I finished the day with CRACKED IT. A nut mylk made with apple, cashew, banana, strawberry, cacao and vanilla. The apple and cacao came through the strongest for me and again, I liked the lighter texture of this mylk. It had a slight tart aftertaste that wasn't bad but not my favourite.
By the end of the day, I did feel revived and lighter and will definitely be returning to this 1-Day Renewal for an easy cleanse especially at $29.99 a pack. CEDAR also sells single bottles of juices -7 original, 3 organic and 4 smoothies- that can be found at Loblaws and Shoppers Drug Marts. All of their juices are cold pressed, never pasteurized and bottled with a high pressure process instead of heat to keep the nutrients intact. Each bottle has two pounds of fruits and vegetables! Check out their website for more.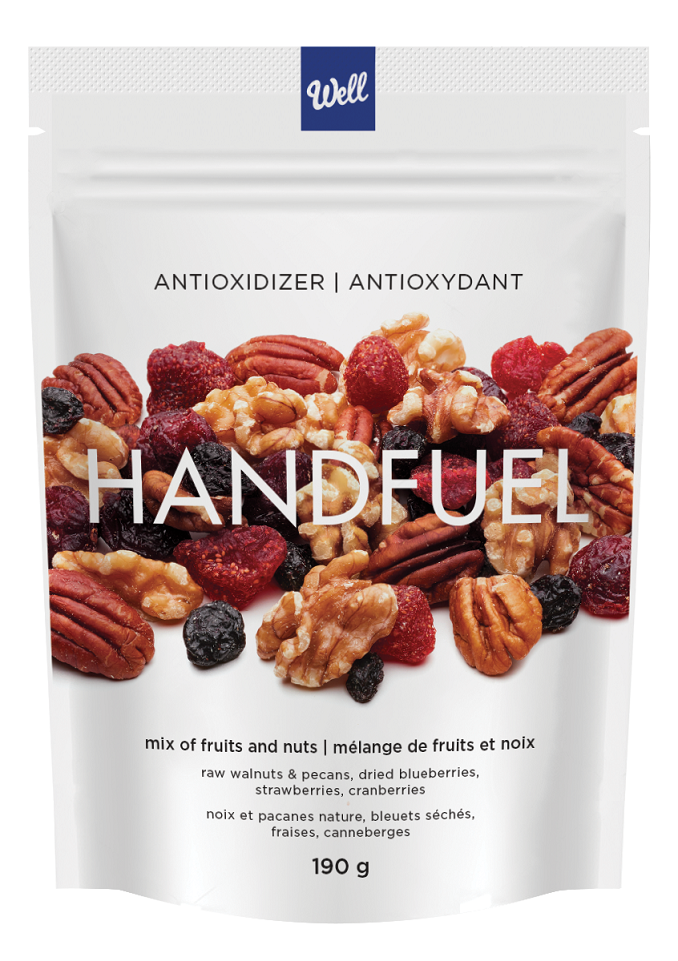 If you are nuts about nuts then you've gotta try HANDFUEL. This local company has turned trail mixes into an art! From the sleek packaging to the delectable mixtures bursting with colour, these treats not only look beautiful, they taste absolutely amazing! Each package is gluten-free, non-GMO and high in fibre.
My favourite mix is the Antioxidizer. With huge chunks of dried strawberries, blueberries and cranberries, the sweetness balances well with the earthy flavour of raw walnuts and pecans.
As soon as it hits your tongue, you'll be hooked on the Energizer! The most unique flavouring of all 4 packages, this mixture has a hint of curry and heat but goes perfectly with the bits of raisins. Whole almonds and pistachios are also a big bonus.
[rspad300x250]
The Vitalizer boasts tart cherries and hazelnut, which brings me to a small crepe shop in Paris. It packs that rich creaminess that hazelnuts bring to any dish without overpowering it.
Lastly, their Almonds package. Not just any almonds but Spanish Marcona almonds, nicknamed "The Queen of Almonds." The only package not mixed with other nuts and fruits because this humble almond doesn't need any fancy friends to make her stand out! Roasted with some sea salt and a squeeze of lemon, the thinner skin and smoother texture makes this almond simply irresistible.
Visit HANDFUEL here for more info and where to buy.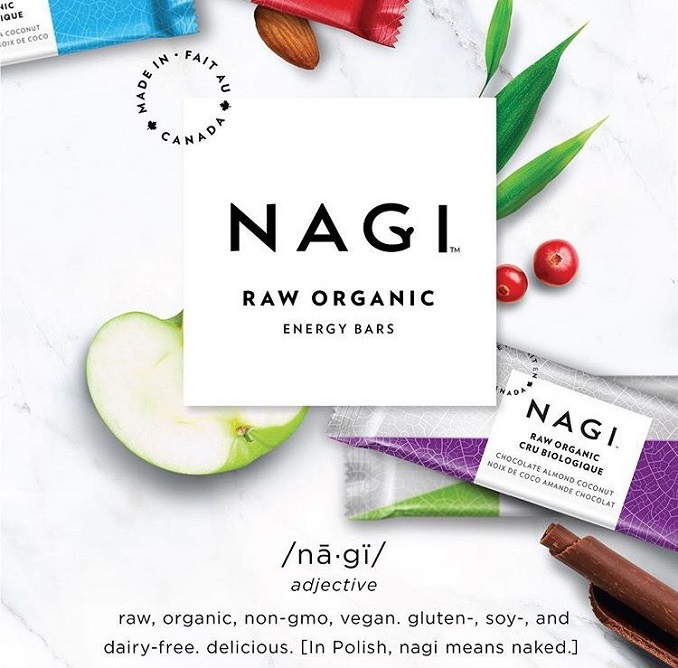 Next up: we eat naked…with Nagi, which means "naked" in Polish. I'm a big fan of energy bars in general because I can go from not so hungry to full-blown hangry maniac Hulk in a matter of seconds. So for the safety of those around me, I usually carry a bar in my bag. Made by local health and fitness expert, Justyna Kozlowska, Nagi is produced in small batches and skips all the artificial junk like preservatives and additives. While the bars are dense and packed full of nutrition, they don't have a chalky or gritty feel and they are all raw, organic, non-GMO, vegan, gluten-free, soy-free and dairy-free. But definitely not flavour-free! I really love the Chocolate Almond Coconut and the Chocolate Goji Berry because they both have a more rich chocolate taste whereas the coconut really came through on the Chocolate Quinoa Coconut.
The two non-chocolate bars are nice too. The Lemon Goji Berry Coconut has a unique profile. The lemon adds a nice tangy note and it lingers throughout the whole bite. I like the chewiness of the seeds and quinoa in this one as well. The Apple Cinnamon Cranberry bar is simple and tastes the most earthy. Visit Nagi online for more info.

And rounding out my favourite spring eating essentials list is Brew Dr. Kombucha. Each flavour I've tried has been mind-blowingly good! Townshend's Tea Company started in 2006 and developed kombucha tea in 2008. Their unique approach of brewing organic tea with dried herbs, roots and fruits instead of adding juices after the fact, means that every sip is packed full of flavour. There are no artificial sweeteners or sugars and Brew Dr. Kombucha is completely raw.
I really can't pick a favourite so I'll just mention a few super delicious flavours to try (in no particular order). Superberry has a nice subtle currant hint that I'm addicted to. Citrus Hops is so light and crisp, you will definitely want this close by for the summer. For something a little more interesting, Clear Mind mixes rosemary, peppermint and sage for a refreshing minty kick. The new Ginger Tumeric flavour has a mix of sweet and spicy and reminds me of ginger beer but not quite as strong. The combination of ginger and turmeric are a great combo for boosting the immune system, reducing joint pain and increasing circulation. Honestly, there wasn't a single flavour I didn't like so you really can't go wrong. I also love that this company has sustainable practices (listed here).
You can find them in many health food stores across the GTA like Noah's Natural Foods and Whole Foods Market. Find Brew Dr. Kombucha online here.