Nestled on the busy street of Augusta Avenue, Hibiscus Café is one of the many gems in Kensington Market. This tiny oasis of vegetarian and gluten-free love is whipping up dishes for local foodies who love health and simplicity.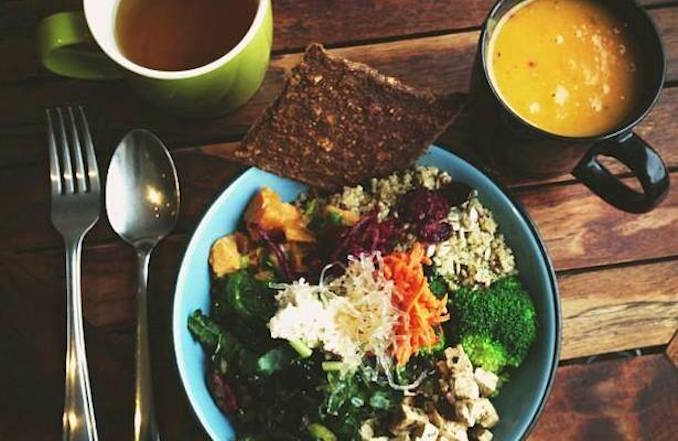 With a good friend (and fellow foodie) in arm, we were the first customers of the day. The chilly morning was no match for our growling stomachs, as we were determined to sink our teeth into some Hibiscus goodness. Famous for their vegan ice cream, we decided to hold off until summer and try another menu favourite – buckwheat crepes. The list of both sweet and savory options was mouthwatering, and although the process of elimination was lengthy, it was well worth it.
I ventured outside the realm of my palate and took the savoury route, and boy do I ever suggest it. You should have seen our faces when the waitress placed the plates in front of us. One was stuffed with tomatoes, spinach, and gooey soy cheese, and the other had pear, brie and pecans, both topped with sliced avocado and a drizzle of pure maple syrup. We were in buckwheat crepe heaven.
The ambience of the café was toasty and filled with comfort, and I took note of the amount of customers that were eating alone, as they all seemed very familiar with the menu and staff. The rustic atmosphere felt homey and relaxing when coming off of the bustling market street.
Our table was situated at the front window, which was perfect for people watching while sipping on a hot and foamy matcha green latte (and let me tell you…best matcha green I ever did have). My little bites were an attempt at savouring what is now one of my favourite dishes in Toronto, and when the end was drawing near, internal tears were being shed… good thing desert was on its way!
Freshly baked bars, brownies and cookies were, quite literally, being pulled from the oven and put on display for those sweet tooth connoisseurs. Wide-eyed and basically foaming at the mouth, I ordered a cashew bar. Creamy and topped with chewy cranberries, the desert round is a little hazy, as it was gone in a matter of seconds.
If you're headed towards the Kensington way, make sure you check out Hibiscus café! It will be one of those, first-but-not-your-last, kind of places… I can guarantee it.