When Googling vegan friendly pizza in Toronto, Magic Oven website was the first to pop up. Daringly I entered it and read the first thing I saw, Let food be your medicine and medicine be your food, a Hippocrates quote. Right under that, my eye caught a glimpse of the words organic spelt… and then Food Network's star John Catucci's voice roared in my brain, "YOU GOTTA EAT HERE!"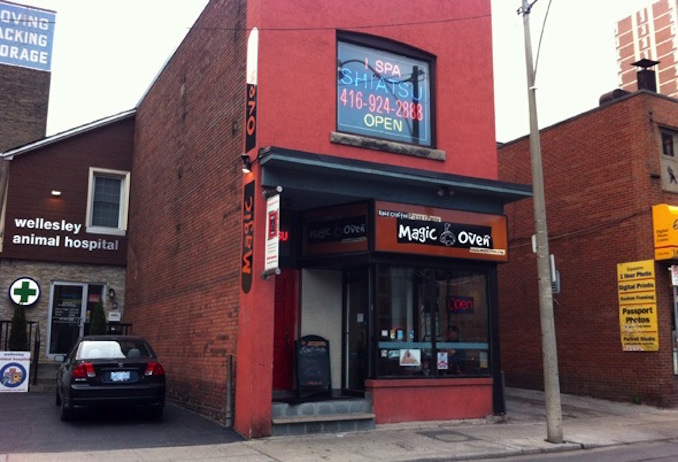 So, Magic Oven happened on Friday evening, and my view of Church and Wellesley will never be the same thanks to this Toronto-based restaurant that is not only award-winning, but caters to all dietary choices. Although it isn't strictly vegetarian, they offer plant-based meals and alternatives that will be sure to satisfy even the strictest of appetites. With a bowl of royal gala apples at the front door for any customer's pre or post meal consumption, believe me when I tell you- this pizzeria is a veg-head's haven.
Founded in 1997 by Tony and Abby Sabherwal, Magic Oven is a reflection of their years in the restaurant business mixed with a commitment to respecting resources and being eco-friendly. Each of their six locations in Toronto is a restored site, decorated with salvaged furniture and fixtures. Top that atmosphere with an organic menu and amazing staff, and you've got yourself one heck of dining experience.
One quick glimpse at the list of vegetarian pizza toppings and I pretty much melted in my chair. "Yeah, I'll just get the tropical magic pizza with daiya cheese, on the gluten-free rice flour crust and um, extra pineapple (obviously) oh and…I'll also add the superfood trail mix on top." (What is the superfood trail mix you ask? Well, it's just a simple combination of gogi berries, pumpkin, chia, flax and hemp seeds… nothin' fancy.)
Their menu offers a wide variety of pizzas, not including the express yourself pizza, which means you can build your own with a choice of size, crust, sauce, cheese and an abundance of toppings to choose from. Spelt, wholgrain and gluten-free crusts, vegan, casein and soy-free cheeses and local toppings…need I say more? It's pretty much like making a pizza in the middle of the Royal Botanic Gardens with Mother Nature as your sous chef.
Not the pizza type? Wraps, salads, pastas, and amazing appetizers are also popular menu choices. I would name some, but I think I'll do you the favour of checking out their honourable 'carte du jour' yourself- you can thank me later.
With endless options of healthy fixings, the menu lives up to what it advertises: organic, nourishing, free-range, local, healthy and indulgent. "Do yoga. Drink Water. Have dessert," is the moto, and indulgence is definitely an understatement, especially when it comes to their list of after dinner delights. Whether you are a vegetarian, raw enthusiast, vegan or just a good 'ol chocolate connoisseur; their desserts are a perfect treat after a guilt-free meal.
Plus, lest we forget their organic beer and wine selection? If that doesn't confirm it for you…I quit.
Check out their menu and locations here.