In my research of Ontario destinations, I heard that Hamilton was the Waterfall Capital of the World. At first I thought this was crazy. Surely somewhere in the Amazon would be a more likely location for this designation. After visiting the region where Hamilton lies, I discovered that this could very well be true. Hamilton and its surrounding towns sit on a portion of the Niagara escarpment which was formed over millions of years through a process of erosion of rocks of different composition. Over time, the rivers and streams cause the soft rocks to weather away or erode. This created the drop-off for the many rivers that run through the area.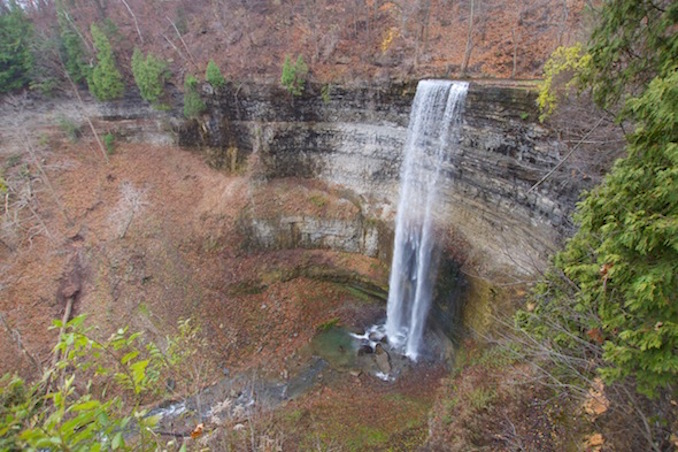 Tews Falls – 41 metres or 134 feet and the highest in Hamilton
The drive to Hamilton is easy from Toronto being just West along the QEW. Surrounding areas such as Ancaster, Dundas, and Stoney Creek provide many of the waterfalls that you are going to want to check out. For this trip I used the Acura TSX which provided me with a GPS, which helped a ton with finding the falls, and a very comfortable ride with amenities like heated seats, DVD player, and satellite radio. Perfect for a November road trip. I was also lucky to have a laptop and a cell phone that I was able to tether internet data through so that jumping from falls to falls was easier. I would suggest planning out the routes before you go to make the best use of the time. Some of the directions online can be tricky and I found it best to use Google Maps to scout the locations.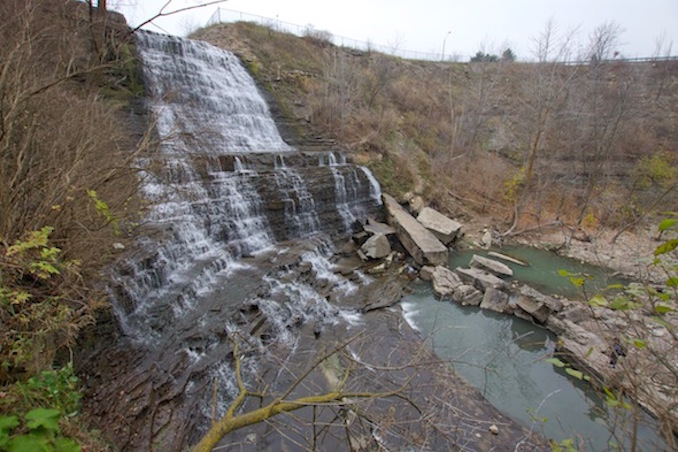 Albion Falls – 19 metres or over 60 feet.
The Falls themselves were a lot bigger than the photos let on. Even now looking at these photos pictures such as Sherman Falls do not justify the actual size which stands at over 50 feet. I wish now that I had used something to give perspective to my photos. Out of all the falls that I looked into I decided on heading to  these eight. They were Tews Falls, Albion Falls, Ancaster Mill, Darnley Cascade, The Devil's Punchbowl, Sherman Falls, Webster's Falls, and Borer's Falls. Lots of trails run through the falls that allow you to traverse the bottom as well as them serving the purpose of connecting different falls to  one another. The Bruce Trail is a perfect trail for the avid hiker who wants to also visit the falls. It is sometimes nice to go in the fall or winter season because the leaves would normally obstruct your view. Many of my photos you can see would have had this happen to them.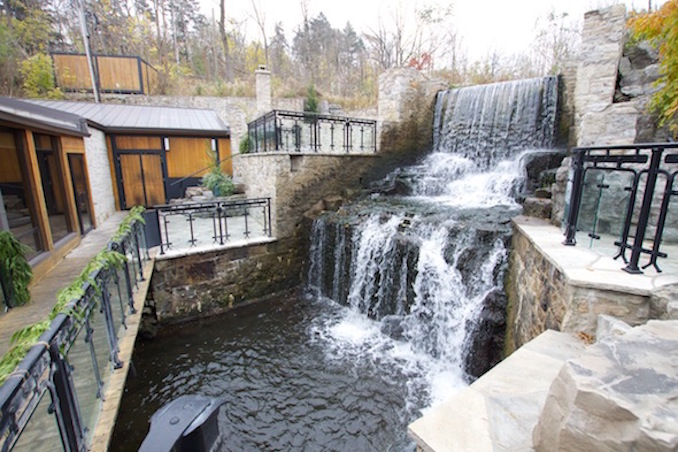 The Ancaster Mill is located at 548 Old Dundas Road in Ancaster, Ontario. It creates EARTH TO TABLE cuisine sourcing impeccable local, seasonal ingredients from near-by farms and food artisans. This results in seasonally changing menus of fresh, local ingredients. The Mill is also a great spot for events. The dining room extends out over the stream with a view of the falls and has room for hundreds of guests. Perfect for weddings or corporate events.
I ended up my trip by heading into Hamilton and eating at The Ancaster Mill sister restaurant BREAD BAR. Like The Ancaster Mill the Bread Bar is an EARTH TO TABLE establishment. I had a great curry and cauliflower soup with a prociutto sandwich for $10. A perfect last stop on my way out of town.