Coming Full Circle: Art Music Performed in a Garden Inspired by Art Music.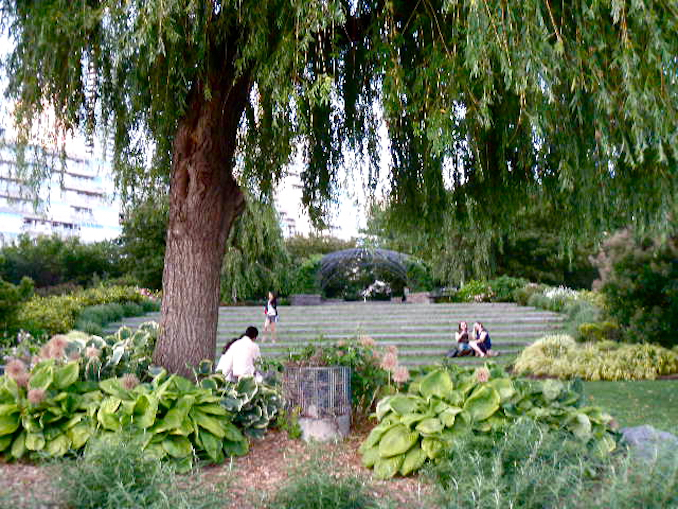 One of our city's summer gems is the free outdoor series at the Toronto Music Garden. Now in its 13th season, the Music Garden continues to attract a broad spectrum of performers and audiences alike, despite the competing noise of the passing tour boats, traffic from Queen's Quay, and the Island Airport just a few hundred yards away.
Inspired by J.S. Bach's First Unaccompanied Cello Suite (Bach's unaccompanied cello suites are each a collection of dances in different styles), the Music Garden is the result of cellist Yo-Yo Ma's collaboration with landscape designer Julie Moir Messervy. Although it was originally intended for Boston, the Music Garden is now a well-loved fixture on the Toronto Waterfront.
The garden itself is a collection of smaller gardens, each segment reflecting a movement (or a dance style) of Bach's First Cello Suite. Two of the segments were conceived as performing spaces. The "Minuet" (a social dance intended for pairs, usually danced indoors) is interpreted through a wrought iron dome over a flat concrete surface and was created as a space for chamber music and dance; and the "Gigue," (a lively outdoor dance, literally meaning 'run') is visualized as an amphitheatre with large tiered steps and a giant willow tree at the base and accommodates more listeners.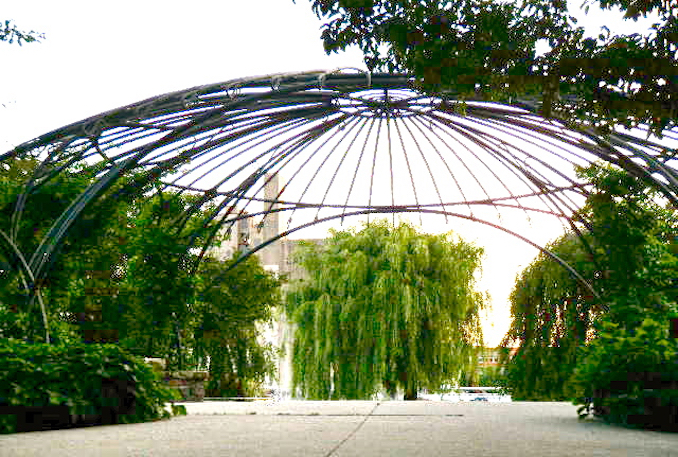 The Music Garden is a special place in Toronto that is removed from the regular hustle and bustle of the city, and I've had the good fortune of performing there a handful of times in the past years. I've had the even better fortune of becoming acquainted with Tamara Bernstein, Artistic Director of the Music Garden Series, and one of Canada's most esteemed music writers. She shared with me in a candid email conversation (even though she was on a deadline for the Oxford University Press!) some of her thoughts on the success of the Music Garden Series:
"[Music Garden concerts] take place in a magical setting — this amazing garden on the shores of Lake Ontario that interprets a piece of music by J.S. Bach! They are eclectic in style, but present a lot of genres and styles that are outside the mainstream of classical music or "world music." 
It's unusual to attend classical music concerts (and probably any concerts) with such diverse audience demographic — diversity of age (from infants to the elderly); of ethnic backgrounds (think people in saris clapping and singing along to Yiddish songs); of economic class, etc. A lot of performers of non-Western music have told me that they rarely get this kind of opportunity to play for audiences outside their own cultural community. This is nice for audiences too: it's one thing to go and hear music from your homeland or culture surrounded by other people from that culture; when you go to hear it in a public park, with people from all sorts of cultural backgrounds — well, this takes multiculturalism to a whole new place. It's beautiful, and I think very profound. 
All sorts of people who would not easily be able to attend concerts come to the Music Garden ones — people with special needs of one sort or another; people who can't afford expensive tickets; young children, who cannot be expected to sit still for the duration of a concert. Interestingly, because they're able to wiggle around, get up and dance, or whatever, at the Music Garden (I love it when people dance at the concerts!), children don't really NEED to squirm very much. It reminds me of the proverb in Shunryu Suzuki's book, Zen Mind, Beginner's Mind:  "To give your sheep or cow a large, spacious meadow is the way to control him." Anyway, when the audience demographic is so expansive, it makes the actual listening experience much richer.
I never program "down" to audiences, because I totally believe that music can touch everyone in some way, if the performers are passionate and generous as communicators, and if the audience is open-hearted. And time has confirmed my instinct: as you know from your Cecilia String Quartet days, string quartets, which some might assume are a bit esoteric for a free outdoor concert, are among our most popular programs, and hold even young children rapt. The first time I programmed early baroque music, from the 17th century, which is  very quirky compared to later, more familiar Baroque music like Vivaldi, Handel, etc., I was really worried, but people LOVED it — people came up afterwards asking me to spell the names of the composers; one little boy begged to know when the performers would be giving their next concert.  Now I make sure there's at least one program of 17th-century music each summer."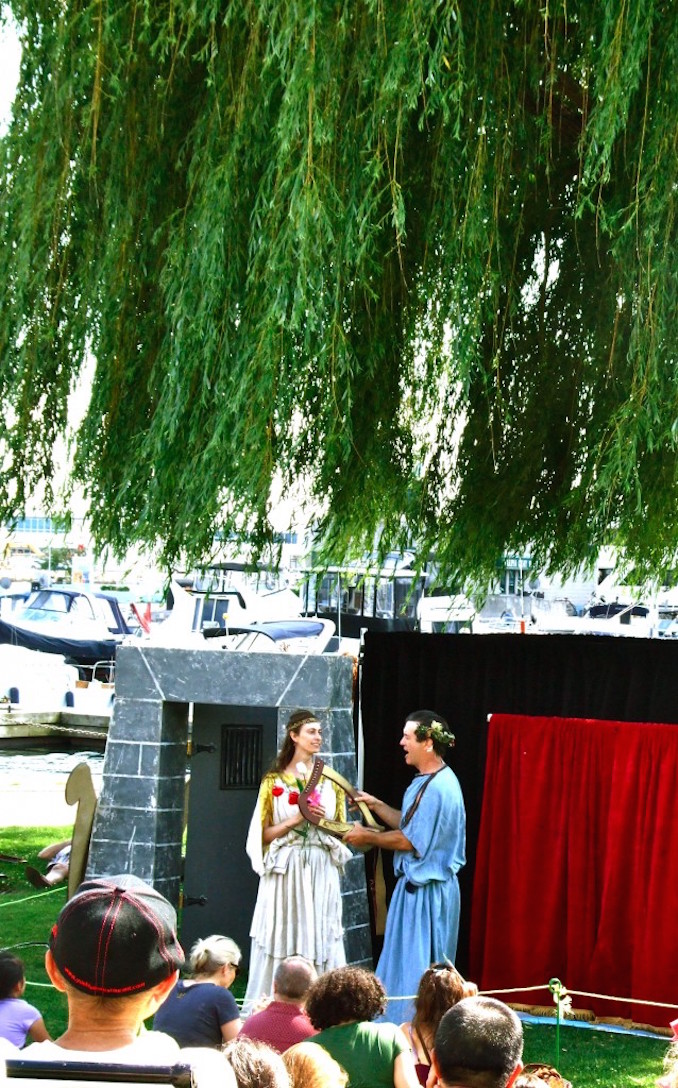 Another wonderful thing about outdoor music? It's unpredictable. When asked if there were any humorous occurrences that topped her list, she responded:

"Oh, definitely the time that percussionist Aiyun Huang played a "percussion theatre" solo for marimba, 4 tom-toms and voice called "Un Chien dehors" (= a dog outdoors) by the avant-garde French composer Jean Drouet. Moments after she started playing, this dog, which had sat quietly with its master until then, joined in full force with excited barking. Aiyun was over the moon: what better proof could you ask for, that the piece "worked"!"
The 13th Season of the Music Garden Series kicked off on Canada Day, and will go through mid-September. Upcoming concerts include Nagata Shachu, Toronto's own Taiko drumming group, on Thursday July 12 at 7pm, and North Indian Classical Ragas (roughly translated as "songs that which colour the mind"), performed on voice and tabla (a pair of semi-pitched drums) on Sunday July 15 at 4pm.
For a complete listing of concerts, refer to their website.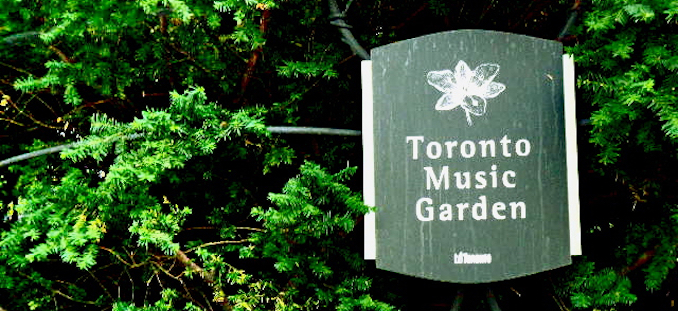 The Toronto Music Garden is a City of Toronto park, located at 475 Queen's Quay West on the waterfront between Bathurst Street and Spadina Avenue.