The most random things happen to photographer Erin Simkin. She is one of those people that has the craziest stories. Sometimes they are abominable; sometimes they are hilarious; sometimes, they are incredibly fortuitous. And I'm not even sure if it's that the strangest and most insane things really do happen to Erin all the time; or, if it's just in fact the way she views the world – through lenses that are just so different compared to everyone else.
Regardless of what is going on in her life, photography is Erin's driving force. It is how she expresses herself and communicates with others. And having perfected her craft for a decade now, she has truly found her voice. She is motivated by her art perhaps even more than food – and this girl lives to eat! If she's not checking out the newest restaurant in town, she's photographing it.
It is her ever-eventful life combined with her unique perspective that make Erin such a brilliant photographer. She captures moments of the world unlike anyone else. And they in fact reflect who she is in many ways – quirky, bright and beautiful, sometimes sad, but always honest. -Alexandra MacDonald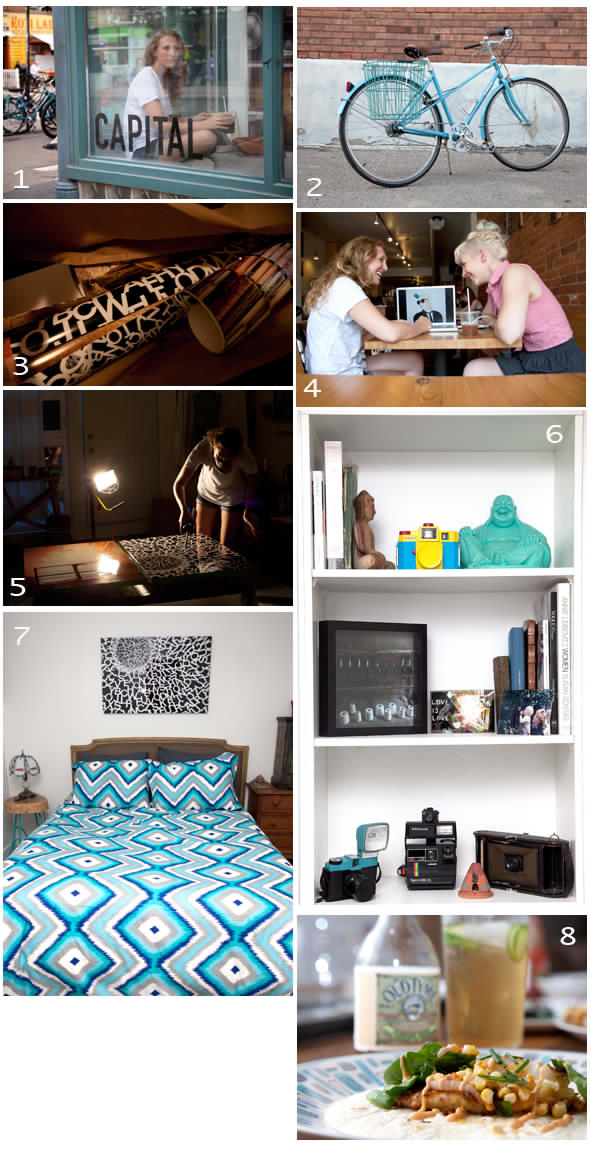 1. I like to start my mornings at Capitol Espresso in Parkdale. They make great coffee and there is always a lot of creativity buzzing about inside. All you have to do for inspiration is look outside and enjoy the eccentric neighborhood.
2. I bike EVERYWHERE! I love my bike and not just because it is cute and turquoise. it makes this city so much more accessible and I am able to explore way more. I bike to my office several times a week which is all the way on the east side and savor the ride even when I get caught in a crazy rainstorm.
3. Picked up my prints from 44 Wide in Liberty Village. They guys are incredible and have been so helpful with printing for my show. So excited to get going on the framing and the resining.
4. This is my one of my partners Kirsten from Bleached Blondes Collective. We are working on our book project called "The Creative Class". Right now, we are selecting the layout and the final selects of the images that we have shot so far. On the computer screen, one of our creatives alter ego -Karl Lagerfeld /Unicorn/Sewing Machine. We have such a wonderful team Kirsten White, Angela McQueen and Nicole Duplantis and we are so excited about our book project and can't wait to share it.
5. The resin process. Note for fellow resiners: make sure to put your hair up so that you do not have to cut chunks of resin out of your hair the next morning!
6.These are shelves in my bedroom. I have been collecting cameras over the last several years and here are a few of them. I have an obsession with cameras, anything turquoise and apparently Buddhas. The wood one on the top is my favorite, I got it on my trip last year to Cambodia. Here is one of my favorite pictures from my childhood of my mom and I in our garden. Reminds me to "stop and smell the roses". My family is very important to me and have been the biggest support over the last few years while I have started down the photography career path.The little cubicle art that says "love is love" is a piece from fellow photographer Talia Shipman. The shadow box is a photograph I took in Vietnam in a cotton factory. The teepee incense holder at the bottom is my new favorite addition to my wall. The incense smells like a camp fire and reminds me of my childhood summers spent at camp in Oyama, BC.
7. One of my favorite prints hanging above my bed. I took this photograph in Antibes, France. It is part of a sculpture made my Jaume Plensa called Nomade. It is an incredible sculpture and stands 8 meters high, when you stand inside it you feel miniature. Again- more turquoise, my lobster lamp from Nova Scotia and my mango tree side table given to my for my birthday. It also smells like campfire…
8. Fish Tacos & a Dark and Stormy( new favorite cocktail). The perfect way to end a day.
***
What neighbourhood do you live in?
Parkdale
What do you do and where?
I am a freelance photographer based in Toronto. I work on location as well as at my office/studio on the east side.
What are you working on?
Where do I start! At this moment I am finishing up framing my prints as well as resining 17 pieces for my very first show. The show consists of images from 6 different countries that I have visited over the past three years. I am also working on a book project featuring Toronto artists and personalities with my collective Bleached Blondes. We are having a great time meeting all these incredibly talented and creative individuals and can't wait to share it with everyone. We hope to have our book launch and party by early next year. I was also very lucky to take part in a book project in my hometown Vancouver called "This is East Van", It is the 2nd edition of the project and they are having their launch in Vancouver tonight at Interurban Gallery.
Where can we find your work?
You can find my work at www.erinsimkin.com.