I am always looking for good quality local brands that also carry with them a positive message or charitable aspect to them. In Toronto, we have seen several companies in the apparel industry doing just this. Think Peace Collective, Gimme360. One of my more recent discoveries was the company Finding The Warmth, a Canadian apparel line created by two sisters, Kacie and Alexa Schopfer.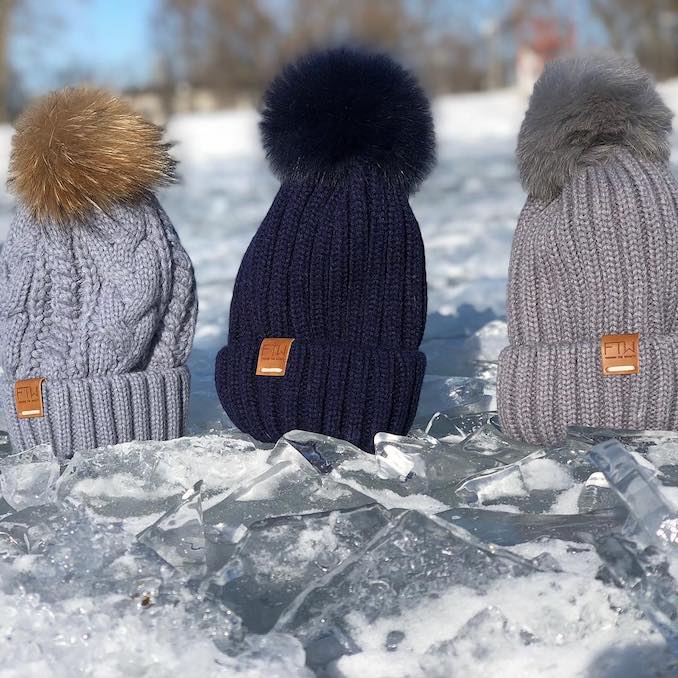 Finding the Warmth are fashioned in the style that the sisters love, are insulated with a fleece lining and for each item purchased, a toque is donated to youth and young adults in need. Kacie and Alexa also have plans for the warmer months with new items for sale and new items to donate.
Read our chat with them.
What made you want to design hats?
Truly, it was my sister Kacie's idea to sell hats!
We don't design the hats we purchase them from multiple manufactures who make both the cute style we love, as well as the warm fleece lining we need!
The idea stemmed from my sister purchasing a few pompom hats from local stores, but freezing when she would take her dogs on a walk. After no avail, she decided to find her own hats which offered the same style she loved, as well as the fleece lining to keep her warm!
Did the hat design come first or did the idea to make garments for the needy come first? How did you come up with the 1 for 1 idea?
Our hat idea came first. When my sister told me about her plan I was really excited for this idea. I also loved the look of the hats, but again, wasn't going to favour style over comfort (especially with this cold)!
I asked myself, with this business how can we give back to our community and those in need? I immediately thought of homeless youth. It is with this idea that I contacted Covenant House and was able to work out a partnership agreement with them.
We thought of hats (for a donation item) as this is one item you may not want to share with someone. All the toques we donate are freshly wrapped and sealed – letting those youth and young adults know these hats are meant just for them.
We came up with the one to one ratio as we found out how many youth visit Covenant House on average. It goes to show the amount of youth in need.
Also, the toques are an all black toque to keep simplicity, however they all include a FTW tag. This symbolizes community and hope. We hope each youth wearing the toque can look at the tag and know there is an organization and community out there rooting for them.
When did you start?
As any great idea begins, you must dive on in! My sister voiced this idea beginning of October and we opened up URL's December 14th! It was certainly a quick business idea – but with many great ideas, the longer you wait the longer they fizzle out, am I right?!
How many hats have you donated to date?
We are shipping out our January donations tomorrow! As of today we have donated a total of 78 hats in 2 months!
Any plans to expand to gloves or other clothing?
Your read our minds! We have exciting plans in mind for the summer, they may or may not include swimwear (hint – they may). With our expanding apparel we will always expand our donations as well. We are currently in the works with Covenant House Toronto to see which items are needed most for summer.
Are the designs mostly for women?
We offer both men and women's hats, however for summer swimwear our focus is mostly on women.
Where do you sell them? Can you buy/ship them internationally?
We hope to be expanding to the in store retail markets, however at this time it is all e- commerce. We do ship internationally!
What is the best part about doing business in Toronto?
The support! It is amazing to see how quickly our brand has taken off. We told Covenant House to expect *hopefully * 10 hats by the end of December, yet we had 50 to give! We can't donate on our own, all those donations came from people who believe in the brand, love the message, and the style! Many of whom we also don't know, which is another amazing thing about social media!
PAY IT FORWARD: Any other businesses in Toronto doing great things that we should know about?
Toronto's Feed It Forward organization is an amazing idea and message, we hope it will spread to other cities!