My friends and I have been dreaming about doing one of those getaway where we can shut everything down and focus on ourselves. Lofty dreams of getting away to Arizona, the Pacific Coast or maybe India? Kinda that Eat, Pray, Love type of scenario except those kind of retreats can get super expensive and may require more time than we can all agree upon.
But right here in the city, we've discovered options that are within reach and can be tailored to our desire to unplug and unwind. The Hazelton Hotel, located in the Yorkville area has created an urban retreat that appeals to travellers and locals alike. What? In Toronto? This hectic city that is constantly moving in all directions? Is it possible to relax and unwind? We had a taste of what is offered in their "Meditation and Rejuvenation" escape.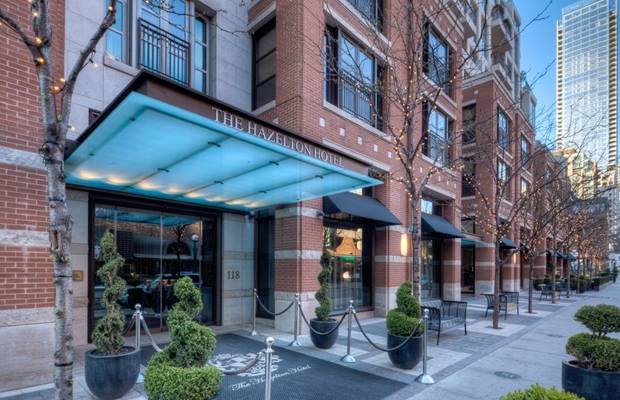 MEDITATION: Tara Good is a renowned Yoga practitioner, Reiki Master (and Lululemon ambassador) who has  calming effect on anyone who meets her. She radiates serenity from the moment you see her. At first she asks if you've ever meditated before so to gauge the level of your experience and how to best guide your session. New to meditation? No worries. She explains everything and helps to clear your mind and to find inner peace. Candles lit and sun beaming through the windows during our morning session in the suite is beautiful. I find mornings are the best for meditation to approach the day with a kind heart and will sometimes set aside other times if I'm feeling stressed. Here in the comforts at this quiet hotel, Tara guides you through a series of breathing exercises and offer tips to help disconnect, focus and carry you forward into the day.  She can also lead a couples, family or group session to cater to your stay. Hmmm…my mind is already churning.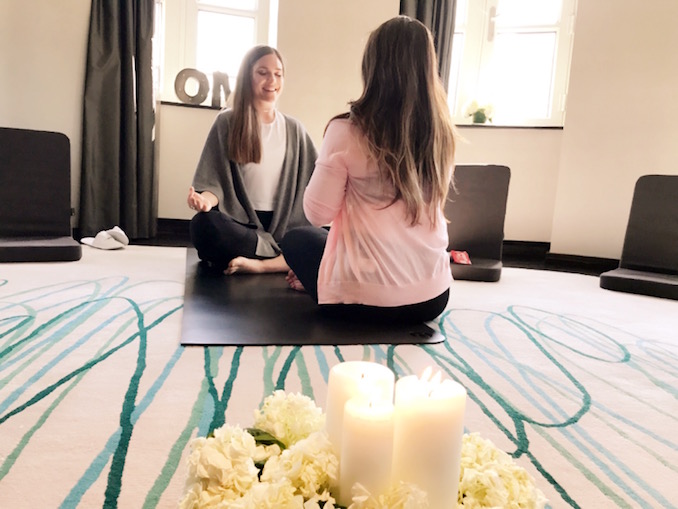 FOOD: When I'm yearning for  a rejuvenation and reset getaway I don't really want to fill myself with heavy, calorie laden meals. Time and a place, right? The hotel's anchor restaurant, ONE, offers a creative menu for guests who wish for healthier dining options. Executive Chef Mark McEwan and Chef du Cuisine Darby Piquet have designed dishes that are flavourful, fulfilling and beautiful. When guests come wanting this type of stay package, they will be offered a selection of wellness dishes for breakfast. "It's all about food that makes you feel as good as it looks," says Piquette. "We want to make food that is really, really healthy but it's not just the same chopped salad that often have no flavour. It's all about big, robust flavours."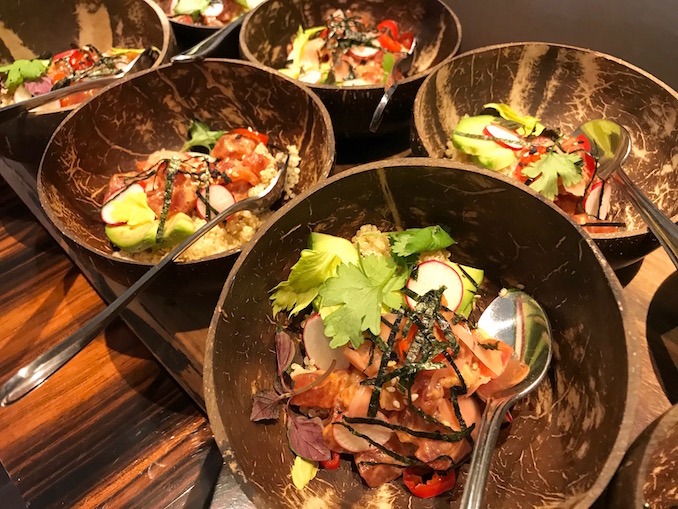 Some of the features include house-made overnight oats which Chef Piquette tells us he starts every morning with. By the way, he mentioned that while testing out recipes for this menu, he's dropped 40 lbs over the past few months. Also on the menu are fresh smoothie bowls (all the rage here in Toronto and elsewhere) that are filled with fresh fruit and inspired by the popular lassi from India…they are beautiful creations. I tried one with dragon fruit, blueberries, coconut and goji berries over an avocado based smoothie bowl. Other options include fresh poke bowls — raw marinated tuna served over quinoa with avocado slices, seaweed (nori), slivers of fresh peppers. There are also "Goddess Sandwiches", Heirloom tomatoes, and fresh lettuce wraps on the menu. Fresh cold-pressed juices will be made daily at the local Village Juicery with menus created by Chef Piquet.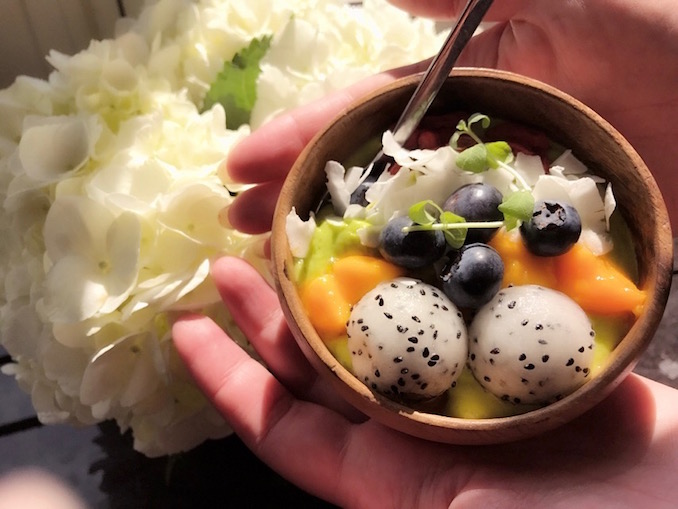 SPA: Guests can unwind their day at the hotel's indoor pool and be pampered at the Valmont Spa located discreetly  on the property. The intimate spa houses 5 treatment rooms and a individual mani/pedi stations for a truly VIP treatment. Valmont is a skincare line from France and one I had not heard used at any other spas in the city. The line has been around for 30 years. Valmont draws natural resources from Switzerland for both men and women and known for their anti-aging results using the latest cellular cosmetic research findings. Products are luxurious and after a quick mini facial during this sneak peek morning, my skin was already glowing and continued the following day. I was intrigued with trying and learning about the Deto2x Oxygenating Cream where you skim off the foam of the surface of the cream to use. If you opt for this "Meditation and Rejuvenation" package you can look forward to a signature rejuvenation facial at this exclusive spa.  More info can be found at the hazeltonhotel.com
"We've listened to our hotel guests and they've expressed interest in these offerings," said Hani Roustom, General Manager, The Hazelton Hotel. "It's not a secret that over the past few years there's more research done into the areas of wellness, mindfulness, and this is why we're so proud to partner with  Tara Good, ONE Restaurant and the Valmont Spa to bring this experience together….This is not just a package for us. This is part of our philosophy."
Want other ideas to complete your weekend of zen and fulfillment nearby? Take a leisurely walk along U of T's Philosopher's Walk tucked away behind the Royal Ontario Museum. Visit the Gardiner Museum and enrol in one of their hands-on clay workshops. Check out what concerts are happening at The Royal Conservatory Koerner Music Hall. Visit the nearby Japan Foundation of Toronto to explore Japanese arts and culture — exhibitions occurring year round.