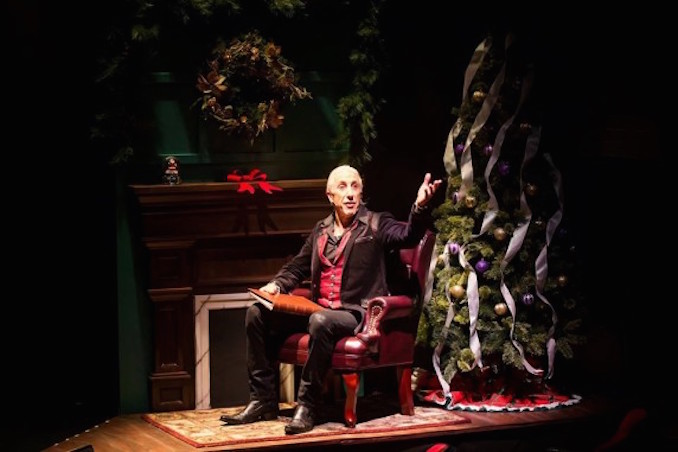 There are many holiday shows to enjoy in the city now from ballet, theatre, symphonies, sing-a-longs and everything in between. But if visions of sugar plums is too sweet and you prefer something a little more raucous then you may be interested in Dee Snider's Rock & Roll Christmas Tale.
Yes, THAT Dee Snider from the heavy metal rock band Twisted Sister. I know what you're thinking. So, this is what happens to metal heads when they grow up? They reinvent themselves into stuff that they can actually show their…er, grandchildren?
Okay, so here's the thing. I had read the press releases leading up to the show and it sounded all too hokey for me. I was never into rock music but I was definitely curious to what how this show was going to play out.
This is a story about Daisy Cutter, a heavy metal bar band looking to make it big even though the 80s are long over. The guys in the band are stuck in the era of long hair and tight spandex clothing…only they've aged and are bursting out of their seams. The sultry bar owner, Roxanne (Taylor Dayne) gives them an ultimatum to fill the bar with patrons by Christmas eve, otherwise they will need to pack up and go only  to make room for EDM DJ/MC Dedrok (Tim Funnell).
As Rock & Roll folklore goes, the guys decide to sell their souls to satan in exchange for fame (and chicks) in hopes to save their careers. But every time they sang, their rock anthems turn into Christmas carols — think We're Not Gonna Take It and a O Come All Ye Faithful mashup.
Dee Snider narrates most of the story and injects himself in points in the show. He delivers the story with humorous moments but it was his singing that the audience really wanted to hear. I was never a Twisted Sister fan but after this show I found myself wanting to hear what his voice was like back then. His vocal abilities are strong in this show and as a few others would agree, we would have like to have heard more of his singing. Maybe add on an extra song or two at the end?
Speaking of who's still "got it"…Taylor Dayne, definitely! This best-selling gold and platinum award winner artist with over 75 million copies sold worldwide can still delivery her gorgeous voice. If you need a memory jogger go to iTunes and find her songs Love Will Lead You Back, Tell It To My Heart and Prove Your Love.
Both Dee and Taylor started off the ensemble's final song of the show "The Magic of Christmas Day" that was all mushy goodness in the spirit of the season. It's a good one! And the story line? It redeemed itself at the end.
It's a light and fun G-rated show that maybe just what we all need for this time of year. Kids who love to rock will have fun joining mom, dad and maybe grandpa? at this show.
Dee Snider's Rock & Roll Christmas Tale is now playing at the Winter Garden Theatre until January 3rd.