Reverie at the Park bar and restaurant on College Street offers a fantastic escape from the ordinary; from the otherworldly décor and mesmerizing cocktails, to the bold dinner menu, which evolves around seasonal and wild foods. Reverie is a place you might imagine in a bewitching fantasy.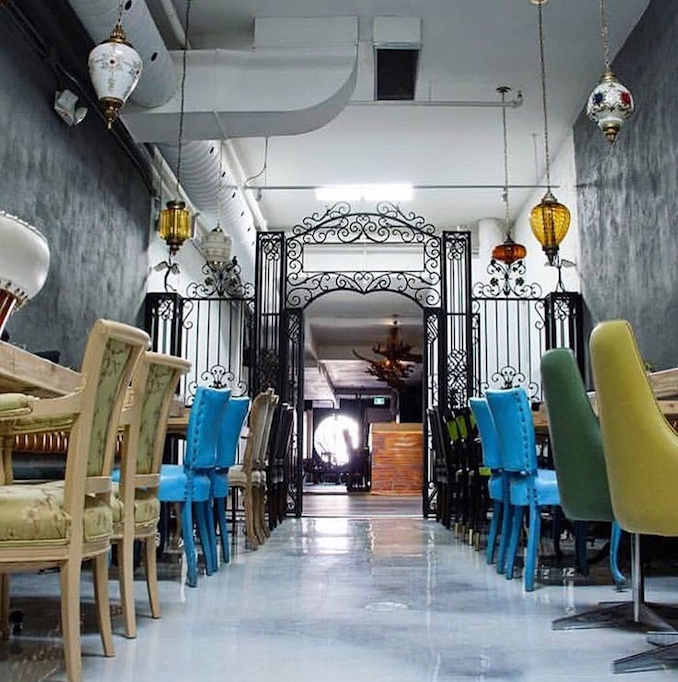 The aesthetic and décor feel like a graphic novel adaptation of Grimm's Fairy Tales and Lewis Carroll's Alice's Adventures in Wonderland. From the street, Reverie's singular front window is like an enchanted portal, the intrigue continues on the other side, where enormous tree stumps hover over the bar. Once deep inside Reverie, the pitch-black wrought iron gate reveals itself as both romantic and protective.
Comprised of three distinct areas, Reverie at the Park can accommodate many fancies; the front half of the bar has a cozy lounge area ideal for couples and intimate groups interested in a private drink. In the middle section, there is a long bar at which guests are gamely entertained by Beverage Director, David Mulock (he's more like a magician!), who is known for concocting dramatic cocktails that literally flame, smoke and change colour with kaleidoscopic effect. The back part of Reverie, beyond the gate, contains the dining area and open kitchen. The dining room feels like a secret meeting place. Reverie's colour palette has bursts of gold and amber accents, bright blue and dusky green and yellow furnishings inside a grey and white shell. The furnishings and tableware have an antique quality and are deliberately mismatched – suggesting more fairy tale shenanigans, perhaps the Mad Hatter's tea party. Owner and Creative Director, Faaren Farzam, was completely involved in sourcing raw materials and designing the visual narrative of the space, which took fifteen months to construct.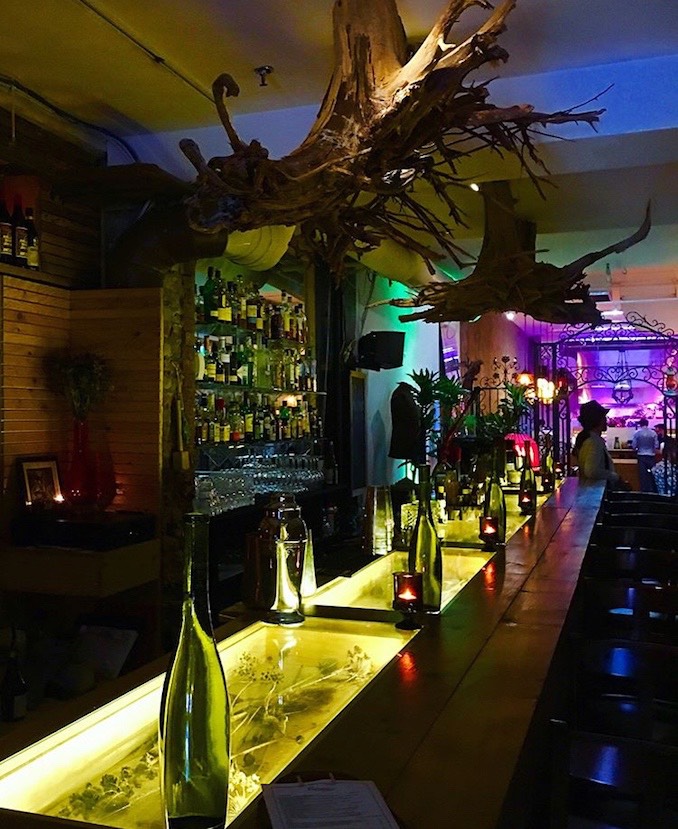 Late Night Dining at Reverie at the Park
Begin the evening with cocktails, preferably ones that smoke or create a fog across the tabletop (Instagram worthy material!). Try Reverie's signature Young Gypsy; this Tanqueray drink comes with a smoking ball of sage smudging. Or, try Wood of the Bar; a Dickel 12 bourbon drink with captured cedar smoke. One of my favourite cocktails was Dessert of the Earth, a sweet blend of coconut, rum and star anise. Cocktails prices range from $13-18 dollars.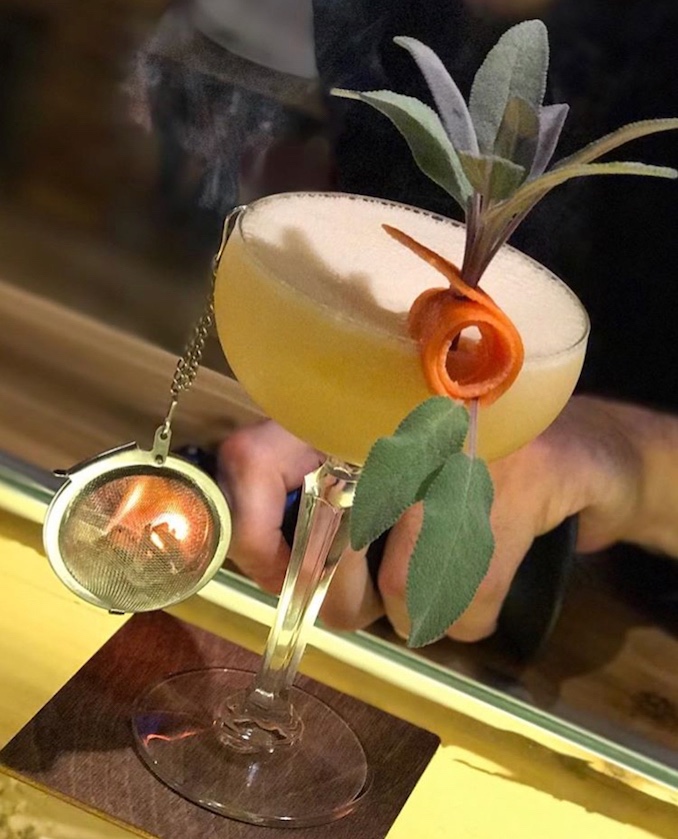 Cocktails also provide a good opportunity to pour over the diverse selection of Reverie menu items. Ordering many dishes and sharing is recommended. We went with six plates in total, starting with the smoky Katsuobushi tuna salad. Followed by sweet and savoury seared Brussels topped with boar bacon, then a chilled plate of mi-cuit salmon accompanied by a fine cloud of horseradish foam and creamy buttermilk gelato. Then came the best dish of gnocchi fritti, it had such a scrumptious chewiness (I've actually been back since just for this dish), along with a plate of grilled octopus done with pomegranate, heritage potato and bonito aioli. Dessert was a delectable masala chai crème brûlée with a spicy kick! Executive Chef Jef Edwards' menu is full of good surprises. After dinner, we moved from our table to the bar, to mingle and listen to the live band. And naturally, more cocktails.
Reverie Plays That Funky Music
Reverie at the Park's house band Billy Bishop perform free form original renditions of classic tunes, as well as special requests, that range from pop hits, to blues and rock. The band starts around 8:00 PM and plays till late, the perfect dinnertime entertainment. The night we dined the band played the most amazing covers of The Eurythmics' Sweet Dreams, TLC's No Scrubs and Gotye's Somebody That I Used To Know – absolutely brilliant renditions.
Billy Bishop is: Carl Bray (keys), Michael Constantini (vocals, guitar) and Chris Ryan (percussion). Oscar Peterson Award winner Carl Bray was named one of Canada's rising star pianists by CBC Radio. You never know who's going to be accompanying Billy Bishop on a Sunday night – could be a jazz trumpeter or a Toronto hip-hop artist.
Can't Keep Reverie a Secret
Reverie at the Park is a way cool bar. Pretty fast you're on a first-name basis with the staff, being drawn into other experiences happening around you. For instance, the night we were there a birthday party was going down at one table, and at another, a man proposed marriage to his lover. You never know who you might meet here; at the bar we were introduced to Riverdale's Gordon Bintner, a bass-baritone performing with the Canadian Opera Company. Bintner has been named one of CBC's Hot Classical Singers. Reverie at the Park is more than just dining and drinking, it gives license to escape and indulge in some much needed fantasy. Don't deny yourself, Reverie is no secret to those with imagination.
***
Online reservations are available at the Reverie website. To review the cocktail and food menu click here: https://www.reverieatthepark.com/. For food photos plus more visit the Reverie Instagram. For live music nights check with the restaurant in advance.
Reverie at the Park
Reverie is located at 569 College Street, between Clinton and Manning, a few blocks west of Bathurst Street in Toronto. The eclectic menu incorporates sustainable and local ingredients and fuses them with International dishes like Japanese and Italian for instance. The bar is renowned for dramatic cocktails, and live music on Sunday evenings. Open Wednesday to Thursday 5PM to midnight, Friday to Sunday 5PM to 2AM.