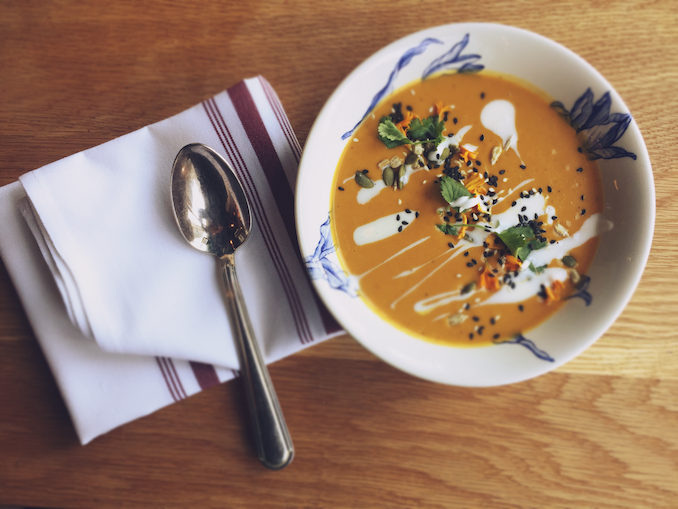 Vegan Filipino Kalabasa Soup Recipe from Chef Ricky Casipe (Hawthorne Food and Drink) who is taking part in the Recipe for Change event.
This soup's ingredients are inspired by the Filipino Kalabasa soup, but it's not traditional in the way that it does not contain shrimp or condensed milk.
Ingredients
2 white onions, peeled and roughly chopped
1/4 cup fresh ginger, peeled and chopped
1/4 cup fresh garlic, cloves peeled and chopped
1 large pie pumpkin, halved and baked until soft and skin peels back or use 1 large can of pumpkin puree
2 cans coconut milk
1L vegetable stock
season with salt and pepper
2 Tbsp canola oil
Method
In a large pot, simmer onions with oil, salt and pepper until golden brown. Add garlic and ginger and saute until tender. Deglaze pot with vegetable stock and add pumpkin and coconut milk. Bring to a boil, simmer for 15 minutes and remove from heat. Puree in a blender until smooth. Season with salt and pepper to taste.