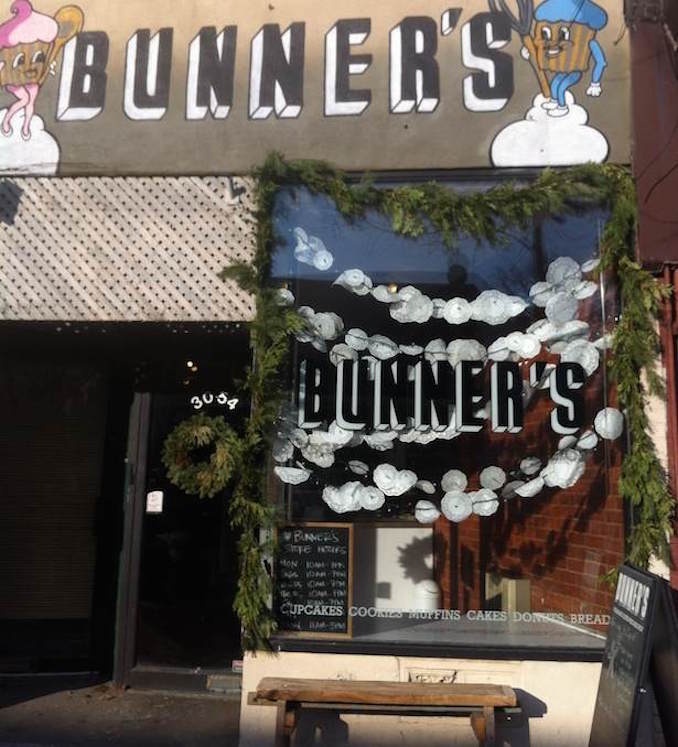 After a long day at work last week, I came home to a meticulously decorated gingerbread house sitting on my coffee table. The icing and candy-drenched house was eyeing me as Bing Crosby and the Andrews Sisters' Mele Kalikimaka was blaring in the background. In my non-vegan years, I would have dove right in – a chunk of gingerbread cookie here, a gum drop there… and then I basically had a panic attack, because I realized that this was my first vegan Christmas, and when it comes to festive sweets, dried fruit and cacao nibs just ain't gunna' cut it. If you're not with me on this one, I credit you. However if you are with me on this one, don't sweat it… I've got the perfect place.
Tucked away on the crowded street of Dundas West, between antique shops and cafes, there is a petite little bakery called Bunner's. Inside of this wondrous place is wholesome gold. Famous for their mouth watering cinnamon buns, Bunner's Bakeshop is Toronto's first walk in bakery that offers a wide selection of wheat, dairy, soy, gluten, egg and refined sugar-free delicacies.
As quoted from their website, "Veganism is an expression of harmony with your body and with the world around you. A plant-based diet delivers to your body high quality nutrients that keep you fit, light and performing at your best." Their online menu includes a selection of comfort desserts as well as protein-rich meal replacers. Along with the more traditional bakery items like cakes and cookies, they also offer creamies (two chocolate chip cookies sandwiched together with vanilla frosting as the glue), butter tarts, doughnuts and loaves of freshly made bread.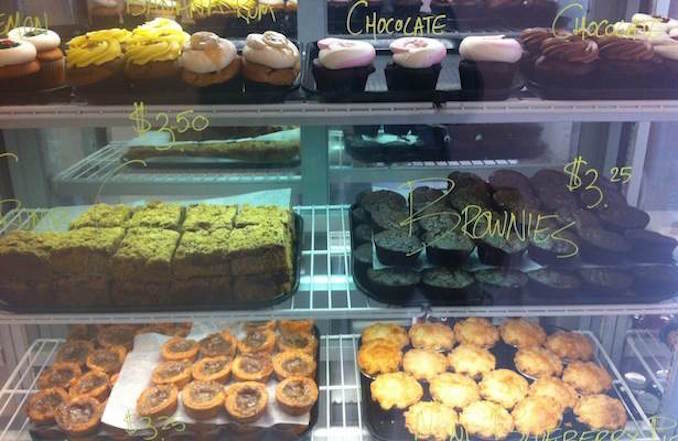 Before opening a storefront, owners Ashley Witting and Kevin MacAllister (whom unfortunately I didn't get the pleasure to meet, but heard they are very cool people), started their business with the goal of eliminating over-processed and low quality ingredients in sweet treats, and their supersonic cookie "is what started it all". Packed full of nutrients, this cookie is chewy on the outside, moist on the inside and bursting with creamy dark chocolate and seeds; it's the perfect afternoon treat.
And just when you thought it couldn't get any better… Bunner's delivers! This option is convenient for those busy bees who don't have time to make it to the Junction.
I left Bunner's yesterday with butter tarts, brownies, cookies, date squares and a loaf of three seed bread. Today, more than half of it is gone, not because I ate it (questionable), but because I headed straight to work to hand out these gooey treats to some co-workers who couldn't join me in my quest for vegan desserts. Just spreading the vegan love is all, and Bunner's of all bakeries in the GTA, knows this best.