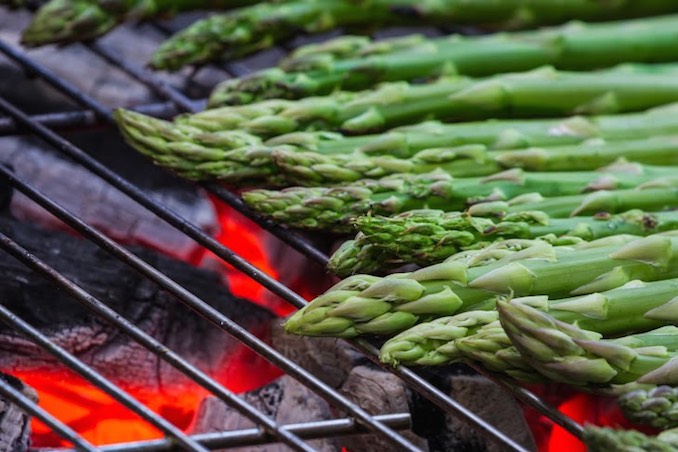 Smoked Asparagus and Corn Salad
Serves 6
Prepared by chef Aidan Galligan of Uncle Smoke
Ingredients:
-24 pieces asparagus (with woody ends trimmed off)
-4 Roma tomatoes, diced
-2 ears corn (kernels cut from the cob)
-1/2 small red onion, finely chopped
-2 sprigs thyme, leaves only
-1 jalapeno, finely chopped
-1/2 cup parsley, chopped
-1/2 cup oregano, chopped
-1 clove garlic, minced
-2 tablespoons olive oil
-Salt and black pepper to taste
Lime Vinaigrette
-1/4 cup lime juice
-3/4 cup olive oil
-2 teaspoons salt
-1 teaspoon sugar
Method:
-For the vinaigrette, add the sugar and salt to the lime juice and whisk until
dissolved. Slowly whisk in the oil until emulsified
-Blanch the asparagus for 3 minutes in salted boiling water, drain and cool.
-Marinate the asparagus in the olive and smoke for 10 minutes, then season with
salt and pepper to taste.
-Combine all the other ingredients in a bowl, season with salt and pepper to
taste then dress with the lime vinaigrette.
-Lay the smoked asparagus side by side on a plate and spoon the salad on top.
***
Don't have a smoker at home? Try this DIY version!
You'll need:
-2 aluminum foil pans
-1 roll aluminum foil
-Apple wood chips
Directions:
-Make 4 small foil balls (slightly larger than ping pong balls) and place in each corner of a foil pan. Scatter some wood chips into the pan.
-Pierce the second aluminum pan with a knife all over to allow the smoke to
come through and place the asparagus in this pan.
-Place the pan with the chips on top of a medium heat stove or grill and when it begins to smoke, place the pan with asparagus into it and cover with a sheet of foil so that no smoke escapes.
-Turn the heat to low and smoke the asparagus for 10 minutes.
Other smoking tips from the chef:
* Lightly oil the vegetables to be smoked (smoke clings to fat, so you'll get
a better result).
* Hot smoke the vegetables that need to be cooked, and cold smoke the
ones that need to be raw.
* If indoors, use the exhaust fan. I always smell like smoke but you don't
have to!
* Serve smoked items with an acidic dressing like vinaigrettes and fresh
lemon juice. The flavours really complement each other nicely.
* Use lighter woods like apple wood for vegetables because veggies are
sweet and delicate on their own. The smoke is to enhance their flavour, not take them over.