Maple Leaf Tavern's grilled asparagus from the spring menu is a quick and easy seasonal side that pairs well with any kind of protein from red meat to fish or an omelette. The dressing is very simple and will last in the fridge for a week, so can be made well ahead of time.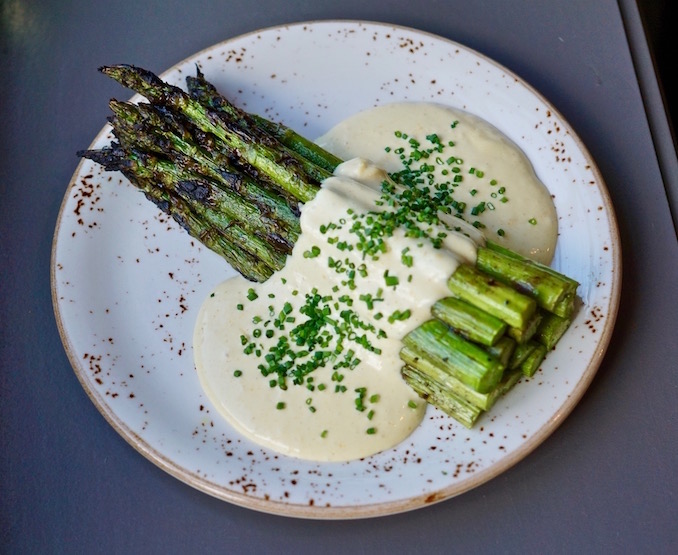 Grilled Asparagus with Egg Yolk Dressing
Yield: 4 servings
Ingredients 
2 bunches asparagus, woody ends removed2 egg yolks, hard boiled 
3 Tbsp. Dijon mustard 
¼ cup mayonnaise 
½ cup olive oil, plus a little extra for cooking 
2 Tbsp white wine vinegar 
¼ cup chives, finely sliced 
2 whole lemons 
Kosher salt to taste 
Black pepper to taste 
Directions
– In a large metal bowl break up the hard-boiled egg yolks with a whisk, then slowly whisk in the olive oil. 
– Add in the remaining ingredients, except for the lemon, asparagus and chives, and whisk until the sauce is well combined and smooth. 
– Taste for seasoning and set aside. Keep refrigerated until ready to use.
– Lightly oil the asparagus and season with salt and pepper. 
– Cook the asparagus over a hot grill until cooked through with just a touch of crunch left in the centre, about 3-4 minutes. 
– Divide the asparagus between four warm plates and pour over some of the egg yolk dressing. 
– Garnish with chives, and serve with half a lemon per person.