Toronto is enjoying an early start to summer this year with warmer temperatures and sunniest of skies. That early summer glow has us running to patios across the city. We started our patio date nights at the popular farm-to-table neighbourhood gem, The Dog & Tiger Kitchen and Bar (537 College Street). Executive Chef, Tom Salvo, recently launched a pop-up Summer BBQ Series collaborating with some of the city's other most notable chefs.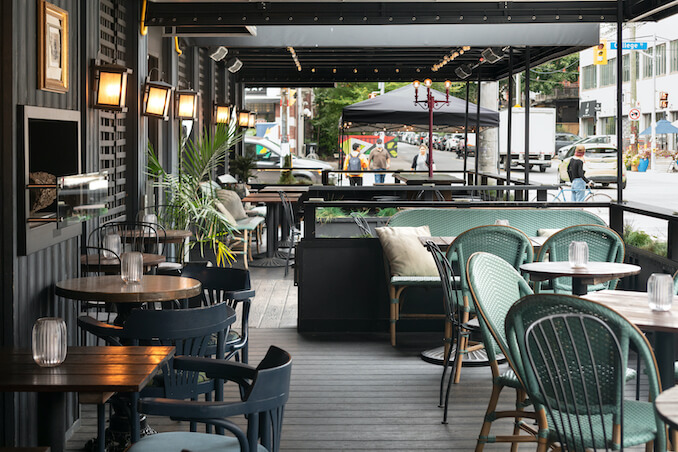 The collaborative concept offers a fantastic opportunity to explore our incredible food scene with some of the most innovative chefs in the city. The pop-up launched on June 3 with Chris Locke (Eco Chef, former Executive Chef of Marben, farm-to-table extraordinaire, and fermentation and preservation guru).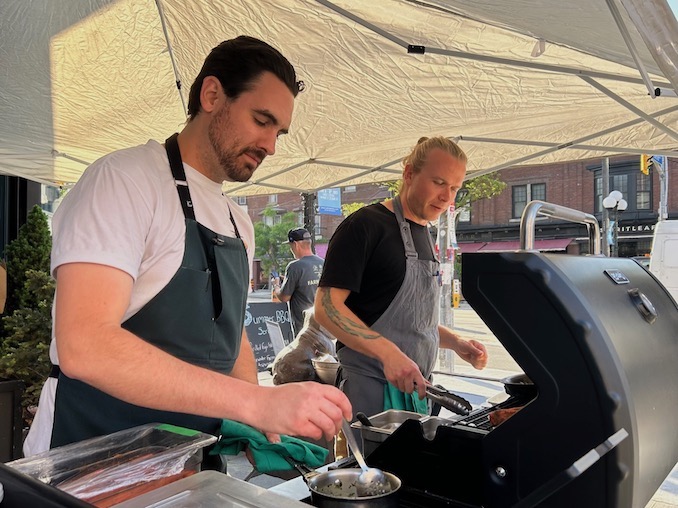 Salvo and Locke worked side-by-side at the outdoor grill at the front of the restaurant. Perfectly situated, they caught the attention and curiosity of the Saturday night onlookers  in search of dinner options.
At this kick-off event with Chef Chris Locke, they created four special dishes both for dine-in and take-away.
The Carrot Dog is a vegan version of a hot dog. Salvo explained they had this idea to do a carrot dog and had experimented with various ways to achieve the satisfying flavours and textures. First they used dehydrated roasted carrots, then piled on horseradish mustard, ramp & bread and butter 'green relish', all stuffed into a pillowy house-made potato bun. A delicious choice even for meat eaters and yes, it is very convincing both in taste and consistency.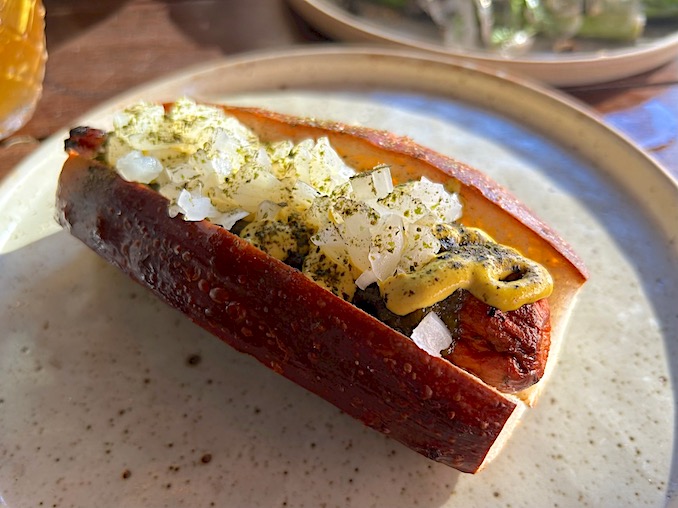 Grilled Fogo Island Squid are grilled to a mouth-watering tenderness beautifully presented with squid garum glaze over a bed of white navy beans, ramp 'pesto', and fermented chilli harissa. Then, topped with bronze fennel for a stunning presentation.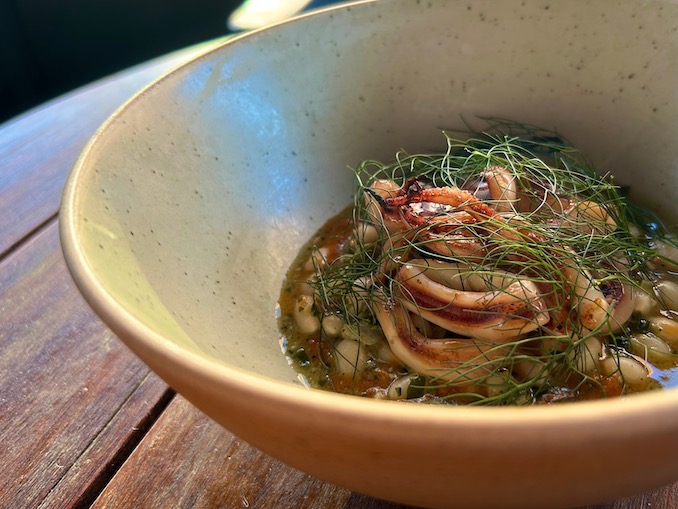 The season of locally sourced asparagus  has arrived Salvo tells us they've sourced this batch from Clearwater Farms in Newmarket. There's nothing like fresh flavourful spears grilled to perfection with a slight crunch. Served with spruce cured lardo, puffed rice granola, and douchi butter.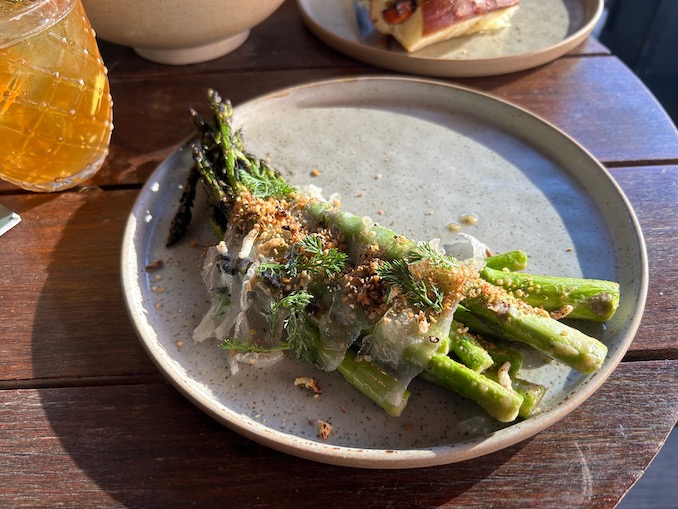 Grill Turnip Salad is refreshing and tasty. Served with their "fun ballpark" vinaigrette and millet dukkha made for a creative option for vegans and non-vegans alike.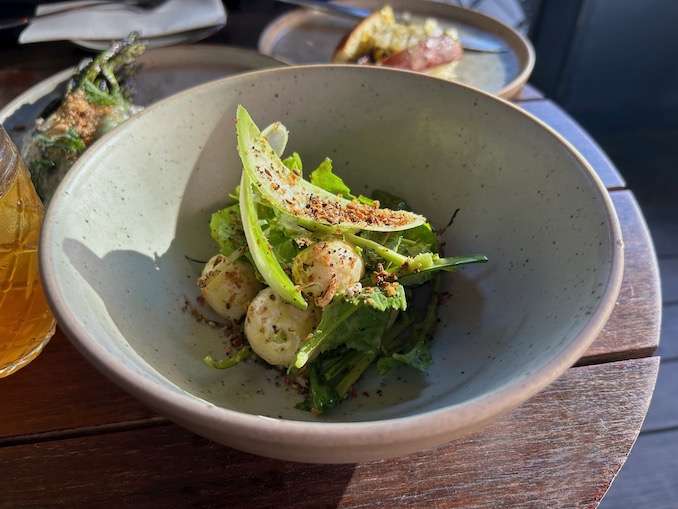 The Summer BBQ Series has four additional chefs in the city secured for future dates. More chefs, dates, menus to come. Keep up to date on The Dog & Tiger's social media pages for more announcements. They have already secured the following…
Bennett Jacobs (chef) & Anthony Fushell (owner) – Bennett and Anthony have joined forces to create Peaches, a queer-friendly and hella quirky sports bar in Parkdale — they will be grilling at The Dog & Tiger on June 10th.
Spencer Cryan of Pasture Butchery – Spencer brings a focus on charcuterie and whole animal butchery, specializing in using Ontario's pasture-raised animals.
Jordan Oetelaar (Chef) & Jef Edwards (Executive Chef) – At Ration Food Lab & Ration Beverley the focus is zero-waste contemporary Canadian cuisine. It's always sustainable and absolutely delicious.
Michael Lam – As the Chef and Owner at Good Behaviour Ice Cream, Michael creates some of the most creative and delicious ice cream flavours in the city.
Taylor McMeekin – As the Executive Chef of The Drake Hotel and Fogo Island Fish, Taylor is on the cutting edge of sustainably sourced food and delicious dishes.
The Dog & Tiger Kitchen and Bar also offers the main menu as well as daily specials during the pop up events.
Oh, and the patio is dog friendly!
Website: thedogandtiger.com
Address: 537 College Street, Toronto