In honour of Asian Heritage month Thai Trade Toronto sent us this recipe for 'Summer Pea, Mozzarella Arancini' by Chef Afrim Pristine of Cheese Boutique. This dish features Thai Hom Mali Rice which the Government of Thailand certifies using its official seal to ensure the rice's authenticity and promise exceptional quality. Thai Hom Mali rice is most commonly referred to as "Jasmine rice" because its stark white colour resembles the delicate Jasmine flower. Thai Hom Mali Rice is known for its high quality, distinct aroma of exotic flowers and buttered popcorn and nutritional properties including being a source of vitamin B1, B2, Niacin and minerals such as Iron, Calcium, and Phosphorus.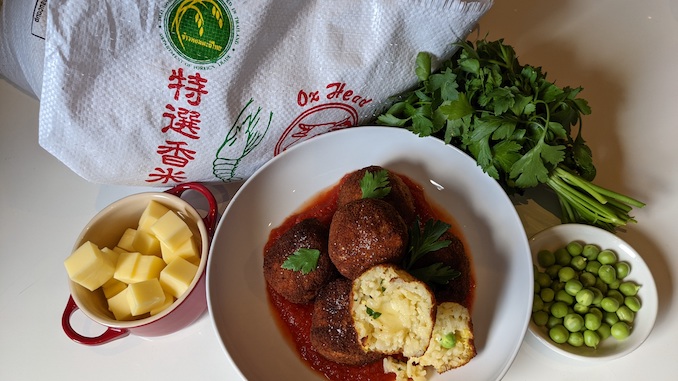 Summer Pea, Mozzarella Arancini
Yields: 8-10 arancini
Ingredients:
2 cups chicken stock
2 tbsp unsalted butter
1 shallot minced
1 cup Thai Hom Mali rice
1/4cup grated Parmigiano Reggiano cheese
2 tbsp finely chopped parsley
2 eggs
1/4 cup all-purpose flour
1/2 cup fine breadcrumbs
150gr brick mozzarella, cut into 16 1/2 inch dice
24 fresh peas
Vegetable or canola oil, for frying
Directions:
1. Bring chicken stock to a simmer in a medium sized sauce pan, keep warm.
2. Melt the butter in a medium saute pan. Add shallots and cook over medium heat, gently stirring until softened, about 3 minutes.
3. Add Thai Hom Mali rice and cook for about 4 minutes, stirring gently.
4. Add 1 cup of the stock to the pan and cook, stirring gently until all the stock is absorbed by the rice.
5. Add the remaining stock, 1/4 cup at a time and cook, stirring gently until the rice is al dente, about 20-25 minutes.
6. Stir in Parmigiano reggiano, a few pinches of salt and pepper.
7. Transfer the cooked rice to a bowl and let cool for 10-15 minutes.
8. Stir in 1 egg and parsley and then refrigerate rice for another 10 minutes.
9. Line a baking sheet with wax paper.
10. In a shallow bowl, beat the remaining egg.
11. Put the flour and breadcrumbs on separate plates.
12. Season, the breadcrumbs with a pinch or two of salt and pepper.
13. Using moistened hands, form small ball portions of rice.
14. Tuck a piece of mozzarella and 3 peas in the centre of each rice ball and seal any holes.
14. See the balls on the baking sheet.
15. Dredge the rice balls in the flour.
16. One at a time, dip each ball into egg mixture, then coat with breadcrumbs, rolling and pressing it into a compact ball.
17. Heat 1/2 of oil in a large cast iron pan. Once oil is hot, add half the rice balls and cook over medium-high heat, rotating the rice balls. Cook entire surface area to a golden brown, around 6-8 minutes.
18. Drain the rice balls on a paper towel. Transfer to a dinner plate and serve with tasty tomato pasta sauce. Enjoy!