Meet Columbo – the loudest purr you've ever heard! Columbo is an affectionate, friendly, people-loving cat who ended up in our care after his guardian sadly passed away.
Columbo enjoys petting and LOVES brushing. He will purr as loud as can be and roll around for pets. Our volunteers have also added "Columbo could open a bakery with the number of biscuits he was making!" during enrichment visits. Columbo is cat friendly, he would do well in a home with another cat-friendly cat. He's a large cat with a larger voice.
Columbo can be fearful at times, with all of the changes that have come his way he is still learning to adjust (he is afraid of loud noises); but he has started to show us what a sweetheart he can be!
He has been diagnosed with Feline Lower Urinary Tract Disease (FLUTD) and has been prescribed a veterinary diet to help maintain his urinary health. This condition shouldn't affect him too much on the day-to-day; he'll just need his special food, lots of spots to drink fresh water, and his adopters will need to monitor his litterbox habits and have a relationship with a vet to support his long-term health.
Columbo is incredibly sweet and would make a lovely addition to any family with love and patience to provide.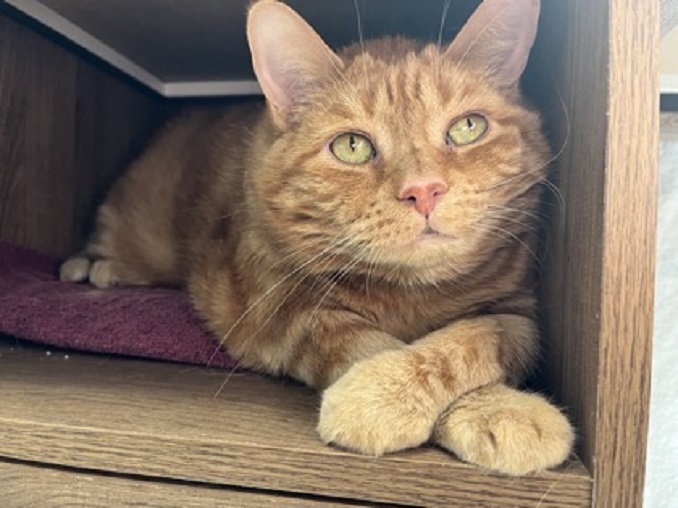 Columbo
Age: 9 Years 1 Month
Sex: Male
Size: XL
Colour: Orange
Spayed/Neutered: Yes
Declawed: Front
For Toronto Humane Society's complete adoption process, please click here to learn more about how you can make this companion, a forever friend!
About this column:
Each week we feature animals available for adoption from local shelters in the Toronto area with the hopes that our readers will assist in finding good homes for them. If you, or someone you know, has the resources to take care of one of these animals, please do get in touch with the appropriate shelter via the links provided.