High employee turnover rates cost businesses a vast amount of money every year. Simply put, it can be very costly to process departures, handle new applications, interview and hire replacements, train new team members, dedicate current employees to facilitate ongoing training, and pivot within departments to temporarily fill roles.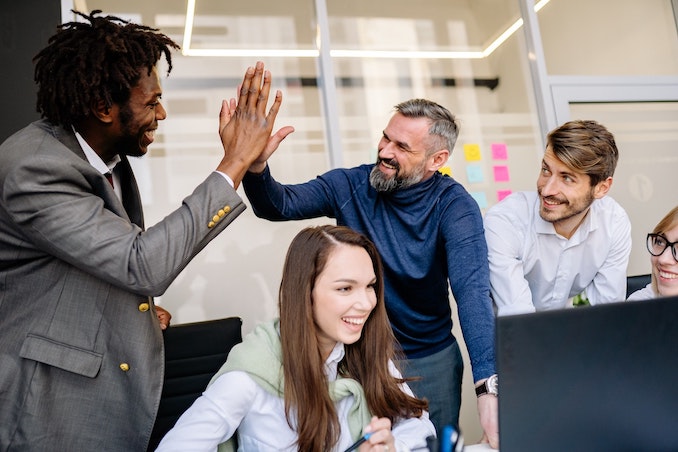 In addition, consistent turnover and turbulence for staff can contribute to low morale, suspicion, doubt or uncertainty among remaining team members.
With the financial and social challenges turnover entails, an employee retention strategy is vital. Reducing turnover not only saves money, but it also helps to solidify a happy, productive, and eager workforce — consequentially improving day-to-day business output.
So how can businesses improve their internal culture and thus reduce employee turnover?
Set Clear Position Boundaries
One of the most frustrating elements of working in a team, regardless of its size, is to not fully understand your role or how different departments function in relation to one another. Not knowing your part can make planning future projects difficult. It may mean being asked to complete a task that's outside of your skillset; being undermined when you should have a say in decision-making; or consistently being pulled in multiple directions.
Create clear boundaries and position summaries within departments so that everyone knows where they stand, and what's expected of them.
Celebrate Wins
There's a reason certificates and medals are awarded throughout school and for sports. Doing so boosts confidence, rewards excellence, buoys self-confidence and elevates team morale. If a team or an individual excels in their role or in an important task, be sure they know how appreciated and how valued their efforts are. Reasons for celebration may include exceeding a sales target, closing a deal with a client, securing a meeting with a coveted potential lead, or renewing a contract.
In addition to professional wins, pay serious consideration to celebrating personal successes, like getting married or having a baby. Acknowledging the importance of work-life balance shows team members you appreciate and respect their life outside of the office.
Ways to celebrate may include hosting an office lunch or dinner party, supplying vouchers for a local restaurant, or treating your team to a selection of luxurious and decadent goodies as offered by Toronto-based Nutcracker Sweet Gift Baskets. Here, you can choose from a selection of gourmet baskets laden with top-tier treats from quality brands. Corporate gifting solutions is their specialty, which means you're guaranteed an expertly crafted and customized array of gifts.
Regularly Review Pay Scales
With the rising cost of living, it would be remiss to assume that pay doesn't factor into employee satisfaction and retention. Unfortunately, a recent survey by job site Indeed found that only 52% of Canadians feel that they are being paid fairly. Consistently review pay scales for positions against like-minded companies using local agency data.
Offering bonuses, benefits and a competitive salary will directly impact your company's employee turnover. Further, fair pay can not only help you retain top talent but it can also help you attract it. In the same survey, 83% of Canadians said fair pay was the number one factor when saying 'yes' to a new job, and 81% will only apply if they know that a company pays its employees equitably.
Conduct Regular Meetings
Organize semi-annual meetings and employee feedback surveys to field questions and concerns and to realign tasks and responsibilities. By arranging and hosting one-on-one meetings with individual team members, you're encouraging relationships and approachability in the workplace and showing your team that their feedback is welcomed, encouraged, and deeply considered.
Further, one-on-ones give you the opportunity — behind closed doors — to see if there's a consistent area of concern among the staff. If an ongoing issue is raised, you'll be equipped to troubleshoot and resolve it before it causes a more significant problem down the line among the team.
Another benefit to regular meetings is that you'll be able to ascertain an employee's level of job satisfaction. Being able to help a prized employee if they're in a rut, they're unsatisfied with the office culture, or their passion for the role is faltering can help you make changes that may help to keep them happy and fulfilled.
The Takeaway on Reducing Employee Turnover
Many factors contribute to a high employee turnover. By taking a multi-pronged approach to retaining team members — celebrating wins, considering financial needs, and helping to buoy overall job satisfaction — you're addressing an employee wants from all angles. This can go a long way towards a qualified, satisfied team member staying with you for the long haul.