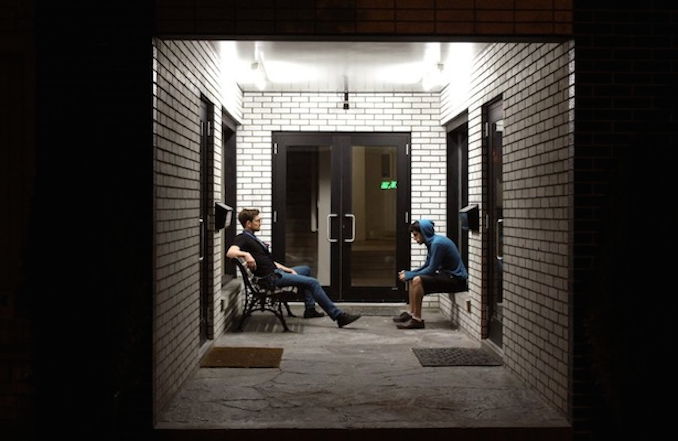 Toronto based production duo Lasko & Kestler (L&K) are a group that finds them selves in the wave of urban and electronic music. After releasing their debut EP 'Creatures' this past summer – a project rooted in hip-hop and trap with a blend of cinematic, electro and 90's rock music, the duo is hoping to build momentum and are working on production for a string of single releases in the new year. They compare themselves to acts such as TNGHT, Purity Ring, Clams Casino and M83. "Creatures" is available for free to download from their website.  I had a chance to speak to L&K about their musical inspiration and the things they love about Toronto.
What was the concept behind "End of September." Why did you choose this track as the next video?
End of September was based off an old piano riff that we wanted to make cinematic while incorporating elements of hip-hop. It was just one of those tracks where everything seemed to come together perfectly. It evolved in a really natural way and seems to have a strong emotional connection with people.
(Watch the video below)
You released your debut album "Creatures" this past summer and I hear you are planning another release before the year's end. True?
There is no planned EP or album release before the end of year but there may be some forth coming singles and remixes heading into 2014.
When can we see you next live in Toronto?
As of now we are in the process of getting our live show together so we are are hoping to get out there in the next few months with this new EP.
What are 3 must album haves on your ipod/computer?
Lately the must haves for Lasko & Kestler are:
A$AP Rocky – LONG.LIVE.A$AP for the top end mixing and vocal production.
Kendrick Lamar – Good Kid M.A.A.D City for production and lyrical/conceptual content.
Weezer – The Blue album for nostalgic reasons and cruising to Pho restaurants after a late night production session.
A musician's life is both rewarding and stressful. What do you do to keep sane? 
Play music.
Best tour story and worst tour story?
There hasn't been a best or worst moment yet but we are hoping the next leg will give us some of the best with none of the worst.
How would you describe the band in one word? 
Versatile.
If you had to collaborate with one Toronto band, who would it be and why?
It's a three way tie between Drake, deadmau5 and Feist. They all have unique visions that we think would compliment the Lasko & Kestler sound. If that doesn't work out we move on to Rush.
Top 3 artists that have inspired you in your life? 
Lasko: Explosions in the Sky, Nas, Radiohead
Kestler: The Beatles, Radiohead, Pharrell
Favourite place to eat in Toronto?
Lasko: Island Foods. Have to fight sleep for at least 2 hours after but it's worth it.
Kestler: Burrito Banditos and Burrito Boyz. They are convenient and filling.
Favourite thing about the city
Diversity.
Favourite hang out in TO?
The Red Room. The vibe is cool and the shakes are great.
Rapid fire:
Sneaky Dees Nachos or Hey Meatball Spaghetti?
Lasko – Sneaky Dees Nachos. Kestler – Sneaky Dees Nachos
Queen or College St?
Lasko – Queen St. Kestler – College St.
Trinity Bellwoods or Highpark?
Lasko – Highpark. Kestler – Highpark.
Early bird or night owls?
Lasko – Night Owl for sure. Kestler – Night Owl working towards being an early bird.
What are your thoughts of today's age of downloading free music vs purchasing music?
It is what it is. Make great music and let people decide for themselves.
What do you think of physical vs digital album sales? Do you have a preference? Are CD's almost extinct?
Digital sales can be more convenient but it's always a nice feeling to have something tangible with artwork and all. In terms of preference we would like to listen to the digital but look through the LP artwork while we do. Wait…are we allowed to sneak in both like that? As for CD's we would say they are just about dead. Unless you want to make your significant other a lovely mixed CD of course. Nothing spells out love like M-i-x-e-d C-d. Also they make excellent coasters.
What is one fact about you that people wouldn't expect?
Lasko – Worked on the movie Twilight. It was magical. #TeamJacob
Kestler – Plays beach volleyball and has one hell of a block.
What's next for LASKO & KESTLER?
World domination…