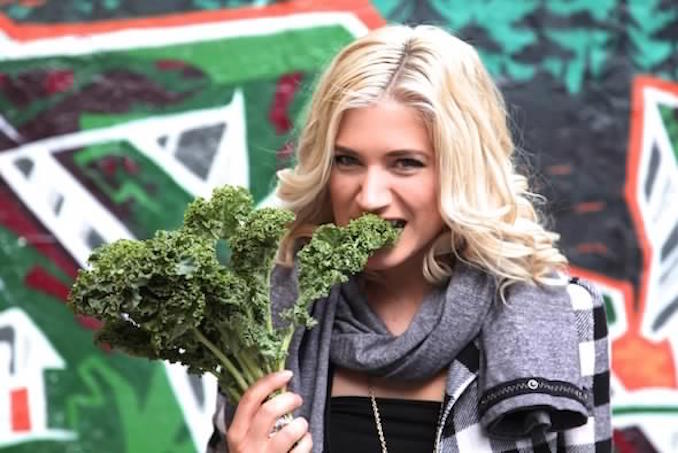 I first met Candice Hutchings, the Edgy Veg, through Belmonte Raw (see article here) as the General Manager. After speaking with her for a few short minutes, it was clear that Candice wasn't just "doing a job," she really was passionate about raw vegan food.
Somehow it came up that Candice had a YouTube channel and blog called the Edgy Veg. Since I was interviewing about Belmonte Raw, we simply left it at that. But one evening while I was randomly watching YouTube videos, I decided to type in "Edgy Veg" to see what came up. After watching one video about vegan mac and cheese (um…yes!), I was hooked. These were REAL food recipes, not crazy granola "this tastes like something I pulled out of my lawn mower" stuff. I hopped over to her blog – theedgyveg.com – and found hangover cures and face masks and thought to myself, "Who the hell is this chick?! I need to talk to her." So I did. Candice invited me over for a vegan cooking lesson and I was stoked!
We had the most amazing raw zucchini fettuccine with basil and spinach pesto AND zucchini pizza bread (inspired by pizza baguettes). The best surprise wasn't that it tasted fantastic, because I figured it would, but that it was so easy to make! Seriously, just watch one video and you'll see. And even as a meat-lover, I was totally satisfied and happy with my meal! What's even more refreshing is that you can genuinely tell that Candice loves what she's doing and wants to share with people this lifestyle that we previously thought was unattainable. It's easy, delicious, healthy and fun. Ok, I'm going to stop tooting her horn so you can read the interview and check out her blog and videos.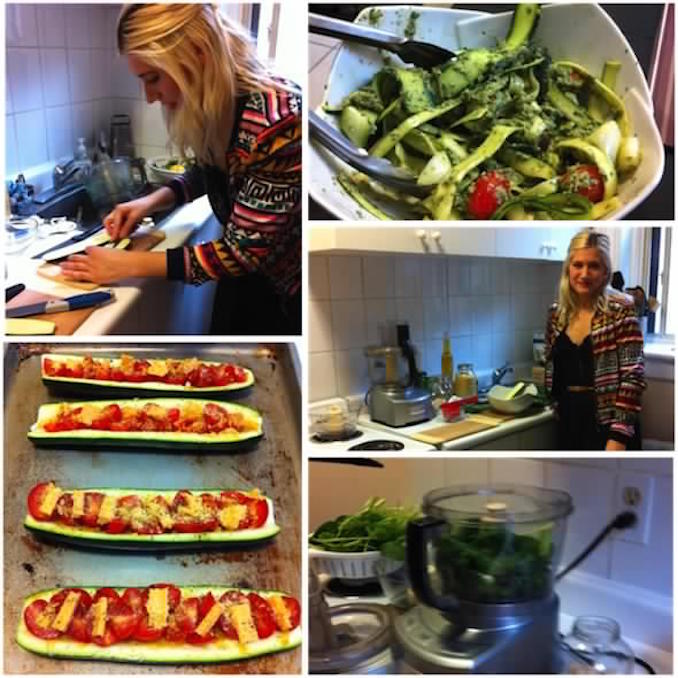 What is the Edgy Veg all about? How did it get started and who is it for?
The Edgy Veg is a combination of all the things I love: the internet, YouTube, blogs and food! It started out as a way for me to keep an online diary about the food I was making and learning how to cook. It started off as a vegetarian blog and slowly developed into a vegan and raw food blog as my own journey developed.
Really it's for anyone!!! But I seem to be targeting the young, hip, urbanite that lives in a tiny apartment and is more interested in their music, partying and wardrobe than they are in cooking. That being said it's a website full of videos, recipes and blogs geared towards making vegan food easy to make but also delicious!
Tell us about your involvement with CoralTV.
CoralTV is a women's network on YouTube run by women! I am currently hosting a weekly vegan cooking show that teaches my audience how to make healthy vegan choices easy and affordable! It's fun and upbeat (and totally not granola)! I even get to drink on camera!
Were you always a vegan? If not, what motivated you to become vegan and how long as it been?
I was not always a vegan, in fact I grew up German and mostly we ate very traditionally. What set me apart from the other kids at school was my somewhat vegetarian and very into alternative health Mother. We always ate weird food and were really into alternative healing remedies.
This is where my love for the natural really started but it was my horrific acne that gave me the push. After trying absolutely every drug, cream and injection, I was still suffering from horrible acne into my 20s. I, one day, decided to conduct an experiment on myself and voila! It worked. After 30 days of eating only raw food I noticed a significant change in my skin – I knew the answer was sitting literally in front of my face the entire time. I started to read every nutrition and health book I could get my hands on and began experimenting with cooking and preparing this amazing plant based food. My eyes were opened to the importance of food and I was hooked. It has now been 3 years since I became vegan.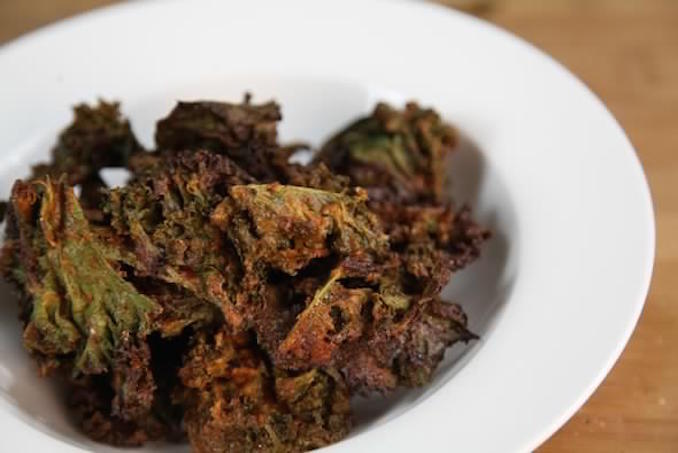 What is the hardest thing about being vegan? Alternatively, what is the most rewarding thing about being vegan?
The hardest thing about vegan is the social aspect of life. It is getting easier but there is still that difficulty of going out to dinner worrying about what you will be able to eat at a restaurant. In the beginning it was tough for me to go out and watch my friends eat the food I loved. But after doing it and being strong, the love for that food just vanished. It's really quite amazing.
The most rewarding thing about being vegan is that I no longer have belly bloat! I am not a big girl my any means but I used to have a permanent bloated, pregnant belly and it looked horrible and I was horribly self conscious about it! I used to wake up with this belly and nothing I did would help… until I did this!!! That and of course my clear skin!!! Yay!
Your website isn't just about food, tell us what else you blog about?
I love to blog about sex and relationships. I think that might have been the influence many teen years of reading sexy columns and watching Sex and the City. I love to write them in a very bold, almost satire and humorous tone; mainly because I think we women are all thinking it but no one is saying it…so I do!
I also write about various tips and tricks that can be used in the kitchen and often blog about events in my own life. It's fun to get personal with my readers, I find it very liberating.
How do you stay healthy?
I'm vegan!!!! I know, it's the obvious answer, but it's true. I stay healthy by taking care of my most important asset, by body. But I also do yoga and have a glass of wine every evening—I call that balance.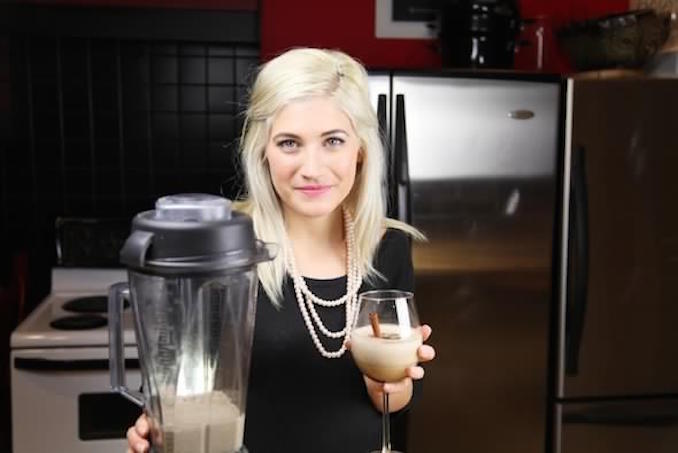 Name your all time favourite health foods (and how to use it…assuming we won't know what the heck it is). What can't you live without?
I AM OBSESSED WITH NUTRITIONAL YEAST! It's cheesy and buttery and makes everything taste better! You can make vegan cheese sauces and butters with it or just sprinkle it on salads and pastas. It is very high in vitamin B12 so it's a great ingredient for vegans and vegetarians to consume every day. I also need kale and avocados in my life; I eat these items daily.
What local businesses, personalities and vegans inspire you?
Carol Belmonte from Belmonte Raw inspires me. She is a genius when it comes to raw food and juicing. I love when companies refuse to sellout and compromise their products for mass consumption. It makes me so sad when I see my favourite products' quality diminish.
I also really love the local vegan bakeries like Bunners and Tori's Bakeshop for committing to staying vegan and gluten free without using unhealthy but vegan ingredients like refined sugars and flours.
Where do you do most of your grocery shopping?
In Kensington market and at farmers markets. It is so important to support your local farmers and eat organic!
Tell us about your raw protein bars (and balls). Where can we find it?
I am currently selling my own line of vegan protein bar mix and power balls. They are all vegan protein products that give you the energy to go about your day or refuel after a workout without the bloat, chemicals or GMOs.
Protein bars are one of the easiest ways to add convenience to your diet. On those days you simply do not have the time to prepare your meal in advance, just grab a bar and go. The protein bar mixes and power balls are made with all natural, organic ingredients and are made fresh each week by hand the same day you order. To find out more information you can email edgyveg@email.com.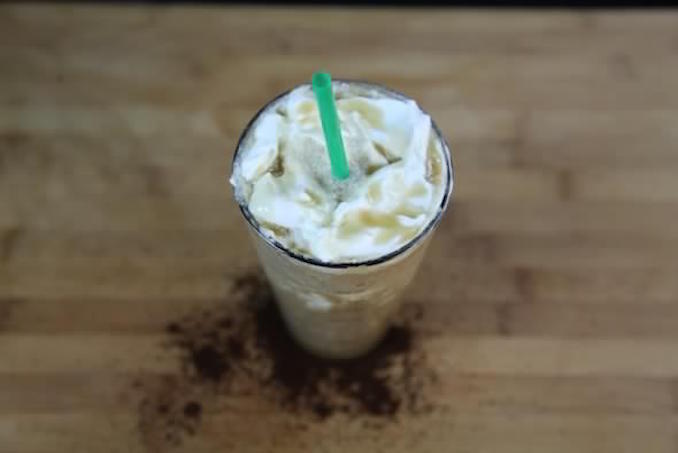 What's in store for the Edgy Veg in the future?
Loaded question! I want to take this show on the road, literally. I have a dream of travelling the world and sharing my story and my passion for the importance of food with people everywhere. I have huge goals as a YouTuber and just go where the wind blows… I am a terrible planner; I'm more into spontaneity.