Selecting where to dine when you have food allergies or celiac disease can be a total pain in the butt. It's hard to know which restaurants will be able to accommodate you or understand the nuances of how to avoid cross-contamination without you having to do some research first.
So to take some of the guess work out of it, I rounded up three restaurants in my neighbourhood (King West) that embrace food allergies and have policies in place to ensure all guests dine comfortably, no matter their restrictions.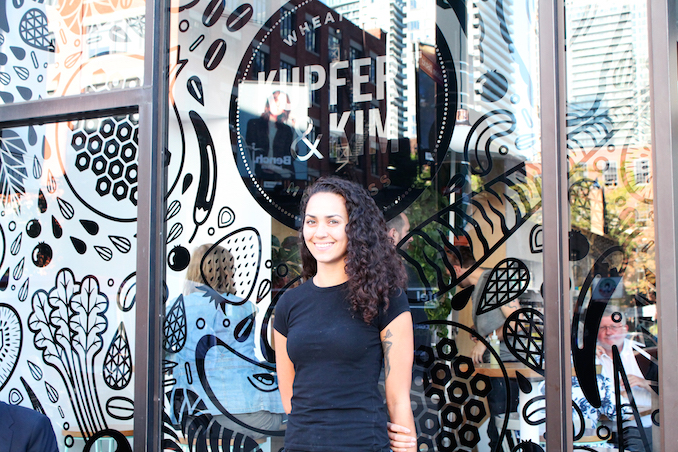 I took a number of factors into consideration when selecting the restaurants. First of all, would I want to eat there? I didn't choose anywhere that I wouldn't actually want to eat at myself or that my friends wouldn't want to join me at. Second, does the restaurant have a standard policy in place? If I ate there once and it worked out but they didn't really know how to handle allergies, then it didn't make the cut. And finally, did I have a good customer experience? Because the environment, friendliness of staff, and overall atmosphere are still important.
***
Lunch: Kupfert & Kim, at Queen St. and Spadina Ave.
I interviewed the manager of this location, Christina, who totally blew me out of the water with her food allergy policy. She has a peanut allergy herself so totally understands the dangers of cross-contamination and the importance of educated staff.
During our interview, she pulled out her binder that listed all ingredients in every item on the menu, a glossary of terms and ingredients, a guide to food allergies and where allergens are found, and procedures that must be followed. Because there are nut and peanut products on the menu at K&K, they are very careful about having separate prep stations where cross-contact could occur. For example, smoothies containing nuts are processed in a separate blender from all others and washed after each use.
All staff members go through allergy training during onboarding to ensure consistency of service. And to ensure customers remember to declare their allergies while the order is being rung through, they have friendly and inviting reminder signs in front of the cash. K&K is meat-less and wheat-less already so it's very accommodating of both gluten intolerance and dietary preferences like veganism.
*What you should order: The Cauliflower Tahini and a Very Green Smoothie
***
Dinner: The Keg, at King St. and Brant St.
The Keg is known for having a robust and consistent food allergy policy across the chain so admittedly it's my main go-to restaurant. It's great for date night, work dinners, or dining out with your family. Although they weren't available for comment, they did assure me that they take their food allergy policy very seriously as it's an important facet of their commitment to customer service. And every time I eat there the staff follows the same procedure. A manager comes out to acknowledge any allergies at the table and has a binder with all menu items, ingredients, and allergy information. They let you know that the kitchen is informed and points out any changes that may be made to the dish from how its listed on the menu. And finally they let you know that they've taken care of anything and you should be safe. As a diner this makes me so comfortable, which is the key to enjoying a good meal. A delicious plate can be spoiled if you're worried about having a reaction while eating it.
*What you should order: A signature steak meal accompanied by whiskey from their extensive collection.
***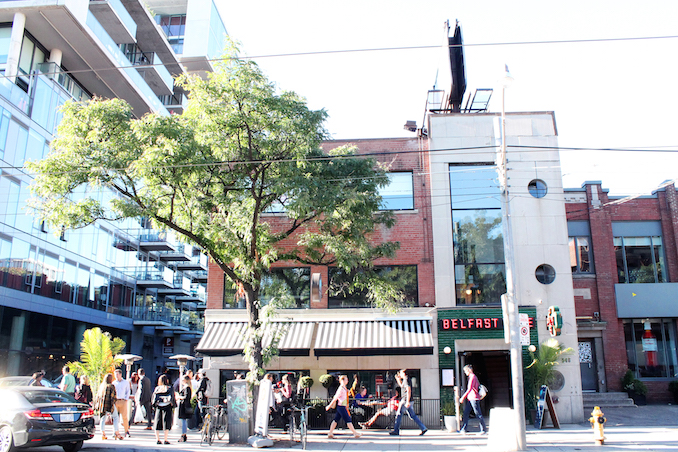 Bar: Belfast Love, at King St. and Brant St.
Eating in a pub can be difficult because it's noisy, crowded, and often dimly lit. Making sure the server can hear you when you let them know about your allergies can be a concern.
At Belfast Love, they take extra precaution when dealing with allergies partially for this reason. Their manager, Randi, sat down and explained their full process to me. Basically, as soon as someone flags an allergy, everyone involved in serving and cooking the food is notified. The server indicates it on the order, it's flagged by the chef who will have someone on the line cook it separately to avoid cross-contamination.
Although their kitchen does contain nuts, they are very careful about isolating the meal being prepared for a customer with food allergies. You'll notice that Belfast Love isn't just your typical pub fare. They have amazing salads, freshly made pizzas, and of course, a wide selection of local brews. When it comes to the bar they suggest having cider if you are gluten intolerant since there are no GF beers on tap.
*Be sure to try: the rotisserie chicken with a local craft beer
For more info about living with food allergies in Toronto, visit Amanda's blog.