For our latest Toronto business profile we chatted with Amanda Orlando about her online allergy-friendly products company Handled with Care.
What is your business called and what does it do?
My business is called Handled With Care. It's an online shop selling a thoughtfully curated selection of allergy-friendly products, from food to skincare to cosmetics.
What made you start this business?
I've lived with anaphylactic food allergies my whole life. I am allergic to peanuts, nuts, dairy, soy, and legumes (peas, lentils, chickpeas, beans). I have never been satisfied with the online shopping experience as a person with food allergies. When I'm shopping for my Enjoy Life chocolate chips online and the etailer suggests other customers like me also buy bulk peanut butter, I raise an eyebrow.
What problem does this solve?
Handled With Care is all about discoverability and curation. We are an online retailer who really understands what people with allergies are looking for. We sell a number of curated bundles that make excellent gifts, care packages (perfect for your kid who is away at school!), or classroom stock-ups, and offer excellent value. There are so many incredible food, skincare, and cosmetics brands catering to those with allergies and my goal is to make them all available in one place. Come for the products you know and trust, and discover something new as well.
Who are your clientele?
Anyone with food allergies, plus their families and friends! Our clientele is not age-specific, but there is a focus on parents of young kids up to university/college age. The thing that sparked this idea for me was that I realized many teens would love to receive an allergy-free care package while away for school, as safe products are not always accessible for everyone especially when on a budget.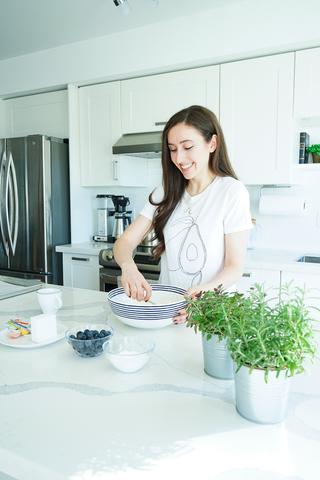 How does your business make money? How does it work?
Handled With Care is an online shop. Customers can pick up one of our care packages or scroll through our individual product offerings for food, skincare, cosmetics, or accessories. Shipping rates are affordable, and we ship anywhere. It's a great place to try many different brands at once!
Where in Toronto can we find your profession?
What is the best question a prospective customer could ask a member of your profession when comparing services?
What is the benefit of shopping at Handled With Care over another major online retailer? And here's the answer:
– Handled With Care only carries products that were developed for people with food allergies in mind
– Discover new brands of skincare, cosmetics, and food that you may not have heard of before
– We offer affordable shipping rates, and you can try all these wonderful products without having to ship individually from different companies or retailers
– The clarity of our product information and links to each company's allergen information takes the guess work out of shopping
– We offer frequent promotions on care packages
– A portion of our sales goes towards charities supporting food allergy awareness and education
What is the best part about what you do? What is the worst part?
The best part is that I also get to discover and connect with food allergy brands all over the world! The worst part is that I end up eating a lot of cookies (though that's not so terrible)
What is you favourite jokes about your own profession?
That I must have all sorts of free time now that I'm self employed!
PAY IT FORWARD: What is another Toronto business that you love?
I love Hype Food! It's a new allergy-friendly casual dining restaurant and it was so sorely needed in Toronto. The owner is a food allergy blogger and it's really making waves in our local community
About Amanda Orlando
The author and photographer of Allergen-Free Desserts (2015) and Everyone's Welcome (2019) cookbooks, a long time allergy blogger, and not only does she have allergies herself, but she is a food allergy aunt/sister/daughter and friend!
Help support this local business by shopping with them. Visit their website for more info.