New theatre collective Criminal Girlfriends brings FIERCE – an intense, all female play by George F. Walker – to Leslieville's Red Sandcastle Theatre. On the surface, FIERCE is the story of what happens when two people take risks to share something raw and private. The drama starts with two women at a drug treatment clinic: one a psychiatrist, the other an out of control patient. Both women are troubled by their traumatic past lives which they slowly reveal to each other during an unconventional treatment session.
Breaking The Comfortably Numb
FIERCE crosses boundaries with intent. Walker uses the two characters to drill beneath the destructive surfaces of anger and indifference to explore the explosive feelings tied to abandonment and loss. The despair in this play has deep roots – from the viewpoint of the characters to that of the whole world. Turns out, it's not just the psychiatrist and her patient facing misery and sorrow, but everyone. Trauma and despair are universal, and if not acknowledged, can lead to apathy, and sometimes death.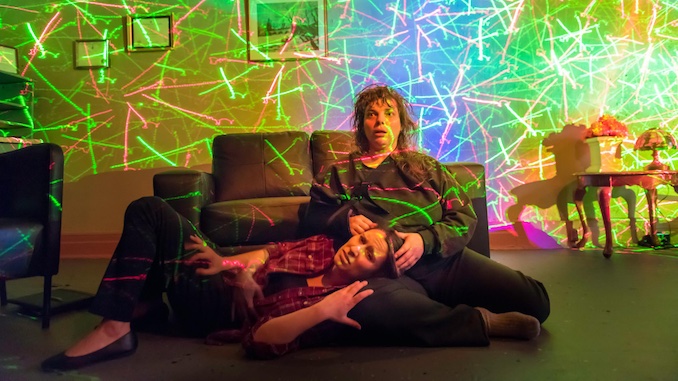 At its tender heart, this is a story about healing. How to heal with meaningful, real life human connection. Because in the end, beyond the stage, beyond the clinic, beyond our Canadian border, we are all the same – all human beings. We just have different past lives and history.
A Lesson In Being Human
So if you are looking for entertainment with a deeper meaning, hidden within inappropriately funny drug and alcohol fuelled references, this play is for you.
It's time for a bit of FIERCE fearlessness. We need to breakdown barriers between each other. All it takes is one person taking a risk. Imagine what the world would be like if we could all stop being so comfortably numb.
Actors Marisa Crockett (psychiatrist, Maggie) and Emmelia Gordon (patient, Jayne) are both terrific in this dark and often hilarious story. Gordon's intensity and range of emotion is riveting; she wins you over despite how ugly her junkie character initially comes across.
***
Extended until March 10th, 2018.
FIERCE runs till March 3, 2018 at Red Sandcastle Theatre in Toronto's Leslieville neighbourhood, 922 Queen Street East. Tickets are $25 (discount price for arts workers/students/seniors $20, and youth 25 & under $15). The show is approximately 70 minutes long with no intermission.
To get tickets and more information, please visit http://www.criminalgirlfriends.com/ or fiercetoronto.brownpapertickets.com
Schedule update > the performance schedule has been slightly revised. Performances still run Monday to Saturday at 8:00 pm, but a Sunday matinee has been added on Feb 25 at 3:00 pm, and there is no show Mon, Feb 26.
Criminal Girlfriends proudly presents the world premiere of FIERCE by George F. Walker. Written by Canadian playwright George F. Walker and directed by Wesley Berger. Walker is once again partnered with long-time collaborator, director Berger (Parents' Night/The Bigger Issue, Theatre Passe Muraille).
The FIERCE cast is Marisa Crockett and Emmelia Gordon.
Marisa Crockett plays the edgy psychiatrist, Maggie, and Emmelia Gordon is her intense patient, Jayne. These two actors met while taking an acting workshop with the playwright. Crockett and Gordon created Criminal Girlfriends – a new Toronto-based theatre collective – to produce this comedy.