Some famous Canadian faces graced King West this morning, drawing crowds and camera crews to a red carpet, in a shake-up of the typical Wednesday morning grind.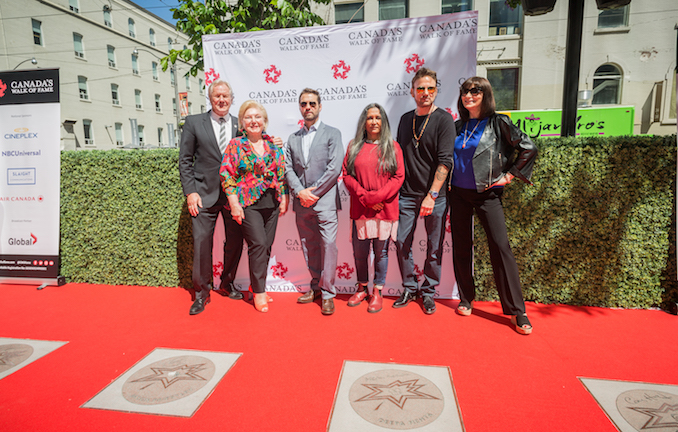 The occasion was the unveiling of the latest additions to Canada's Walk of Fame real estate. For the first time in Canada's Walk of Fame history, all 2016 nominees unveiled their recently cemented stars together.
With backgrounds in everything from film, TV and music, to hockey and fashion, the 2016 nominees represented a mixed bag of homegrown talent. They include actor Jason Priestley (who will forever remain Brandon Walsh to many of us), celebrated filmmaker Deepa Mehta, 80s chart-topper Corey Hart, the late great director Al Waxman, fashion icon/journalist Jeanne Beker and hockey legend Darryl Sittler.
Of course, the new additions are among good company; past inductees feature Canadians we could never forget, like Michael J. Fox, Celine Dion, John Candy, Gordon Lightfoot, The Tragically Hip and Wayne Gretzky (just to name a few).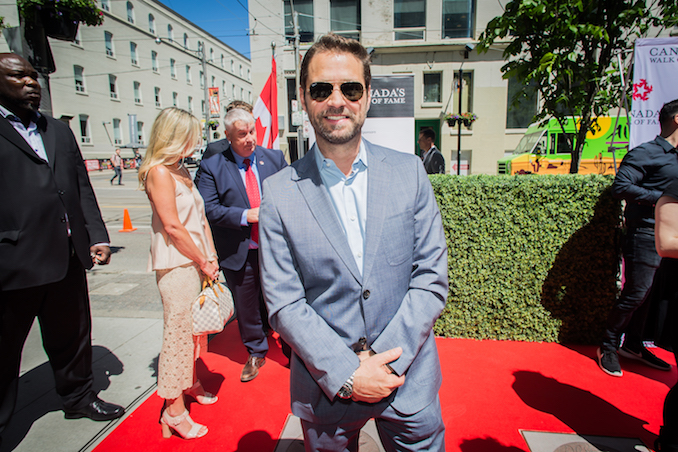 "John Béliveau was my childhood hero and his star is here. The other person who has had a great impact on my life – a great Canadian – is Terry Fox. He's done so much for all of us," said Darryl Sittler when we asked him about his favourite past inductee. "So, to have a star on Canada's Walk of Fame comes with the company of all the great Canadians – guys like Bobby Orr and Johnnie Bauer. There are so many people on the arts and entertainment side too; I am happy to be a part of it."
As for Jason Priestley, he's most happy about being in the company of the legendary SCTV actors.
"I was always a huge fan if SCTV, and they have a star on the Walk of Fame here," said Priestley. "I'm trying to check working with as many of them as I can off my bucket list. So, I have gone through Dave Thomas, Andrea Martin and Joe Flaherty, and I'm trying to get to Eugene Levy and trying to get to Catherine O'Hara." Of course, he could always easily check off the last two with a guest role on Schitt's Creek. "I've always been a huge fan of those guys and every time I get to work with one of them I am always completely blown away by their professionalism, talent and commitment to what they do. They are such a talented group of people, and I am continuously awestruck by their work," says Priestley of the SCTV actors.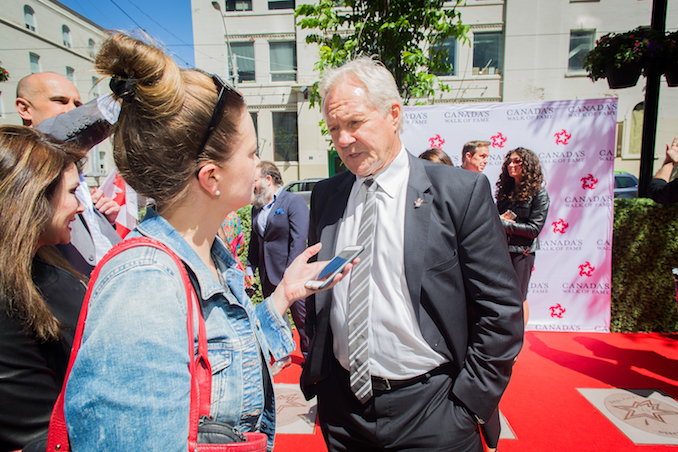 With so many Canadians making major marks in everything from music to space travel, it's safe to say the decision-makers will have no shortage of candidates to choose from moving forward. "My good friend Lanny McDonald deserves one too," said Sittler. "I played with him; he's a Hall of Famer, he won a Stanley Cup. I'm sure he'll be here with his moustache one day."
As for Priestley, he couldn't just name one Canadian he would like to see with a Walk of Fame star in the future – there are too many. "There are so many Canadians who do so much good all around the world all the time and we so it so quietly and humbly," said Priestley. "Who would I like to see get a star? I don't even know – thank god I'm not on the jury and have to decide. It's difficult; as Canadians we are a people that reach out to people and try to give people a hand up all the time, and I think that's one of the things that sets us apart."
Naturally, we had ask Sittler about the Leafs' season (because it doesn't get more Canadian than hockey, right?).
"I was so proud – as were Leaf fans and all of our coaches and management here – of all of our young guys and how they came in. We had nine rookies; Mitch Marner isn't a big guy, but he is very skilled and talented. Austin Matthews – the pressure of being a first round pick and to score 40 goals was pretty impressive," said Sittler. "For our team to come from last place overall last year, to make the playoffs this year, it obviously has a lot to do with the rookies and the guidance they get under Mike Babcock. We're all looking forward to the good things in the next few years."
When asked about the most Canadian thing he owned that wasn't hockey-related, Sittler was admittedly initially stumped. "Well, my star isn't hockey-related and it's pretty Canadian. They gave us a beautiful crystal piece of the sidewalk."
For Priestley, however, the answer was simple. "I have a beaver skull sitting in my pantry at home," he said. Well, that's definitely as Canadian as his shiny new star is.
Check out the new stars for yourself: Canada's Walk of Fame runs along King Street West, just west of Simcoe, near Metro Hall.
Visit Canada's Walk of Fame website for more information.