Since the founding of the hip-hop genre in 1973, the genre has evolved into something more than just a party jam genre. Hip-hop started as a genre one can find played at block parties in The Bronx, New York. As a DJ is on the turntable experimenting with different sounds and sampling various genres of music, another performer would be on the mic performing improvised vocals. The performance style comes from toasting, a Jamaican style of lyrical chanting.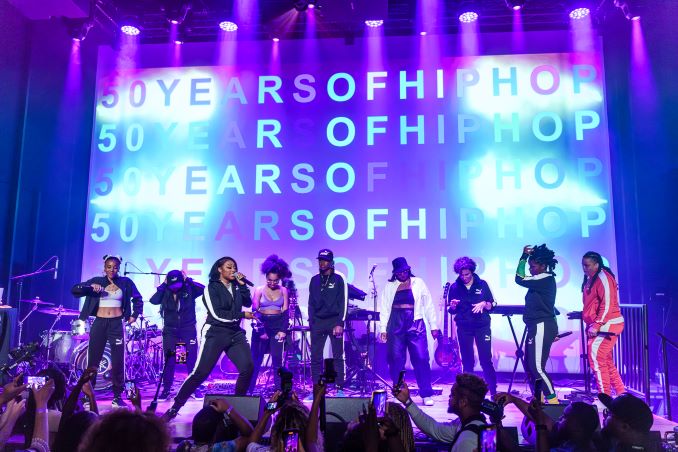 DJ Kool Herc, Grand Wizzard Theodore, Grandmaster Flash, and Afrika Bambaataa have received recognition as hip-hop pioneers. However, it wouldn't be until 1979 that hip-hop would achieve mainstream success with the song "Rapper Delight" by the Sugarhill Gang.
The genre would see its first large-scale evolution during the 1980s. The end of the decade marked the start of hip-hop's golden era, its development in Canada, and the creation of Honey Jam. The founder, Ebonnie Rowe, was a student at the University of Toronto when a friend suddenly died. The passing of her friend led Rowe to realize how short life was. This realization made her ready to do something that would give purpose to her life. So, she dropped out to create Each One Teach One, a mentorship that helps match Black youth with Black professionals. The overall goal of the mentorship is to inspire Black youth to become successful in life and combat the media's negative stereotypes of Black people.
The teenagers within the program were listening to gangsta rap, with the genre's misogynistic influences rubbing off on their younger siblings. During that time, radio stations had the choice not to play clean versions. As a result, explicit versions of songs would play on radio stations during the day. Rowe went to DJ X, Canada's biggest DJ, who worked at the now-defunct CKLN-FM radio station, to address the impact of the misogynistic lyrics. DJ X offered Rowe the opportunity to produce his entire show and explore these issues. The opportunity led to the now-defunct Mi Check Entertainment magazine editors asking Rowe to become an editor for their all-female edition issue.
In May 1995, the magazine held a celebration party for the issue under the name Honey Jam. Not knowing this was a one-time thing, many party-goers expected another issue. When realizing there wasn't any other platform for women in the hip-hop community, Rowe brought the Honey Jam mentorship to life during her off-time and worked as a legal assistant before she started to achieve sponsorships. The Honey Jam mentorship provides mentoring, networking, educational, and performance opportunities for upcoming female artists through songwriting camps, industry workshops, mentor cafes, paid performance opportunities, and interactive sessions from major female recording artists.
With 2023 marking the 50th anniversary of hip-hop, Honey Jam wanted to be part of the celebrations as they have helped provide a platform for upcoming female hip-hop artists. On August 17, Honey Jam held their annual concert at the TD Music Hall. Hosted by radio personality Angeline Tetteh-Wayhoe, the yearly show consisted of performances from many upcoming female artists from different provinces and showcasing music from various genres. The second last act consisted of a musical number as a tribute to the late Tina Turner. The show concluded with a PUMA-sponsored performance dedicated to hip-hop's 50th anniversary.
Rowe said it feels incredible to be part of hip-hop's legacy. She is very proud of Honey Jam's hip-hop history and the work achieved in providing a platform for women in all elements of the genre. Rowe's work with Honey Jam received recognition from various publications for her influential endeavors within hip-hop during its early days. The first two years of the Honey Jam mentorship were a support system for female artists within the hip-hop genre. It has since evolved into being a mentorship for upcoming female artists of all genres. "It's a forever sisterhood," said Rowe. It is what future upcoming artists can expect when joining the Honey Jam family. New members can also expect permanent support from the mentorship as they grow as a performer.
Many of their famous alums have become successful artists in the music industry, winning Grammys and Junos and even getting cast on hit shows like Gossip Girl. Some of Honey Jam's well-known alums include artists like Nelly Furtado, Jully Black, Melanie Fiona, and Haviah Mighty.