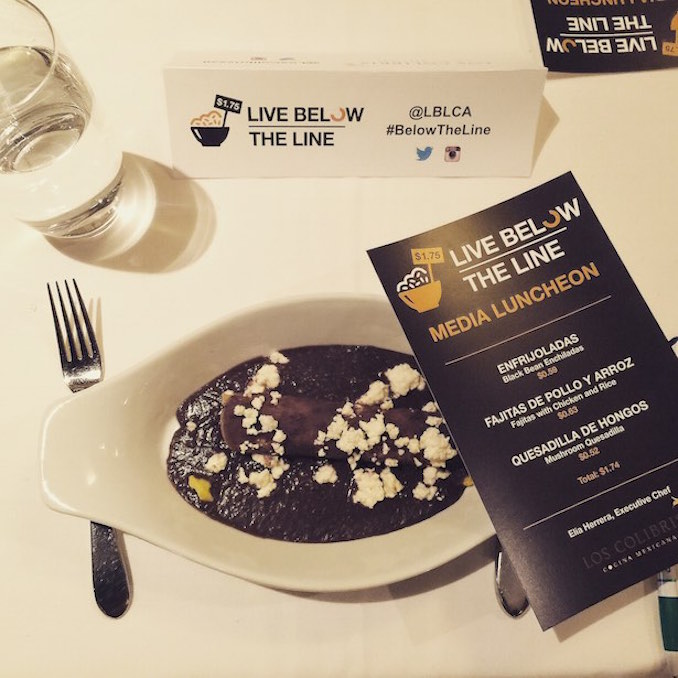 Here's food for thought. Can you live on $1.75 a day for five days? That's what thousands are doing to raise awareness and funds for those who live below the poverty line. From April 29 to May 1, 2015 the "Live Below The Line" global challenge will test the will of those worldwide. Over the past two years, those who have accepted the challenge in Canada have raised over $250,000 towards the cause. Funds raised go towards local and global organizations to support initiatives including nutrition, water, health, sanitation and education.
This year, the challenge has also engaged Chefs from coast-to-coast to create recipes for Live Below The Line participants and offer a 40-60 cent meal at their restaurants to participants during the challenge week.
Chef Elia Herrera of Los Colibris offered up a media luncheon recently to share her recipes within the cost limits of $1.75 per person. It was an eye opening experience for everyone. Chefs understand the real need for nutrition even on an extreme budget.
While it may be a no-brainer to think of bulking up on carbs like instant noodles and bread, past participants have told me that careful planning of meals to include nutrients is key to sustaining themselves. They've also mentioned that pooling a group of friends together helps stretch their resources strategically.
Think you can do it? You can find out more information at livebelowtheline.ca and to register (and if you're a participant, remember that you can also book yourself into Los Colibris during the challenge week too!)
Here is Chef Herrera's recipe for the delicious Enfrijoladas (Black Beans Enchiladas)
ENFRIDJOLADAS
Serves 4 people (total cost per person $0.59)
Ingredients
– 8 tortillas
– 4 large eggs
– black bean puree
– 1/4 cup Cotija cheese
– Black bean puree:
– 1/2 cup dry black beans
– 1 1/2 tbsp. Spanish onion, chopped
– 1/2 garlic clove, chopped
– 1 1/2 tsp canola oil
– 1/2 cup water
– salt and pepper
Instructions:
1. Puree: soak the beans over night. In a pot, saute the onion and garlic with canola oil until translucent. Add pre-soaked beans and water over medium heat until cooked.
2. Blend mixture and place back on the heat to slightly reduce. Season with salt and pepper.
3. In a non-stick pan, scramble the eggs, and fill the tortillas with the egg like a taco.
4. Add the hot bean puree over the tortillas and sprinkle the Cotija cheese on top. Serve immediately.