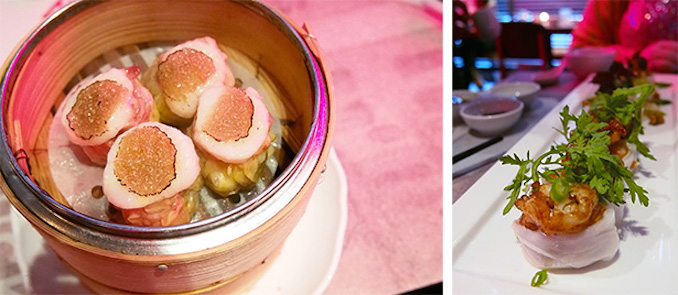 photos by Yuli Scheidt
It was back in April when Chef Susur Lee decided to venture out and open up another restaurant, no one expected that he would open a dim-sum restaurant.  The restaurant, Luckee, would be his own take on dim-sum and Chinese food and would be a far departure from his King West home of Lee. He found himself in a new home in the Soho Metropolitan hotel, where his space was a bit more upscale, a little more urban and very chic. From the moment you walk through the doors, you're met with glitz and glam.  This isn't your typical Chinese restaurant but then again, Susur Lee isn't your typical chef.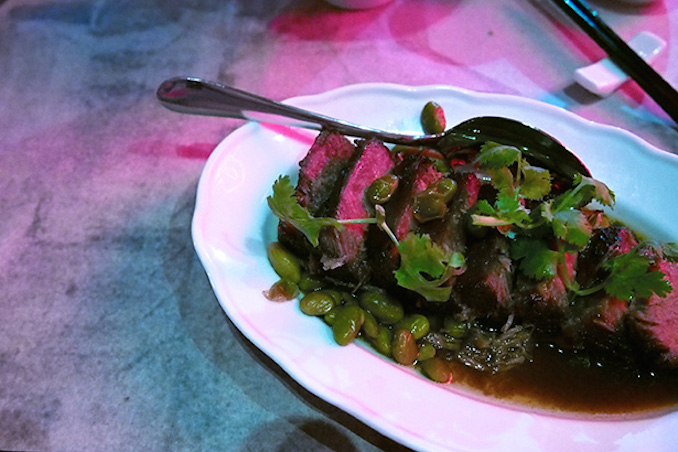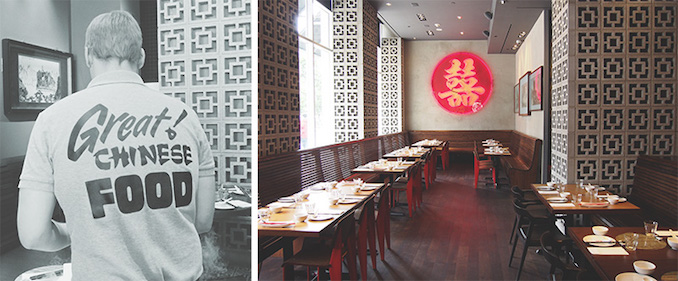 The interior design has been handled by none other than Brenda Bent and her team at Bent and Gable.  They have included neon red lights, an open kitchen, gorgeous tile flooring and unique lighting fixtures throughout.  Everything right down to the waitstaff's uniforms fit the personal branding at Luckee with bold imperial red and black.
The dim sum menu lists steamed, fried and vegetarian selections, covering a variety of dumplings rolls, buns and cakes. We try our hand at the Siu Mai (4 pcs, $9) and the Cheung Fun (Shrimp and Chicken, 8pcs each $12/each).  Each were delicate and beautifully made with the ginger and soya flavours marrying along quite nicely.  Dim sum can be over done and each bite was steamed to perfection.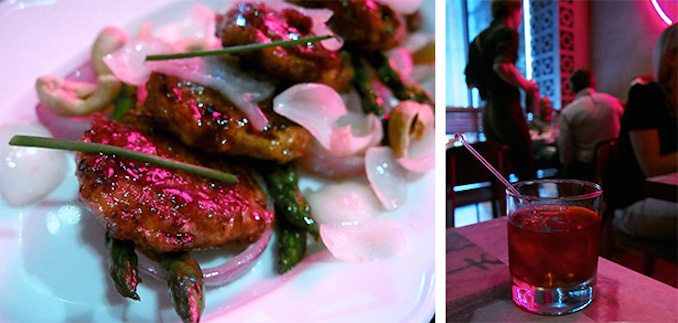 Next up, we made our way into the heavy items included the quick sauteed scallops ($21) and char shui beef siu beef short ribs ($24).  The scallops had the ability to be overcooked and rubbery but with their quick seared fry and soy glaze, it was pure heaven. The Korean short ribs also proved to be a deadly portion as the meat was fall off the bone tender.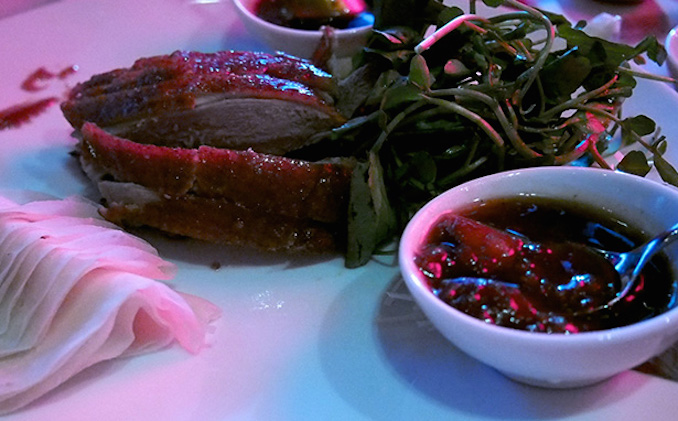 But the item that stole the show at dinner was the Luckee Duck ($24) which Susur told us, as he made his was to our table was "a heavy item but a delicious item" is something I cannot stop thinking about.  This juicy and tender duck breast served up up with chinese pancakes, apple, cucumber, leek & cranberry relish is the perfect dish to share with a friend or to eat on your own.
While all of the items we had at Luckee were incredibly amazing (a simple dish of fried lotus root and chinese celery $14 was elevated to the next level) and the service staff on-point, the noise level can be a bit much at times.  But that does not discount the amazing taste of everything had and the experience that surrounded us.  If you're looking for a place to impress that certain something, this is the place.  You can tell how much thought, care and heart Susur Lee has put into this into spot.