Legendary graffiti artist Kelly Graval (aka RISK) is one of the most widely respected in the world. A true pioneer in the street art, RISK's career spans over 30 years. His work has been seen on everything from freeway overpasses to music videos and clothing brands. The multi-talented fine artist, illustrator and graffiti artist's first Canadian solo show is happening right here in Toronto at the Taglialatella Galleries (99 Yorkville Avenue) until November 15, 2018.  The exhibition features a collection of neon and car plate artworks and in true RISK fashion, he's painted one of his signature murals on the exterior and interior of the Yorkville gallery —  contemporary graffiti art lovers should definitely make a point in visiting!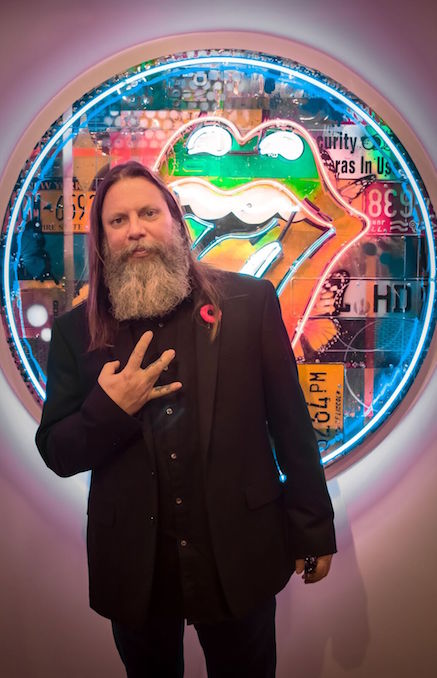 RISK has been part of the Los Angeles art scene for decades. His career spans over 30 years starting with writing "SURF" at his school and throughout his neighbourhood. In 1983, he started writing "RISK" and began painting illegal murals across the city. Then, that name stuck. In the mid-80s, he founded graffiti crew called the West Coast Artists (WCA) along side artist RIVAL and then it happened, graffiti jumped from  public and private property and into different territories. Recognized as a bonafide artist, RISK's work was in high demand in the film and music industries. His creativity pushed forward and so did his passion in the arts in many forms that can be seen everywhere from music videos to hotel rooms to a clothing line. He's had countless media interviews and exhibitions. But not forgetting his roots, RISK has also made a point of supporting artists and going back to the community. His life journey is fascinating and you can learn more about him here.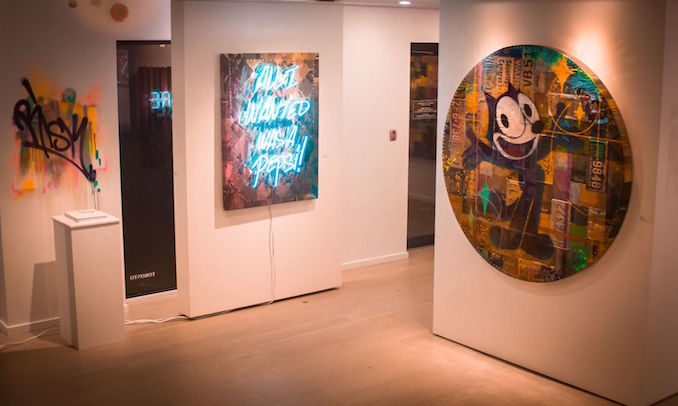 We had a chance to interview RISK recently while he was here in Toronto for the opening of his exhibition …
Graffiti art began 30 years ago for you when it was still considered vandalism. Some of it is still considered that way. When did you notice a change in attitude?
RISK: I noticed the most significant change in the attitude around graffiti at the Art in the Streets show – an exhibition that traced the history of graffiti and street art from the 70s to what it has become today – curated by Jeffrey Dietch and Roger Gastman.
Is there graffiti etiquette? 
RISK: Yes, there are a few rules. Mostly don't go over anyone better than you. There's a hierarchy within the graffiti world of what can cover existing graffiti – a "tag" can legitimately be covered by a "throw-up", and a "throw-up" by a "piece".
(Graffiti slang glossary your reference: https://en.wikipedia.org/wiki/Glossary_of_graffiti_)
There are many young kids that are drawn to the art form, what advice would you give them as they are starting out?
RISK: I would tell them to never give up and never listen to anybody. If you always listen to someone else, you will never get to where you want to go. I can't tell you how many people told me to stop writing on walls! (Lol)
You've been Knighted! How and where? Tell us more!
RISK: I was knighted in Rome. It was a surreal experience and words can't even describe how awesome it was. The highlight was actually painting at a Michelangelo studio – I never would have guessed in a million years I would have been doing that!
WOW! What was that like?
RISK: Yes, that was crazy! You actually can feel chills when you're sitting in the studio painting. I would just try to imagine what he was thinking when he was there.
But you're not just known for your graffiti art, you're a multi-media artist and contemporary art collectors have been excited. Can you share a story about one (or two) of your pieces that we can see at Taglialatella Gallery in Toronto?
RISK: The gallery consists of two series of work: one being Metallic Tissue and the other being Collateral Damage. The Metallic Tissue series is actually my imprint on society, my DNA so to speak, with all of the spray cans I used to paint illegal walls or museums and galleries, as I repurposed those cans to make the canvas.
The other series is called Collateral Damage and that was derived from me staring at my studio walls and really liking the depth and complexity that was the collateral damage from my studio work. I've since started creating that organized chaos into this series. We have a few mixed-media neon pieces as well.
What do you wish more people knew about you?
RISK: I'm pretty much an open book…what you see is what you get…keep on keepin on!
For more information about his exhibition visit tagliatellagalleries.com