A special dinner event is happening in Toronto. On November 15, multiple Michelin star awarded Chef Daniel Boulud will be joined by a celebrated cast of culinary talent for a dinner in support of the James Beard Foundation. Six internationally renowned chefs will come together for this one-of-a-kind dinner to bring a taste of the highly respected James Beard House and it's sought after dining experiences in New York City to Toronto.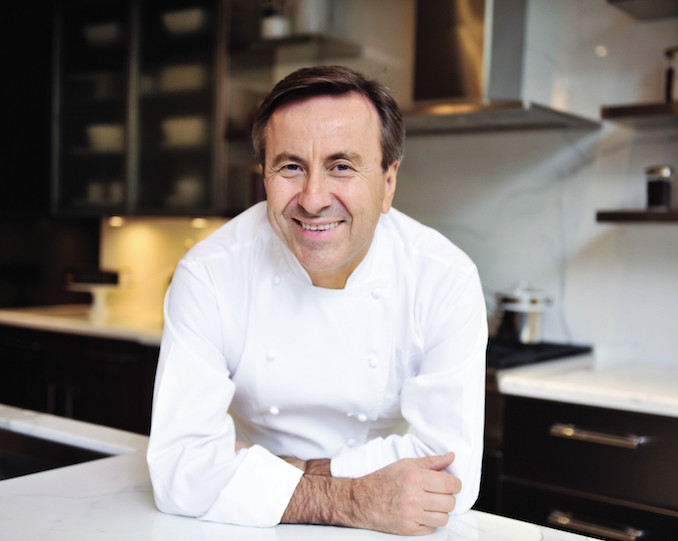 If you're not familiar with the James Beard Foundation their mission is to celebrate, nurture and honour chefs and others in the food industry. They have help educate and mentor many generations. James Beard was considered a pioneer in the food culture and amongst his accomplishments and recognitions he was the first to host a food program on television and helped changed the way North America approach food. You can learn more here.
Many of the world's most well-known chefs and food industry names have associations with this foundation including Alain Ducasse, Thomas Keller, Anthony Bourdain, Todd English, David Chang, and many more.
The Foundation's awards are known as the Oscars of the food world, and this event is the only Canadian stop on the Celebrity Chef Tour series.  Among the chef joining Chef Boulud include Melissa Rodriguez (Del Posto, NYC) who runs one of the most high-profile Italian restaurants in Manhattan. She is also the first woman at the helm of a restaurant awarded four stars by the New York Times.
This upcoming dining experience will be at Cafe Boulud, Four Seasons Hotel, Toronto. Limited number of tickets for this event are available at cafeboulud.com
We had a chance to chat with Chef Daniel Boulud to find out more about this exciting culinary event:
How did this team of talented chefs assemble for this event?
We worked with the chefs at Four Seasons Hotel Toronto to assemble this group of American and Canadian chefs, some of whom worked with me at Restaurant DANIEL for many years like Melissa and Roger, and others like Jamie, a very talented chef from Boston whose cuisine I enjoy.
Description of James Beard Celebrity Chef Tour dinner series program:
The James Beard Foundation's Celebrity Chef Tour dinner series brings a taste of what happens at the James Beard House in New York City to more than 20 cities across the country each year. Each dinner begins with a cocktail reception followed by a one-night-only, multi-course dinner with wine pairings featuring a diverse group of JBF Award winners and local chefs – which changes from city to city. The night ends with a decadent dessert course and a Q&A session with the evening's chefs.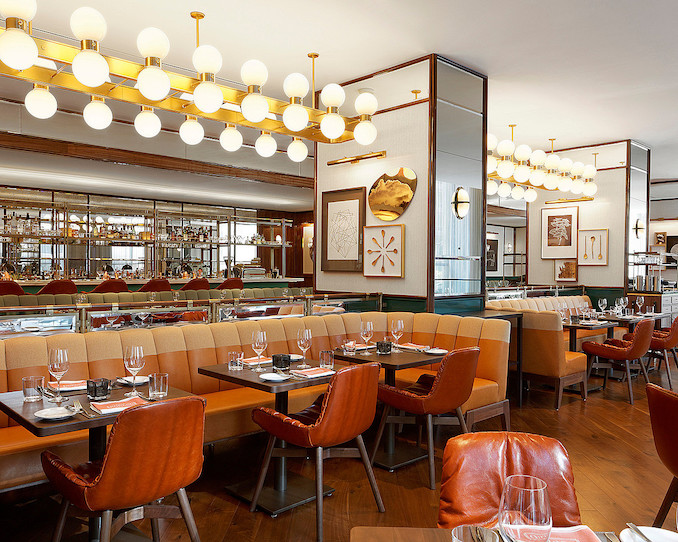 We've heard of the highly sought after James Beard House dinner events in New York, what should we expect here in Toronto with this experience?
The goal of the James Beard Foundation is to promote and engage with young chefs and proliferate culinary achievement to inspire future generations to come. Every chef who has the opportunity to cook at the original Beard House in NY sees it as a time to shine on a large stage and often looks at the experience as a highlight of their career. On the road, James Beard House events are very much the same – it is about celebrating a new generation of chefs. I have done events outside of NY with James Beard many times.
What are some of the other exciting things happening with the James Beard Foundation?
The Foundation's new CEO, Clare Reichenbach is bringing a lot of energy to the table. The James Beard Foundation is changing its rules and regulations in an effort to make its coveted awards more inclusive.
~James Beard Women's Leadership Programs
~Our No Food Waste program
~Our Chefs Boot Camp for Policy and Change
Here is a link to all of the programs: www.jamesbeard.org/impact
Chefs can make a huge impact in this world we live in – they create food trends and bring awareness to sustainability, carbon footprints, and food waste are ones that come to mind. What would you say are the issues that are important to you and trends to watch out for?
I was born and raised on a farm outside of Lyon where the footprints we left behind mattered the most. We mastered the art of food waste as we know how to recycle every bit of everything we raised and it is something I have always cared about. We even had very lucky family dogs who got to eat the bones and scraps from our cooking! Today in our restaurants it is our responsibility to be attentive and creative to make the most of all the beautiful ingredients we procure for our menus.
We also know the impact of recycling properly and the responsibility of taking action to remove things that clutter the planet. All of our participating chefs in this dinner are equally aware and motivated to find change in this industry and be a part of the solution. Earlier this year the Dinex Group also eliminated plastic straws from its restaurants. Every little bit helps.
As far as trends, robotization and the use of technology to improve the kitchen experience is something to watch, such as a venture I'm involved with in Boston called Spyce. This will particularly be relevant for the fast-casual restaurant industry. It is a blend of traditional hospitality and modern technology.
The dinners are also fundraisers for the Foundation. Is there a specific area that the money raised will go towards?
The dinners support the general fund at the Foundation. Includes everything from scholarships to turning on the lights.
If someone was to cook for you who would that be…and what dish would you order?
I would start with Eric Ripert making me a tuna carpaccio with foie gras; Jean-Georges Vongerichten making me his Thai black bass; Daniel Humm making celery root cooked in a pig bladder and Thomas Keller preparing me the French classic Beef Wellington. I'd finish with Dominique Ansel whipping up his latest creation.
Thank you to Chef Daniel Boulud for taking the time to chat with us.