The Black Female Accountants Network (BFAN) is a faith-based organization founded on Christian values with a centric focus on its members empowering each other to make a difference within the profession, workplace, and community. As a champion of finance and accounting professionals, the BFAN Network dedicates its efforts to providing a forum to showcase and celebrate professional accomplishments.
To find out more, we interviewed the BFAN team to learn about their vision, goals, transformative work, and future endeavours.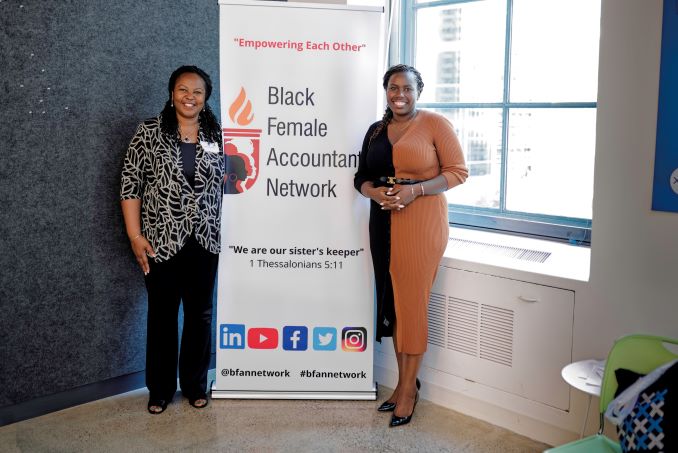 Jenny Okonkwo, Network Founder
When was BFAN founded and how has it changed since?
BFAN officially launched in October 2016 with a clear vision of members empowering each other to make a difference in the profession, workplace, and community at large. Since the launch, it has grown to become a collective of 1500 professionals across Canada and beyond. Through the dedication and commitment of its volunteer team, it offers a variety of programming and member support initiatives, including its signature award winning program, the Annual Women in Leadership Summit.
Christine Swearing, VP Event Planning
Tell us how your successful programs and services make a difference?
BFAN is a professional network led by dedicated Black Women who volunteer their time to see other Black women succeed in the accounting sector.  The Event Planning & Programs committee works to create insightful and valuable events for women who are ready to explore employment opportunities in their field, network with other women to build strong allies and grow their network that could potentially support them in any area of their lives.  Besides offering events to our members and guests, this year we look to relaunch a few programs, such as Mentorship and Professional Development programs to help our members better understand who they are and develop their strengths. Every BFAN event showcases influential people in the industry. Women lead the charge in upholding the main stage at our events. By doing this, we show the real power women can have when they share their story and build each other, together.
In particular, we hold the annual Women in Leadership Summit (BFANWILS). BFANWILS is BFAN's annual flagship event.  For five years, BFANWILS has showcased many influential women in the accounting industry, each of whom have shared stories of personal setbacks and triumphs that have helped shape their personal lives and careers.  Through our speaker's transparency, our members can see themselves in every inspirational story, recognize the benefits of hard work, see how allyship, mentorship and networking can strengthen one's ability to become and remain successful in their career.
Bukola Ayoola, Director, Member and Network Relations
Why should one become a member/or volunteer at BFAN?
BFAN plays an active role in celebrating women's successes and creating opportunities for women's growth. As a member of BFAN, you will not only connect with inspiring women but also have access to diverse resources that will help you reach your full potential.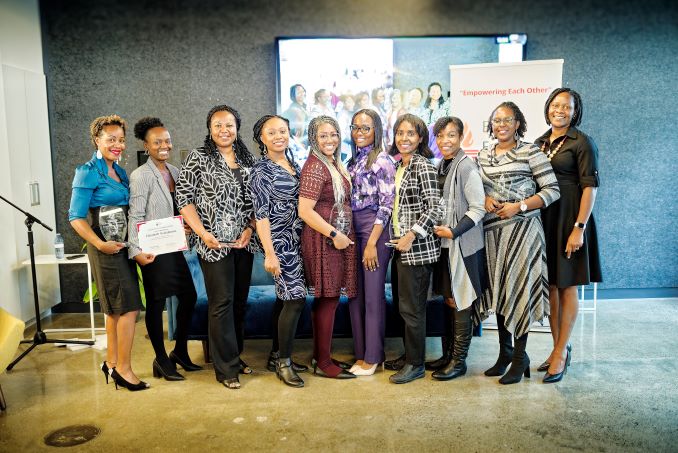 Karen Johnson, Co-Chair Partnerships and Finance
What more needs to be done?
BFAN has made significant strides in empowering our members. Our membership consists of people focused, highly competent, resilient, transformational leaders.  Nevertheless, more work is needed to create an environment where black female accountants are not only welcomed, but are included. As a values-based organization, our focus is to improve diversity and pay parity. While corporate institutions' commitment to Diversity Equity and Inclusion are integral, as a network we will continue to lend our voice to the discussion and empower our women to navigate these barriers. Belonging matters!
Nattisha Scott, VP Partnerships
What more needs to be done (cont'd)?
BFAN continues to impact many women in its network in a significant way. Despite this, there remains a high number of highly skilled and qualified Black female accountants that are forced to take positions well below their abilities because of being new immigrants. We will continuously work with organizations that are geared towards bridging this gap, likewise, creating more opportunities to enable our members excel in their professional field.
Moyo Adeyemi, Director, Governance
What are some impactful stories about your organization or the issues you are trying to solve?
BFAN aims to provide a platform where women can gain support in achieving set goals or even dream of achieving such. Mine will be an example of the impacts BFAN has made. An accountant by education, I struggled with navigating several jobs for a long time and completely drifted away from my profession until I came across BFAN. Upon membership and volunteering, I have interacted with women across countries who were once in my shoes and gained confidence (and support) in gradually aligning myself back to my chosen profession. But more importantly is the confidence gained to do my regular work through the volunteering experience.
Elizabeth Nyakahuma, Director Youth Engagement
Do you have any life-changing events coming up?
In the spring of 2023, the first Youth Symposium will be taking place. This is an opportunity for young black females who are currently students or those about to begin their career to learn and connect with professionals and their peers.
Where can we follow you?
Website | Instagram | Linkedln | Facebook | Twitter