The Canadian Alopecia Areata Foundation is a Canadian registered charity led by volunteers who have personal experience with Alopecia Areata. Their purpose is to offer a support network for families living with the condition, raise funds for research, provide education, and promote awareness of this autoimmune disease. We spoke with Christal Malcolm who is a content creator, mentor, full-time administrative assistant at a premium hospital in Toronto and an alopecia advocate in the fight against hair loss to find out more.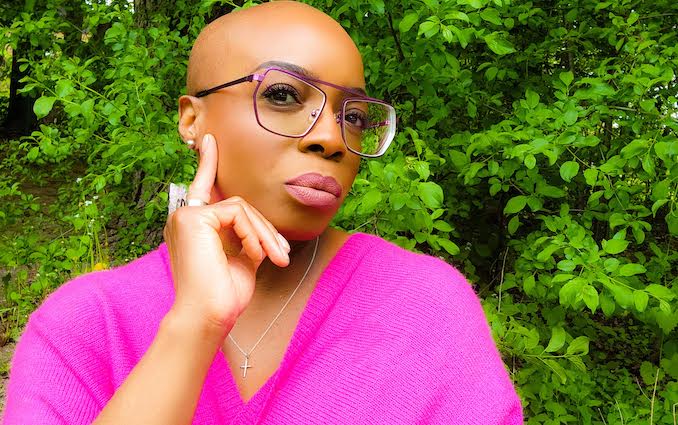 What is your charity/non-profit/volunteer work, and what problem does it aim to solve?
The Canadian Alopecia Areata Foundation (CANAAF) supports those affected by Alopecia Areata (AA). We are a Canadian registered charity led by volunteers who have personal experience with AA. Our purpose is to offer a support network for families living with the condition, raise funds for research, provide education, and promote awareness of this autoimmune disease. Through support groups, online communities, and events, CANAAF provides a safe space for individuals to seek guidance, share their stories, and receive encouragement from others who have walked a similar path.
When did you start/join it?
In 2020, after I attended an online support group meeting hosted by CANAAF, I left feeling reassured and at peace, something I hadn't felt in so long.  I was motivated by the organization and its mission and I felt compelled to give back, so I applied to become a mentor/volunteer but was blessed with the opportunity to become a board member which I gladly accepted.  Prior to my PR role, I started as the secretary, taking on administrative tasks that gave me behind-the-scenes experience on CANAAF's day-to-day operations.  It's been a rewarding journey where my dedication is making a positive impact in the lives of others affected by the condition.
What made you want to get involved?
I wanted to get involved because, for the past 20 years, I had been battling CCCA on my own. While my family provided support, I still felt a sense of isolation and longing for connection with others who truly understood my challenges.  That all changed when I met one of the Support Group Leaders who confidently embraced her smooth scalp, and wore glasses just like me.  She was owning her bald, and I wanted to channel that same energy.  Finding CANAAF was the relief I was looking for and seeing how their reach spans across Canada gave me a true understanding that alopecia isn't an isolated issue but affects many all over and for that reason, I wanted to extend my knowledge to as many people as possible to fight against the stigma and assumptions associated with alopecia.
What was the situation like when you first started, and how has it changed since?
When I first started with CANAAF, the situation surrounding alopecia awareness and support was relatively limited. There was a lack of widespread understanding and recognition of the challenges faced by individuals with hair loss. However, since then, there has been a significant shift.  With the explosion of social media particularly during the pandemic, there has been a remarkable increase in awareness and support. Grassroots organizations and support groups have emerged, providing a sense of community, and compassion for those affected. CANAAF itself has gained more media coverage, which has helped to shed light on the emotional and social impact of alopecia. Overall, there has been positive traction in recognizing the needs of our community members, but there is still work to be done to
further enhance support and research efforts.
What more needs to be done?
Comprehensive research, insurance coverage, and holistic support are needed to address the multifaceted challenges of alopecia. There is a wide spectrum of alopecia conditions, each presenting unique challenges for those affected. Talking about my condition i.e., CCCA, there is currently little to no research available. This lack of research hinders our understanding of the condition and limits the development of effective treatments and interventions.
Hair loss can deeply impact one's self-esteem, identity, and overall well-being. Providing adequate mental and emotional support is essential, including access to therapy and counselling services to help individuals navigate the emotional aspects of their journey.
Moreover, the financial burden associated with managing alopecia should not be overlooked. Unfortunately, wigs, which often serve as a solution for individuals experiencing hair loss, are not widely considered a necessity and are typically not covered by insurance plans. This puts a considerable financial strain, as wigs can cost upwards of $2000 CAD or more.
How can our readers help?
Readers can show empathy and compassion towards individuals with hair loss. They can get involved on the ground by volunteering, offering financial support through donations, and amplifying the voices of those affected by sharing their stories and raising awareness. Following CANAAF's social media platforms and podcasts, and attending their events also contribute to the cause.
Do you have any upcoming events or initiatives?
CANAAF is organizing the CANAAF COME TOGETHER Conference from July 21st to July 23rd, 2023, in Niagara Falls, Ontario. The conference focuses on raising awareness about alopecia and supporting affected individuals and families. Apart from that, we host our Alopecia's Audacity Podcast, which offers "a breath of fresh air, from those without hair", where new episodes air on the third Wednesday of each month on Apple Podcasts,  Spotify, and Google Podcasts.
We also regularly host virtual events with experts in the field of alopecia and self-care and monthly support group sessions across Canada. We encourage the community to stay connected to our social media for the latest updates including our plans to celebrate Alopecia Awareness Month taking place in September.
Where can we follow you?
Readers can visit our website to learn more about CANAAF and find resources for individuals with alopecia areata. They can also follow us on social media to stay up-to-date on events and initiatives: Instagram, Facebook and Twitter.
PAY IT FORWARD: What is an awesome local charity that you love?
Absolutely! There are two local charities that I am especially fond of – Red Door Family Shelter and The Daily Bread Food Bank.  The Red Door Family Shelter focuses on providing support to women and children experiencing abuse, as well as aiding refugees in need. Their dedication to creating safe spaces for the vulnerable is truly inspiring. The Daily Bread Food Bank, on the other hand, plays a crucial role in addressing food security and supporting those who have been impacted by the challenges of inflation and job loss during the pandemic. Their efforts to ensure that everyone has access to food and essential resources are commendable.