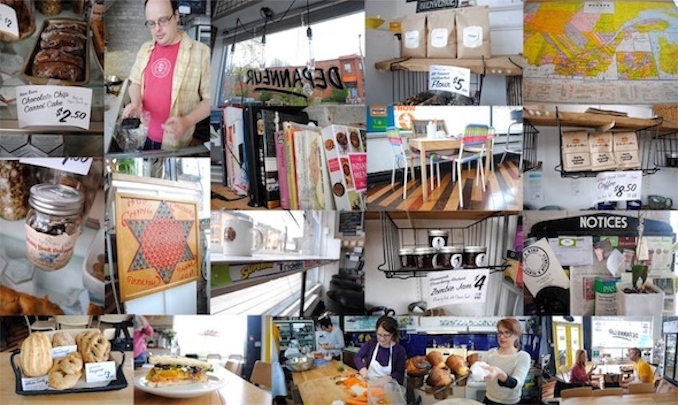 At a recent Pecha Kucha, I was fortunate to have the opportunity to meet one of the brave presenters, Len Senater, who shared the story of his unique west side restaurant The Depanneur, located at 1033 College St. The Depanneur's mission is to showcase and inspire culinary talent, to promote innovation in the food sector, and to collaborate with food entrepreneurs as well as existing social enterprises all in an effort "to expand the horizons for food in Toronto."
The Depanneur (Quebecois for convenience store) was named not only in reference to the fact that the space used to be home to a convenience store, but also because Len believed it was fitting given his view of the food industry in Toronto as "en panne", or rather, broken.
"There is a real formulaic approach to 'fine' dining in Toronto – trendy, flashy, hip, pricy, loud, meat-heavy etc… It's conspicuous, status-forward, and for and by people with money in a way that doesn't really interest me. There are lots of reasons for this, including high rents and bureaucratic barriers that raise the stakes so high no one wants to take any real risks. You end up with a lot of derivative, trendy, status-quo stuff, rather than more innovative and creative stuff," he says.
I believe all of us have seen the power of food in bringing people together – creating conversation and fostering community – whether family, friends, colleagues, neighbours, or strangers. The Depanneur is working to implement a potentially disruptive business model to leverage the power of food in bringing together and strengthening the community.
How you might ask?
The Depanneur's model focuses on how to bring quality food at a reasonable price to people, all while working to engage the local community in a variety of ways. Every Monday, The Depanneur hosts workshops to introduce participants to different culinary crafts – from making your own pasta to how to create a gluten free diet. On Tuesday, from June to October, it hosts a farmers market in its own garden and has established itself as a pick-up location for Fresh City Farms (organic produce, Toronto produced). Wednesday night's Drop in Dinner is pay what you can after 7:30pm in an effort to make it accessible to even more people, bringing the idea of paying it forward right into the restaurant. The Depanneur has partnered with George Brown Chef School to allow students the opportunity to test out and demonstrate their expertise every Thursday night. Friday, Saturday and Sunday nights are open to guest chefs who are looking to share a multi-course meal with a crowd. These chefs have a variety of backgrounds; from serious foodies who want to share their skills to up and coming Toronto chefs – anyone who thinks they are up for the challenge of cooking for 20 others. The Supper Club has added bonus of being BYOB. On Saturday and Sunday it is open from 10am to 2pm for a tasty brunch brought to you by Jonna Pederson. If you are in the neighbourhood or visiting, I suggest you try it! The space is also host to an after-school cooking program for kids and hosts cooking camps when school's out.
The restaurant also works with a growing number of food entrepreneurs and social enterprises in Toronto to promote their products & business through the restaurant, website, and social media. As Len highlights, "We added a second kitchen downstairs as a kind of co-op, where 4 young women entrepreneurs' have based their small food businesses. We make every effort to source products that have a social component. Our organic eggs are from an Amish farm co-op in Alymer, our organic bread is from St. John's Bakery, our coffee is organic & free trade. We also collaborate with Community Shared Agriculture (CSA) organizations like Kawartha Ecological Growers & Fresh City Farms to co-promote and bring more, better food options into the neighbourhood."
Through its space and calendar of events, The Depanneur is working to foster a community where food is able to act as a bridge across cultures, age, geography, gender, and budgets to create an environment for people to share in a friendly and informal way. As Len explains, "The Depanneur is trying to increase diversity, opportunity, and access in the food scene, while trying to disentangle quality from luxury, good from fancy."
Intrigued by what The Dep is up to? Want to join the ranks?
Check out the Rusholme Supper Club… Book an upcoming dinner at The Depanneur.

Buying tickets gets you membership to the Club and it's BYOB!

Want insight on a culinary craft? Participate in an upcoming workshop.
Looking for a unique spot to host a dinner party? The Depanneur could be perfect!
Interested in testing out your culinary skills? Get involved, click here.
Living on the west side and interested in running a community garden space?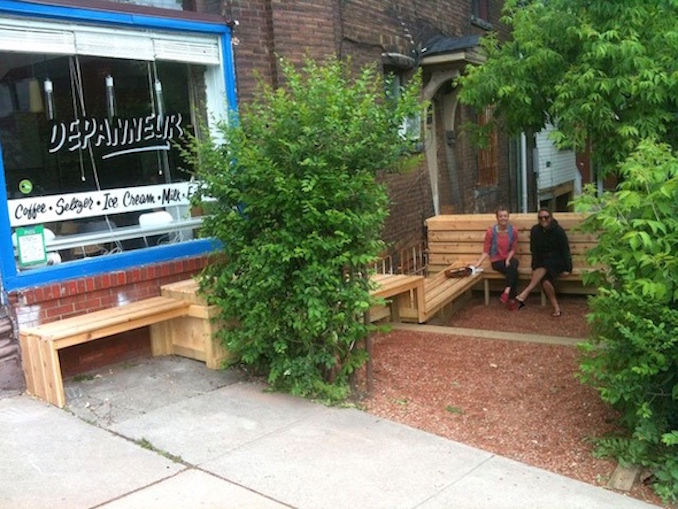 If it is soo good, you may ask: Why hasn't The Depanneur graced the food sections of our city's many publications? The constantly changing menu and chef rotation certainly creates a lot of choice for guests, however, the lack of consistency that differentiates The Depanneur also makes it quite hard to rate apparently.
The Depanneur's effort to redefine the traditional restaurant business model has come with other challenges as well. Our highly regulated food industry, strict requirements around space, and costs associated with building and permits make the restaurant industry hard to penetrate. Similar issues have surfaced with efforts to establish social enterprises, food trucks, street vendors, and bread ovens across Toronto. The City of Toronto needs to recognize that the market and demand exists for these types of ventures and needs to better equip itself with the tools to work with start-up business owners so the city can foster a better economic and bureaucratic environment for them to grow.
The Depanneur is helping to redefine Toronto and promote community engagement by introducing an innovative and potentially disruptive business model that focuses on something we all love – food! Len hopes that with the continued support of the community and all the love from newcomers and regulars alike, The Depanneur will continue to flourish and draw a growing number of people to its various events.