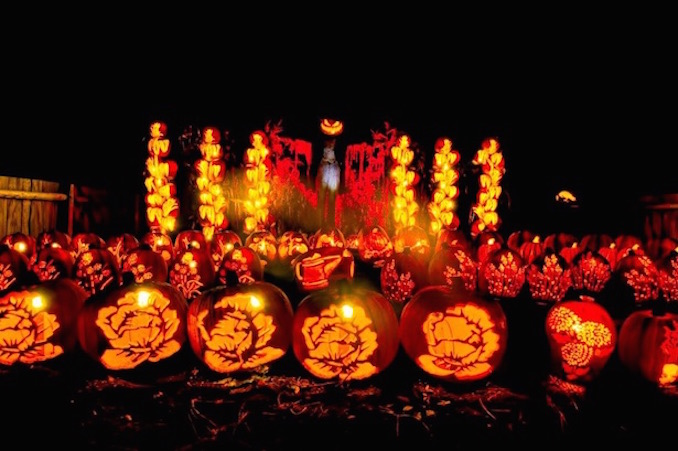 Who knew there were so many pumpkin events in Ontario? Visiting a local pumpkin patch is fun with the family and many farmers have included activities on their properties so you take full advantage of day trips. Taking in the change of season with nature's stunning colourful backdrop is one that everyone loves so get planning your weekend! Here are a few great places that you may want to discover with friends or family to get your healthy dose of everything pumpkin!
Pumpkininferno at Upper Canada Village is where you can pick you own, fire them out of compression cannons, carve them up, cook treats, and even compete with them. Stroll through the outdoor exhibit of 6,000 hand carved pumpkins. Be sure to check out the art installation of glowing pumpkins. Located near Morrisburg on the St. Lawrence Parkway, festivities go to November 1.
Pumpkinfest Toronto at Downsview Park happens Thanksgiving weekend, October 10-12. Ride the Pumpkin Express train, visit the Farmers Market and check out the Baked Goods. Test your skill at Bull Riding. Bring the kids in their Halloween costumes for the contest and take part in the some pumpkin carving. There's also a kiddy midway and a large pumpkin patch. Food trucks on hand.
Pumpkinland at Whittamore's Farm is open daily until October 31. The large fruit and vegetable farm is located next to the Rouge River Valley in Markham. Choose your own pumpkin and run through the corn maze. Ride the wagon through the Spooky Forest. Pumpkin Cannon shows on the weekends.
Prince Edward County Pumpkin Fest on October 17 has a full schedule of fun from kid's games, petty zoo, guess the pumpkin weight contest, parade, rock climbing, lots of food and entertainment for the whole family.
Thanksgiving Harvest Festival at St. Marie Among the Hurons happens October 10-11. Celebrate the fall season at this two day event. There's displays and pumpkin decorating as well as over 35 artisans. Here you can learn about where pumpkins come from and why it's celebrate this time of year.
Halton Pumpkin Trail highlights unique pumpkin and harvest themed activities with a self-guided map to guide you. Included are special events, farms to visit restaurant guide and accommodations. Check out the Masquerade on Main and Mill Street, visit the Milton Haunted House. Enjoy fall colours and outdoor fun including wagon rides, live music, birds of prey shows, BBQ and more at various points including Crawford Lake, Rattlesnake Point, Hilton Falls, Kelso, and Mount Nemo. Mountsberg's Pumpkin Patch is where kids can have fun in the play barn.
Andrews' Scenic Acres in Halton Hills offers pick your own pumpkins in a variety from large one for Jack O'Lanterns, pie pumpkins and the decorative pumpkins. They also have the white, green and grey pumpkins.
Chudleigh's Family Farm located in Milton is an extremely popular farm to visit with a huge hay maze, wagon rides, slides and towers to play on. Lots of farm animals. Save space for fresh apples (you can pick them too!) and pick up your pumpkin pies at the bake shop.
Springridge Farm opens daily with activities happen every weekend. Wagon rides, Boo barn, puppet shows, corn trail and yes, pumpkins.
Stonehaven Farm Market has a giant corn maze and hunt for your own pumpkins and savour baked goods. Kids can have fun the Kids' Zone. Enjoy seasonal goodies like fresh pies, cider, and jams.
Almonte Crown & Pumpkin Studio Tour offers more than just artwork. Here you can meet local artists and artisans who will share their stories in their own environments. As you drive along the winding roads between studios you'll be treated to breathtaking scenery and maybe even stumble upon a pumpkin roadside stall or patch. The area is rich in heritage with several points of interest.
Downey's Farm and PumkinFest happens every weekend until October 31. Located just north of Brampton. Check out the cool corn maze, visit with farm animals, and the Boo Barn. Lots to do including make your own scarecrows and live entertainment.
Brooks Farms in Mount Albert has fun 7 days a week. Pick your own pumpkins, visit the Barnyard Playland and stop into the Farmers Market. Fall Fun Festivals happen on the weekends until October 31. Check out the Sue Wee Pig Races, Corn Cob Blasters, Train rides, zip lines, Rusty's Forest and much more. For older kids keep an eye out for the "Dark Side of the Hill" Zombies. Picnic area also available just outside the Playland Gates if you want to pack your own food.