Amanda Parris is working to redefine Toronto as an educator, a student, an artist, and a revolutionary. She is the Co-Founder of Lost Lyrics, a mobile and innovative education movement that empowers youths to create a bridge of knowledge between the streets and the classroom. Her resume also includes her previous post as Managing Director at The Remix Project, a cultural incubator working to refine the raw talents of young people from across the GTA to help them achieve their goals. More recently, she has focused her energies on developing her own artistic talents as a director and performer, revealing her talent this month at SummerWorks in Aneemah's Spot. She will soon return to one of her favorite spaces – school – to start her Masters in the Sociology of Equity Studies in Education at OISE as the recipient of the William Waters Scholarship in Urban Education. She is one busy young woman!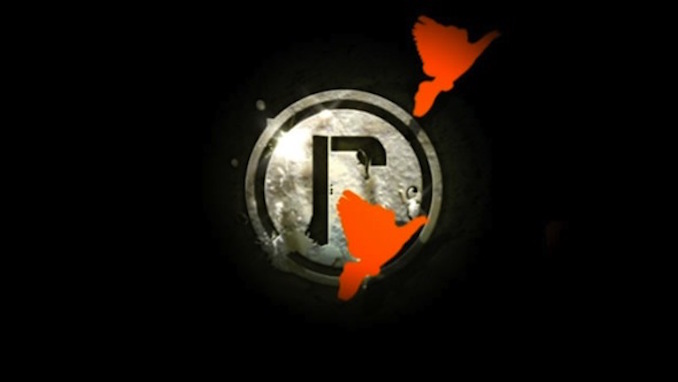 At 26, Amanda is cognizant of the privilege and opportunity she has to make a difference in her community and is an inspiration to up and coming, and established changemakers alike.
Intrigued by Amanda's efforts to raise awareness and educate through a variety of programs and productions, I caught up with her to learn more about her experiences and explore how art can be an effective tool for social change.
How has art inspired you as an advocate for social change in your community?
I never grew up identifying myself as an artist and always saw the North American and Western European definition of art as narrow and confined. However, I have always been moved by art. I read voraciously, I love the way music can move me, and I love the way that film can tell stories. Being somebody that has always loved school and the space that school can create, I always love when art and education are combined and I can get the facts through an emotional and visceral experience that brings life to the story.
When I decided to create spaces, whether it was the student organization I started at York, ROOTS (Reclaiming Our Own, Teaching in Solidarity), or later on, Lost Lyrics, it felt impossible and unsustainable without incorporating art. I believe art is necessary for anything to be completely understood. In order for me to understand anything and educate others it needs to be done in such a way that is creative and in a way that is not only going to touch the mind, but also the heart and the soul. Art has the capacity to do that. My general philosophy in life is that education has the ability to transform and art has the ability to inspire, and both are necessary in order for change to happen.
How do you think individuals can work to create social change?
Change has to start from within. I think a lot of the activism I did early on was hard to engage in because it didn't take into account the personal. I really do believe that you have to start inside of yourself. You need to discover what connects you to an issue. It is an ongoing process that you need to consistently work on.
There are three spaces that transform me: the classroom; the stage, whether in the audience or on the stage; and the community, where storytelling takes place amongst family and friends. Education really happens in those spaces and we heal each other in those spaces. I believe anything is possible in those spaces. What is most important is to be aware and create opportunities to be aware. Our society is filled with distractions that cause us to be less and less aware of the beauty and knowledge around us – instead of conversing with people, we are listening to our ipod; instead of looking at the scenery we are busy updating our social media profiles; instead of spending time with and learning from our elders, we are watching TV. We need to be open to experiences that will change us and shift our mindset.
Amanda co-founded Lost Lyrics with best friend Natasha Daniels. Together, they engaged the community to build Lost Lyrics from an after school program to an organization that offers a variety of programs and workshops for youths. This year marked the 5 year anniversary of the organization; a testament to the success of Lost Lyrics' ever evolving program in the communities of Jane/Finch and Malvern.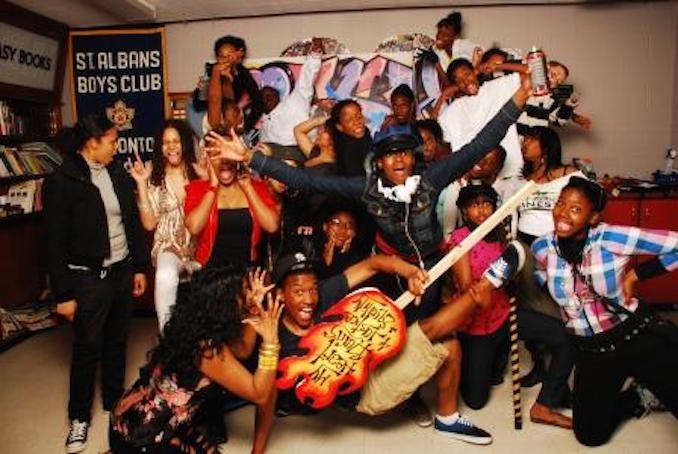 How do you leverage your passion for art to inspire and engage youths in the community?
I think the most effective and sustainable way that I can inspire passion for the arts and raise awareness around community is as an educator. I look to art as I develop the curriculum for an idea in order to make it more engaging, to make it understood, and to make it felt so that the lesson is not something that people can yawn through, or sleep through, or forget as soon as the bell has rung. For example, I love film and I utilize it as much as possible. Film is so incredible because there are so many elements – visual, sound, dialogue – that go into making a film. I want to help make the students aware of these elements that can so easily be dismissed by a voyeur.
My next love is the word. Literature is such an accessible form of art. I love to use writing, especially with young people whose language is increasingly written and spoken in the short form and reflective of the limits of social media. Something different happens when you are looking at a screen compared to looking at a piece of paper – to look at the pen on the paper and how it can shape letters, illustrate ideas and communicate feeling. The more that I can bring art into the classroom, the happier I am and the more effective I am at engaging youths.
How does the Lost Lyrics move beyond the constraints and limitations of the public/mainstream school system to create a unique program that excites youths?
The problem with the mainstream education system is the issue of specialized subjects. Art, for instance, is its own subject, drama is its own subject, gym, science etc. and the melding of all those fields together very rarely happens. Lost Lyrics and the form of teaching we take on and the form of pedagogy that we explore, combines so many elements together in one that it will always be unique and add value to the educational experience. I believe learning should be a very holistic experience that involves your body, creative spirit, and energy. I hope we continue to push forward at Lost Lyrics to create a space that searches for more open and creative teaching methods. It is a much more human experience of learning compared to what currently exists; where students are being forced to sit down, move subject to subject, listen to someone speak, and take notes. It is an ongoing journey to keep pushing down the walls that we subconsciously create as a result of our own educational experience and to visualize what education can look like.
At this year's SummerWorks Performance Festival, Amanda starred, alongside Araya Mengesha, in the award winning production, Aneemah's Spot, by Motion.  The play was compelling, thought provoking, and lyrical; touching on issues of love, loyalty, and death as it shed light on the impact a local shooting has on two young adults. With memories of the Dansig and Eaton Centre shootings still fresh in the Toronto memory, this play is another reminder of the importance of maintaining dialogue to address violence in our communities, creating opportunities for youths, and establishing outlets for the issues that arise for those effected, directly and indirectly, by trauma.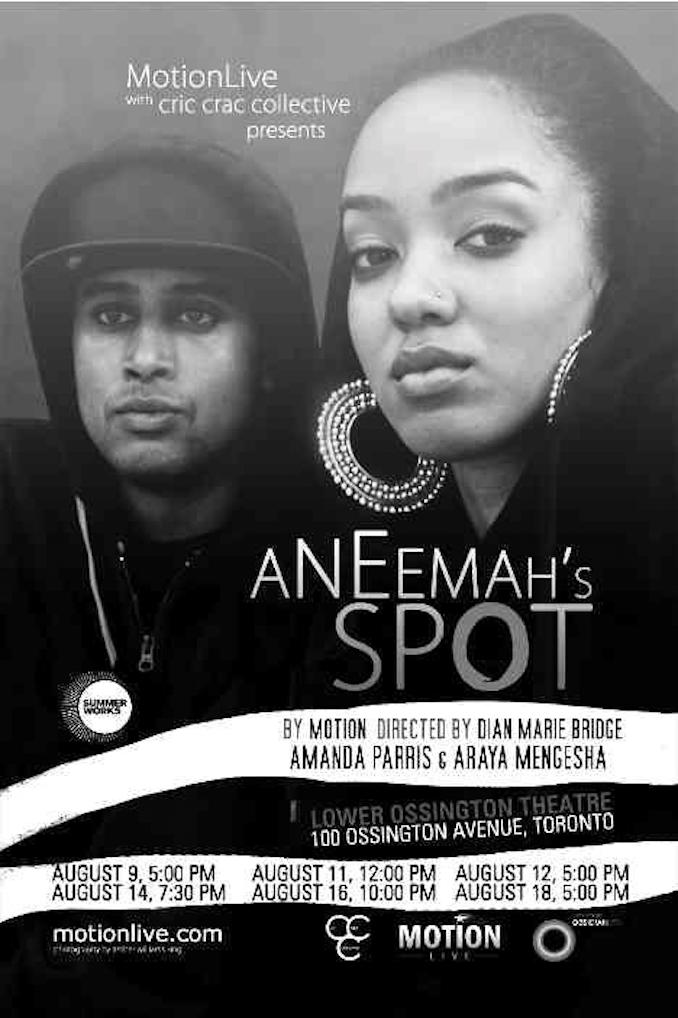 How has your work highlighted the importance of art as an outlet for individuals and communities struggling with trauma?
Our society is really bad at addressing trauma. It is always something that gets swept under the rug. There seems to be a calendar on how long it is supposed to take you to recover. We are such a go go, rush rush, individualistic society there is not even a language to deal with issues surrounding trauma. Art is one of the few spaces where it gets dealt with. From working at The Remix Project, Lost Lyrics, and being involved in Aneemah's Spot, I've realized the importance of having channels to express and to work through trauma within a community. Trauma lives within our bodies, from generations past to more recent events, and manifests in various ways. We want to create spaces through education and art to address these issues and to heal.
Amanda Parris is continually inspired by the role and value of education and art in raising awareness and telling the stories of our lives. RedefiningTO looks forward to seeing how Amanda's educational and artistic pursuits will continue to transform the lives of youths by helping them to see the world in a different way and continue to contribute to change in the GTA.
RedefiningTO highlights the people, projects, programs and places making a difference in Toronto and beyond. We hope that sharing these stories will inspire you to join the ranks in redefining Toronto for the better.