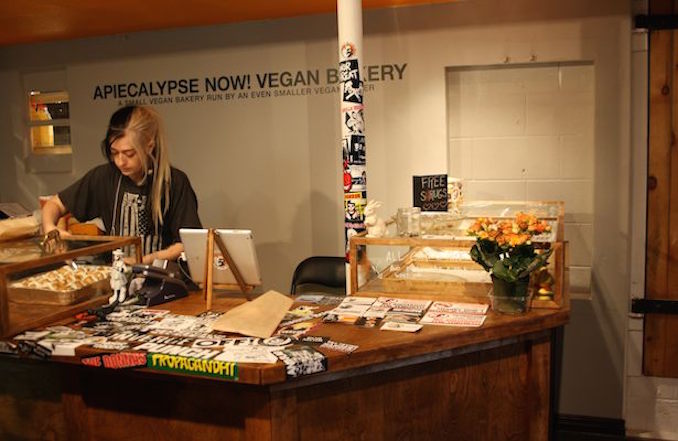 The definition of the word "vegan" has expanded world wide, shedding its light not only through grumbling stomachs, but also through the meaning that lingers behind this revolutionary culture. APieCalypse Now! Bakery captures the essence of living a plant-based life; harmony and tranquility that starts in the kitchen, and doesn't just end with a last bite, but spreads its message through activist campaigns and organizations, with respect to our earth and everything on it.
Jennifer, founder and owner of APieCalypse Now!, says she's been a vegan for six years, "When I was younger I was the only vegetarian in my house, so I grew up making my own food, and when I became a vegan, I developed a strong interest in learning more about how to cook it." Four years ago, Jennifer started baking vegan. She took her spot-on meals and treats to farmers markets and veg-fests around Toronto in order to spread awareness and raise money for what she cares most about. "We are really upfront about veganism", she said whilst transferring steamy hot-cross buns from the oven onto the counter front. Playing an active role in animal rights and defense, Jennifer says that her kitchen has always been for the sake of others, and the shop just adds to it.
From vegan strawberry cream cheese (I'm actually not lying) to chili mac n' cheese, Jennifer's food is taste bud friendly and great for the soul. Her ever-popular cookie sandwiches are among the fan-favourite, with flavours based off Dunkaroos and Crispy Crunch. Unfortunately, they were all gone by the time I had arrived, but considering the fact that I pretty much knocked off her cookie butter in one sitting, I can't even imagine what those bad boys must taste like.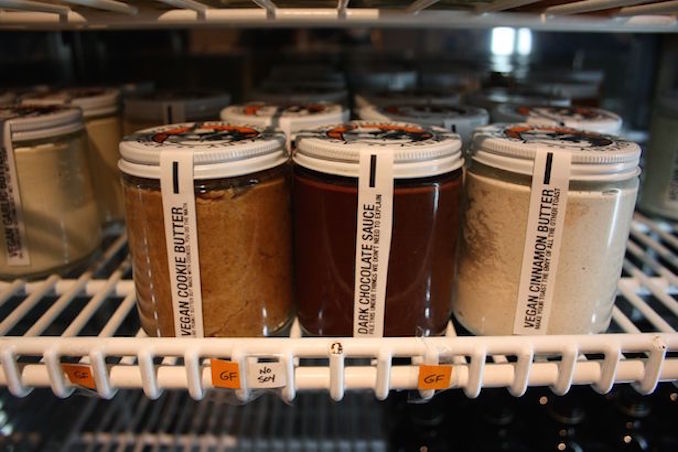 APieCalypse Now! helps Jennifer and her team raise money for organizations like All Creatures Rescue, Because We Must, Toronto Aquarium Resistance, and many more. Her shop not only houses vegan goods, but is also a donation spot for wildlife defense organizations like Sea Shepherd, a marine conservation organization. Every two months, her homemade soups support different animal rights groups. I took a jar of her spicy tomato coconut soup home with me. It was delicious, and it felt good knowing that I was supporting The Wildlife Defense League, a direct action conservation group that is based in BC and defends the habitats of wild animals.
Along with Jennifer's amazing food and active participation in animal rights, her shop has a down-to-earth vibe. The comical descriptions on her homemade goodies, like Thai peanut sauce ("Fish sauce, we don't need no stinking fish sauce."), chipotle lime aioli, ricotta cheese, garlic butter, and tzatziki sauce, are worth the trip to Mirvish Village.
Jennifer donates her leftover food every Sunday to Food Not Bombs, a free food community event held weekly at Bloor and Bathurst, which recovers and shares vegan food with the public to protest war, poverty, and the destruction of the environment. APieCalypse's participation in veganism stretches far beyond the sausage rolls and pies, reaching out to causes that stem into the greater picture of health and humanity, something that I think we could all learn a little bit more about… and it starts with a trip to APieCalypse Now!
If you would like to drool/learn more about APieCalypse Now!, check out www.facebook.com/ApiecalypseNow to see what's on sale today!