Branca's Chef Kanida Chey made this recipe for Longo's Experience magazine over the holidays and I thought I would share it with our readers. Branca is an Argentinian restaurant in an old converted Victorian house on Dundas Street West in Toronto. Here is one of his Experience side dishes that will elevate any meal this fall and winter: Baby Kale Salad with Beets and Crispy Chickpeas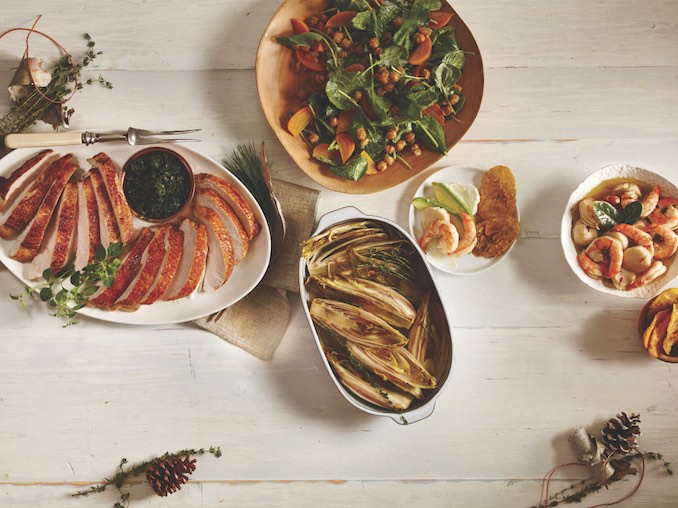 Baby Kale Salad with Beets and Crispy Chickpeas
PREP 30 min – COOK 30 min – SERVES 8
Ingredients
-1 lb small red or golden beets (about 6 to 8 beets)
-1/2 cup red wine vinegar
-1 tbsp granulated sugar
-2 tbsp Extra Virgin Olive Oil
-2 cans (400 mL each) Longo's Organic Chick-peas, drained and rinsed
-1/2 cup goat's milk
-1/2 cup light mayonnaise
-2 tsp Honey
-1 tsp lemon juice
-1/4 tsp each salt and pepper
-2 pkg (142 g each) Longo's Organic Baby Kale Cooking Greens
Directions
-COMBINE the beets, the vinegar and the sugar in a pot.
Add enough water to cover the beets. Simmer them for about 30 minutes or until the beets are tender when pierced with a knife. Drain the beets and, when cool enough, remove their skin and dice; set them aside for now.
-HEAT the oil in a skillet and fry the chickpeas until they are crispy. Remove them and place on a paper-towel-lined plate.
-WHISK together the milk, the mayonnaise, the honey, the lemon juice and the salt and pepper until smooth; set them aside.
-TOSS together the kale, beets and the chickpeas in large bowl. Drizzle them with dressing to coat and toss them well to serve.
PER SERVING: 216 calories; 7 g protein; 9 g fat; 27 g carbohydrate; 5 g fibre; 6 g sugars; 296 mg sodium.
Check out Branca's website for more info.
Check out the Longo's magazine website.