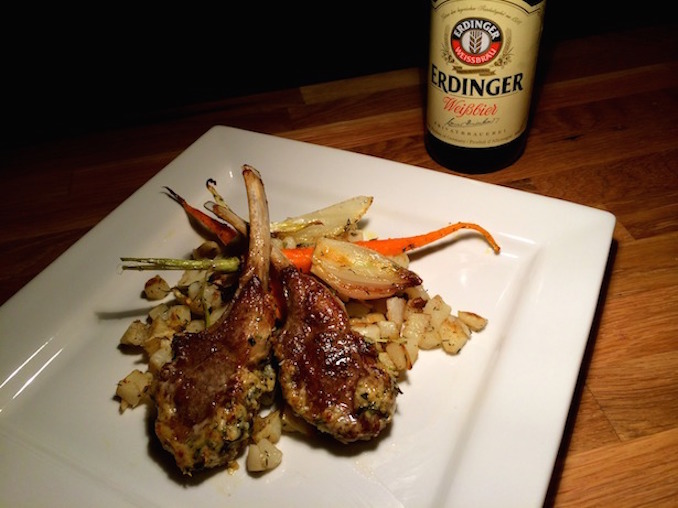 This spring, Toronto-based Chef Brett Hunt recommends pairing Erdinger Weissbier with a spring menu full of local, seasonal flavours.
We have brought you the recipe for the main course of his spring menu.
Parmigiano-Rosemary Crusted Rack of Lamb with Roasted Seasonal Veg and Lemon Potatoes
1-2 rack of spring lamb, frenched 3 tablespoons, extra virgin olive oil Salt & Pepper
For crust:
2 tablespoons, honey
2 tablespoons, whole grain mustard
3 slices, day-old bread, coarsely torn (or 1 cup breadcrumbs)
1/2 finely grated, local parmigiano
1 tablespoon, chopped fresh rosemary
2 cloves garlic, roughly chopped
1 egg, whisked lightly
For seasonal veg:
1 3-4 inch diameter fennel bulb, tops trimmed, fronds reserved
4 long slender organic carrots, peeled, cut on deep diagonal on 1/4-inch-thick ovals
6 1-1.5 inch diameter shallots, peeled, blanched 1 minute, cut in half through root end 4 tablespoons extra virgin olive oil, divided
Salt and pepper
For lemon potatoes:
1 1/2 lbs baking potatoes, peeled, cut into 1 1/2 inch cubes 1/4 cup olive oil
2 cloves garlic, minced
1 1/2 teaspoon, dried thyme
1/2 cup, chicken stock
1/3 cup, fresh squeezed lemon juice 1 teaspoon salt and pepper
METHOD:
For cooking the lamb:
Heat some oil in a skillet on medium-high heat. Season lamb rack with salt and pepper. Sear the lamb, about 1 minute per side or until a nice golden brown color. Place on a roasting pan and roast at 450F for about 15 minutes (or until internal temperature is 140-150F for medium). Take out and let rest for 5 minutes before completing with the crust.
For preparing crust:
Process the bread, parmesan, garlic and rosemary in a food processor until course breadcrumbs form. Transfer to a bow, stir in the egg. Season with salt and pepper. When lamb is done cooking and resting, spread the honey and mustard evenly over the lamb. Then press the breadcrumb mixture firmly over the rack of lamb to coat evenly.
Finishing the lamb with crust:
Set oven to broil and place rack of lamb in oven for a few minutes or until the crust is a nice golden brown.
For seasonal vegetables:
Place one rack in top third of oven and second rack in bottom third and Preheat oven to 425F. Brush two trays with olive oil and place in oven for 10 minutes. Meanwhile, quarter fennel bulb, cut each quarter into 3 wedges: place in bowl, drizzle with 2 tablespoons of oil. Sprinkle with salt and pepper. Toss to cover the fennel evenly. Then combine carrots and shallots in another bowl, add 2 tablespoons of oil, sprinkle with salt and pepper and toss to coat. Place the fennel on one of the hot baking trays and the carrot-shallot mixture on the other tray. Return trays to oven. Roast vegetables for 10 minutes, then reverse the trays (so change racks they are on) and continue roasting for 20 minutes. Turn vegetables over and continue roasting until tender.
For lemon potatoes:
Preheat oven to 400F. Place potatoes in a baking dish and pour the oil over them. Add the garlic, dried thyme and salt and pepper to taste. Toss well to coat potatoes evenly with oil. Bake for 15 minutes. Then add the stock, toss and bake for 10 more minutes. Add the lemon juice and bake for 10 to 15 more minutes or until potatoes are cooked through. If you like, turn on the broiler and broil potatoes for 2-3 minutes or until golden brown.
To finish:
Place the roasted veg on the plate with the lemon potatoes. Cut the rack of lamb and place two pieces on top. Serve with your choice of sauce. I went with a natural jus.