Mackenzie Nolan is a member of the Missanabie Cree First Nation and has committed to bettering her community from an early age. She has been a member of the Royal Canadian Sea Cadets for 6 years earning the rank of Chief Petty Officer-1st Class and has supported her community, younger cadets and veterans. After the pandemic, she worked to support marginalized groups. We spoke with her to find out more about it.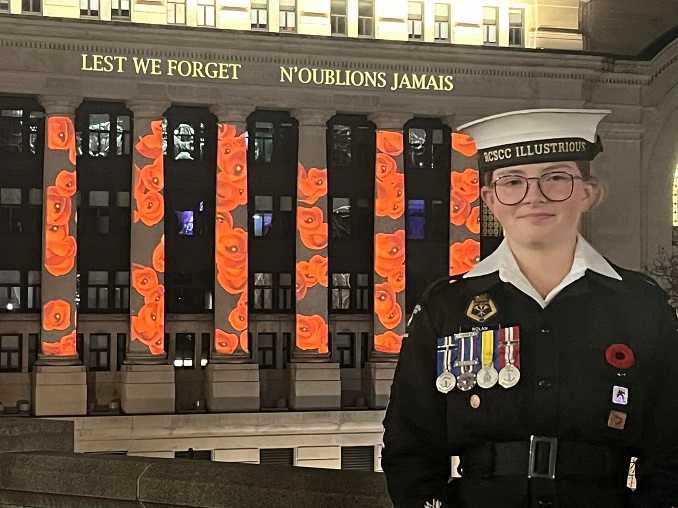 Describe your charity/non-profit/volunteer work in a few sentences.
When the pandemic halted regular volunteer opportunities, I helped both the City of Brampton Social Task Force and Global Medics distribute relief packages to address local and overseas food insecurity.
I spearheaded a fundraiser, walking 75 kilometres in 24 hours, on the 75th anniversary of the end of WW2 to raise money for the Poppy Fund.
I developed my leadership skills, by completing the Standing Bear Leadership Course as well as the Raven Indigenous Military training and have used these skills to coach younger members of my First Nation on our Missanabie Maskwa hockey team during the Little NHL tournament.
What problem does it aim to solve?
By developing my leadership skills, I gained confidence and the desire to give back to younger community members. By working with youth, I can encourage inclusivity and bridge gaps preventing youth from connecting with others in their community.
When did you start/join it?
One of the best decisions I have ever made was to join my local Sea Cadets Corps at the age of 12 in January 2017.
What made you want to get involved?
I mirrored my parents and grandparents who volunteered at my elementary schools to ensure that all children had access to programs and events. They also volunteered with my Cadet Corps. It made me realize that everyone can work to make a difference in their community.
What was the situation like when you started?
When the lockdown started during the Pandemic, I had to look to my community to come up with new ways to get involved. This is when I volunteered with the City of Brampton's Social Support Task Force to address food insecurity. I started by helping with emergency food deliveries and then helped by working shifts to repackage bulk foods.
How has it changed since?
For me, the Pandemic really highlighted the need for community support during difficult times. In a situation where you feel helpless, it is okay to ask for support. The more I found ways to help, like volunteering at a vaccine clinic, the less isolated I felt.
What more needs to be done?
Especially since the pandemic, young people crave connection and the ability to help others. More opportunity for youth helps to build resilience and community spirit.
How can our readers help?
Find your way to make a difference in your local community, try volunteering at a food bank or other organization that is doing work that is important to you!
Do you have any events coming up?
As a 2023 National TD Scholar, I look forward to my studies at Dalhousie University in the Fall. I look forward to finding volunteer opportunities in Halifax and connecting with my new community.
Where can we follow you?
PAY IT FORWARD: What is an awesome local charity that you love?
The Knights Table in Brampton did an amazing job addressing food insecurity during the pandemic! I also want to give a shout-out to the Brampton Navy League, the parent-run volunteer organization that supports our Sea Cadets each year!