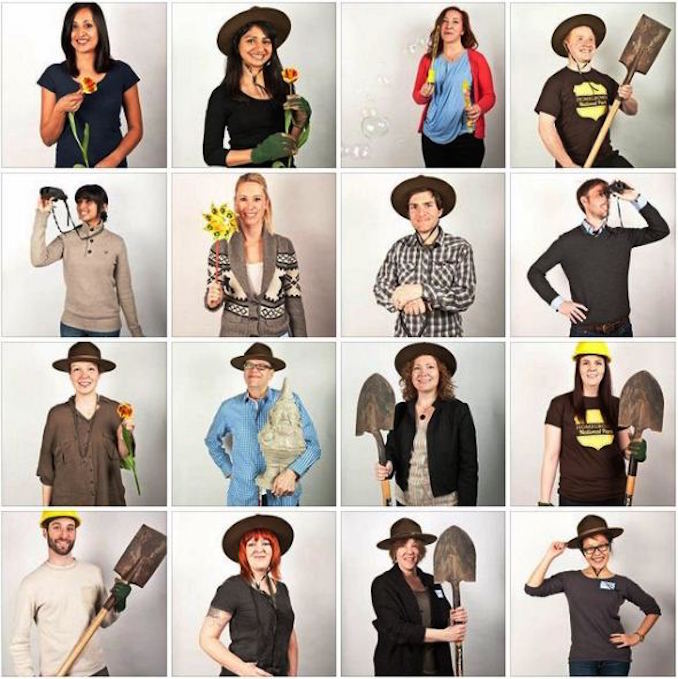 What if we started restoring, creating and exploring the nature that exists in our own neighbourhood… What would happen? The David Suzuki Foundation (DSF) wants to find out! It has challenged Toronto's Ward 19 to create the world's first Homegrown National Park: a green corridor along the historical route of the Garrison Creek. The project will bring together volunteers, partner groups, local residents and businesses knowing they will "dream up amazing projects that engage their communities in meaningful ways."
When people think of exploring nature, many imagine themselves beyond city limits – seeing the city and nature as two distinct environments. The David Suzuki Foundation is on a mission to change that and help us urban dwellers play a more active role in greening and engaging with the public and private spaces around us. The Homegrown National Park Project recruited 21 enthusiastic volunteers, or rather Neighbourhood Park Rangers, who are tasked with developing and implementing their ideas on how to create community initiatives that will engage children, youths and adults in their local environment and empower them to "bring more green – gardens, trees, shrubs, flowers – to yards, alleys, streets, rooftops, parks and green spaces throughout the [Garrison Creek] corridor."
The David Suzuki Foundation has also enlisted the help of over a dozen community partners that have been hard at work in the neighbourhood to provide the Park Rangers with additional intellectual, social and human capital to launch their ideas. These include such great groups as Not Far From the Tree, Park People, Cultivate Toronto, Evergreen, Green Roofs for Healthy Cities and more! As Jode Roberts, Communications Specialist at DSF, states, "Such a project would not be possible without the support of the area's park groups, resident associations, green groups and agencies like Toronto Region Conservation Authority, Fort York and the City of Toronto Parks Department.
Who are these Park Rangers you may ask? They all live, work and play in Ward 19 and each has a unique story that connects them to Toronto's natural environment. And what kinds of ideas do they have in the works? Ranger Aidan Dahlin Nolan hatched the idea of the Community Canoe. Throughout the summer Aidan will be collecting canoes and re-purposing them to create large planters that will be dispersed in parks along the corridor. Jode is excited about the Community Canoe project, "It is a great example of an elegant idea that could be replicated in other communities. And it is 100% Ranger powered. With little support from us, Aidan has connected with several partner organizations to provide materials, labour and support. The project will leave an indelible legacy – a network of canoe gardens filled with native pollinator friendly plants throughout the Garrison." The first canoe has already been planted and you can check it out down at Fort York by the Bathurst bridge (and get a peek below).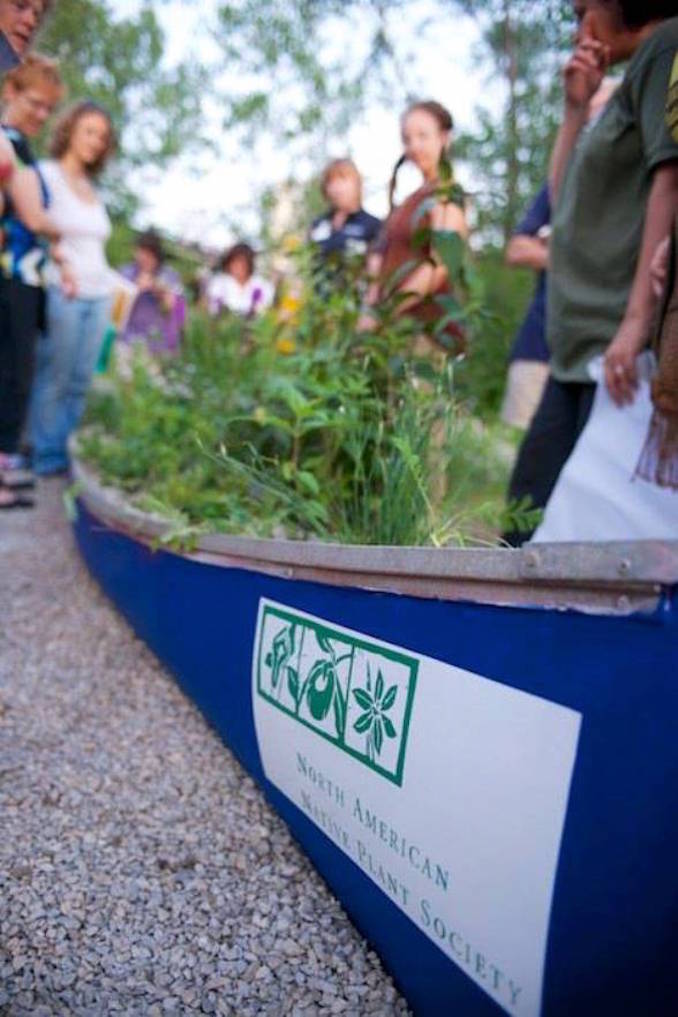 A local movement is blossoming in Ward 19 and the area around the historic Garrison Creek. Even though you may not live in the area there are plenty of ways to get involved, perhaps even prepare for when the project reaches your Ward!
Want to join the ranks of urban nature seekers?
Explore the great parks of Toronto: Rouge National Park (Canada's first urban national park!!!), Leslie Street Spit, High Park, Humber River Valley Trails, Don River Valley Trails, Sunnybrook Park, and more! Check out the City of Toronto's Discovery Walks to get some ideas.
Plant native plants in your yard and create biodiversity. What we have identified as beautiful for our gardens, might actually be considered barren to native insects and birds.
Take a look at all the community partner organizations to find out about interesting programs and projects in the city. The David Suzuki Foundation is keen to add partner groups to those already involved in the project.
Read about the Park Rangers to see if any of their projects are of interest to you. They will need help!
The David Suzuki Foundation welcomes you to volunteer or attend events in support of the Homegrown National Park Project. The calendar is quickly filling for summer. Check out the fun activities planned for this weekend and the weeks ahead HERE.
The Homegrown National Park Project is redefining Toronto by actively working to engage a community – residents, businesses, politicians, local organizations and interested parties – and by demonstrating the power of crowdsourcing and collaboration to create a positive impact on a local environment. The project is also playing a vital role in raising awareness around the history of the City of Toronto and the disappearance of the Garrison Creek – a lost river that was buried in a Victorian sewer beneath the city in the 1880's.
As our cities grow and our urban landscapes continue to undergo significant development, there is a growing need to ensure that we protect the natural environments that remain and that our continued placemaking efforts – the planning, design, and management of public spaces – consider nature and encourage biodiversity. I certainly hope citizens embrace the challenge of this new project and that it expands across the GTA.