Our latest recipe from a Toronto chef is for Ontario Beets Salad from NAO Steakhouse's Chef de Cuisine Chef Brent Maxwell. Enjoy!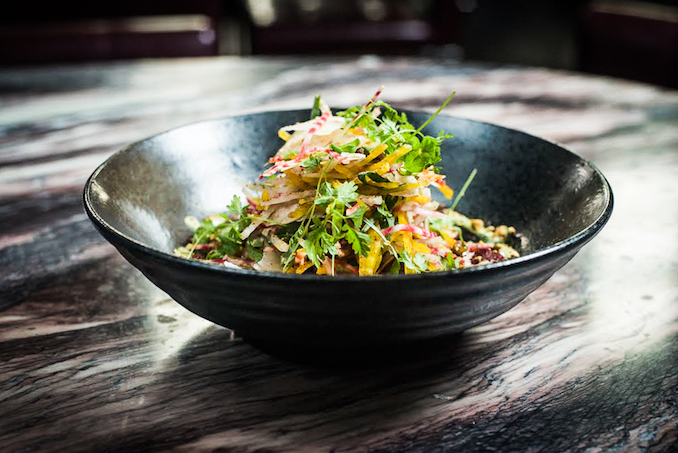 Ontario Beets Salad
NAO STEAKHOUSE
Serves 6-8
Ingredients
-5 lbs organic red beets (see recipe)
-Green Goddess Sauce (see recipe)
-1 lb organic yellow beets
-1 lb organic pink beets
-4 sprigs tarragon – leaves picked
-¼ cup chopped pistachio
-1 tsp toasted and ground caraway seed
-olive oil
-fresh horseradish for grating
-1 orange for grating
-2-3 ounces goat's milk gouda (or any goat's cheese or other cheese you prefer)
-peppermill with black pepper
Instructions
-Peel and shaved the pink and yellow beets using a Japanese mandolin with the julienne attachment. Cover with a damp towel and hold in fridge.
-Slice the red beets into rounds, wedges or cubes, whatever you prefer. Place on bottom a bowl.
-Toss the pink and yellow beets in a mixing bowl with the picked tarragon leaves, olive oil and a little salt and pepper.
-Pile on top of red beets while adding some layers of cheese at the same time.
-Drizzle as much of the Goddess sauce as you prefer on top. Or serve on the side.
-Sprinkle the pistachios and caraway on top.
-Little finish with some fresh grated horseradish and orange zest. Again, as much or as little as you prefer.
This is a wintery dish for sure but the addition of the Green Goddess and a refreshing flavour to go with the hearty beets. Tastes like summer in winter.
When choosing the beets, it's always better to go with local and organic when available. The flavour profile is much better and helps seeing as we are using some raw with the dish. Vicki's Veggies in Prince Edward County is always a great supplier for beets and other organic produce.
Learn more about NAO Steakhouse on their website.