The Toronto International Film Festival means different things to different people. For 40 years, TIFF has become a magnet for film lovers, movie industry movers and shakers, and well, the party people. The Festival has definitely put the city on the entertainment map globally. While hundreds in the industry descend on our great city they all need places to meet and mingle.
Say hello to Elaine Quan, INK Entertainment's extremely busy Director of Media Relations. Each year, INK hosts anywhere from 20-30 events during the 10 days of TIFF with most of the events concentrated during the first 5 days. Events include cast dinners or luncheons, press junkets, cocktail parties and premiere after-parties. Elaine is a well-respected, go-to person in the entertainment and food industry with one of the toughest jobs out there. Her role requires her to keep on top of many moving parts and not just during the Festival but all-year round at the INK venues that include hotspots Byblos, Storys, Patria, Weslodge and Calvin Bar.
During TIFF, Elaine helps with schedule of events, securing sponsorships, guest lists and coordinating all the messaging and outreach to media — and she does it all calm, cool, and always with a smile. She works closely with studio publicists and LA teams in order to get newsworthy information out to key entertainment and lifestyle media about their films and events. The INK team works with studios including Weinstein Group, eOne Entertainment, Elevation Pictures and many others.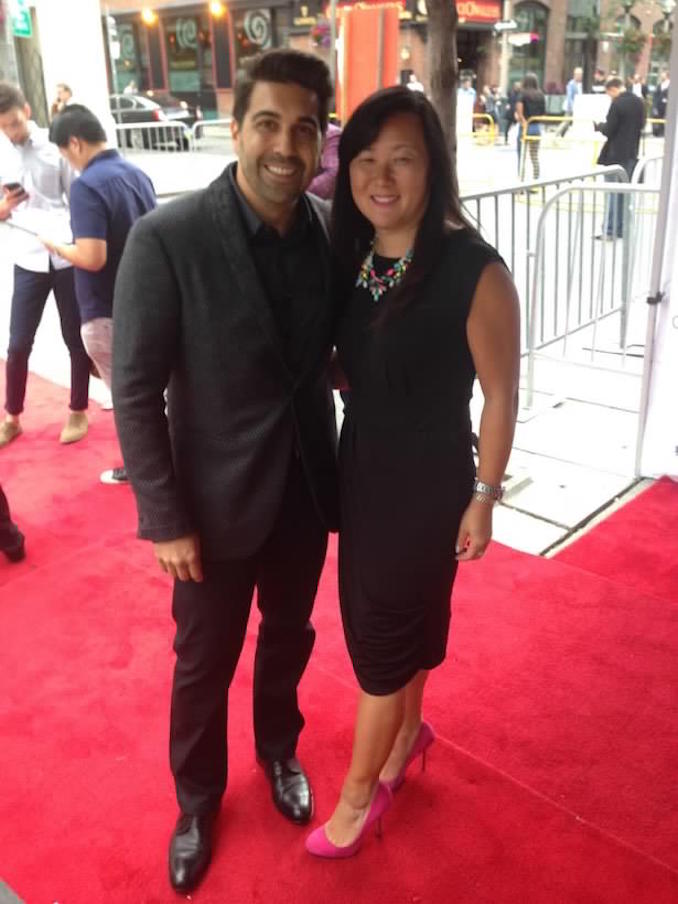 So, we ran along side with her in heels to find out more about what life is like behind-the-scenes…
When does TIFF start for you?
Elaine: TIFF planning started in late Spring for us at INK Entertainment.  That's the time that we start the conversations with our many vendors and partners to potentially be sponsors for the many events we will be hosting at our venues.
What's your fuel?
Elaine: In preparation for the hectic schedule and long days that is a part of TIFF, I like to do a juice cleanse and then try to eat very healthy leading up to it.  With the long, busy days sometimes you don't get a chance to eat a proper meal and only a couple of hors d'eouvres for dinner.  It's also important to keep vitamin C, Power Bars and Advil handy so that you don't get sick during TIFF.
Most memorable moment for you during TIFF that you can share?
Elaine: I've had many crazy moments during TIFF but one that is memorable and a bit embarrassing happened during a TIFF red carpet where I was doing PR with Samuel L. Jackson and was wearing a low-cut dress and the double-sided tape wasn't really doing its job and Sam had to help me before I had a wardrobe malfunction! I was mortified.
What's will always be attached to you (or in your work bag) during TIFF?
Elaine: My iphone is the most important because I need to be in communication with my team at all times as things change constantly throughout the day and I need to keep everyone up to speed.  Also some makeup for quick touch-ups, some jewelry to switch from a day to night look and also some fragrance to freshen up with.
About INK Entertainment:
INK Entertainment is Canada's leading lifestyle and entertainment company. Operating since 1982, INK Entertainment has demonstrated an enviable ability to read the pulse of ever-changing cultural times and tastes, responding with a host of successful enterprises, including the Parisian-themed Bistro La Société (Toronto and Montreal), the deejay-headlined VELD Music Festival and a number of trendy nightclubs, including Uniun, Product, CUBE, Dragonfly and Tattoo Queen West.
Headquartered in Toronto and helmed by visionary entrepreneur Charles Khabouth, INK Entertainment's innovative approach, fusing dining, lifestyle, entertainment and design has led the company to team up with several significant industry partners in Canada and the U.S.: Cirque Du Soleil on the Beatles Revolution nightclub in Las Vegas; Loews Hotels and Resorts for La Société Montreal and several American-based projects in 2015-16; ICON Legacy for Weslodge, Patria, Byblos (Toronto and Miami), NAO Steakhouse, Citta and STORYS Building and; Lifetime Developments for Bisha Hotel & Residences, the newest private label hotel and residence brand to originate in Toronto since The Four Seasons in the 1960s.