We're midway through the Toronto International Film Festival and while the excitement continues with many entertaining, and some thought-provoking films still on our list to see, we found ourselves taking a break this week and had a chat with Chef Paul Wahlberg — yes, he's one of the famous Wahlberg brothers.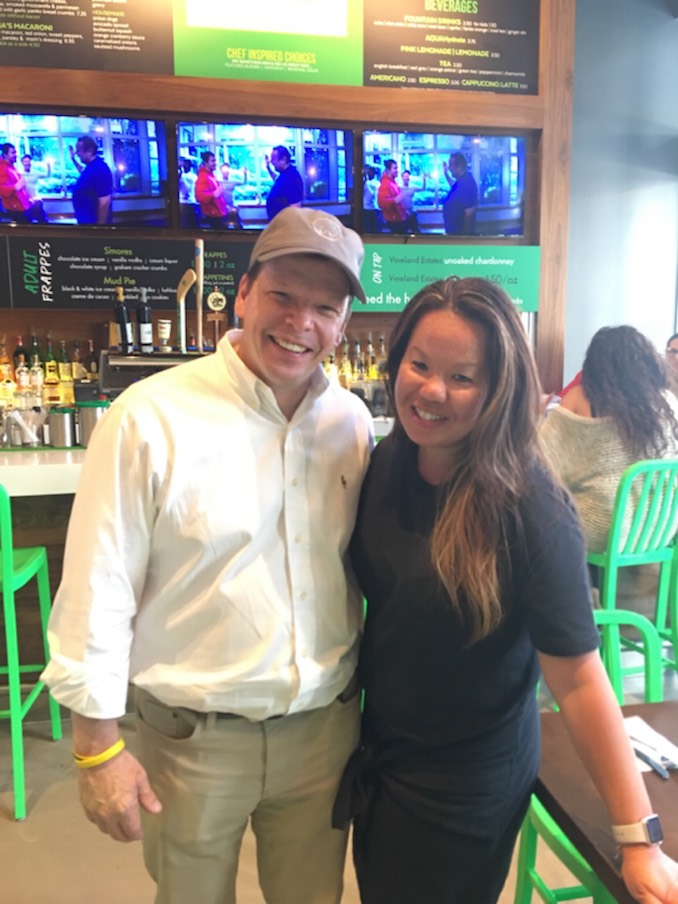 While his brothers Mark and Donnie are in the entertainment industry, the only showbiz Paul really partakes in is his restaurant's reality TV show Wahlburgers. Food has always been to main focus in Paul's life.
While we inhaled a few items from the Wahlburgers' TIFF special menu that features housemade Lobster Poutine, sweet potato tots, and popcorn jalepeno shrimp, we also had a chance to catch up with Chef Paul to chat about Toronto and TIFF.
So, why did you open the first restaurant outside of Massachusetts in Toronto?
Paul: I've been to Toronto a bunch a times so I know the city well. I love the city life and the energy here. Walking around it's amazing. Everyone is so nice here. For us, you know Mark and Donnie film here so much and we have so many connections here in Toronto it just made sense for us. They have a huge fan base here in the city.
Do people recognize you too?
Paul: People are nice here and they don't really bug me. Once in a while they recognize me and I can hear them whispering. Sometimes I hear "Oh look, it's Donnie!" which is totally fine. I got chased out of a store once with someone yelling Donnie Wahlberg! Donnie Wahlberg!  The funniest is when people come up to me and complain about my brothers. They don't like a movie they're in or something and I guess they think I'll go back and discuss that with them. But what's really funny is when people come up and tell me that they love my mother. So I tell my mom that people love her and that they say hello. But then she'll ask me who they were.
Are you TIFFing while you're here?
Paul: (laughs) I've been here a few times around TIFF and I like to walk around the area and along King Street and Spadina. I love all the pop-up places but it's been a busy time for me here at the restaurant.  I did walk over to get a porchetta sandwich down on King Street near here. It was pretty amazing. The crackling, the bread, it's the perfect sandwich. Mark is here for TIFF. It's a beautiful time of year to be here. (Mark is in town for the premiere of his film Deepwater Horizon)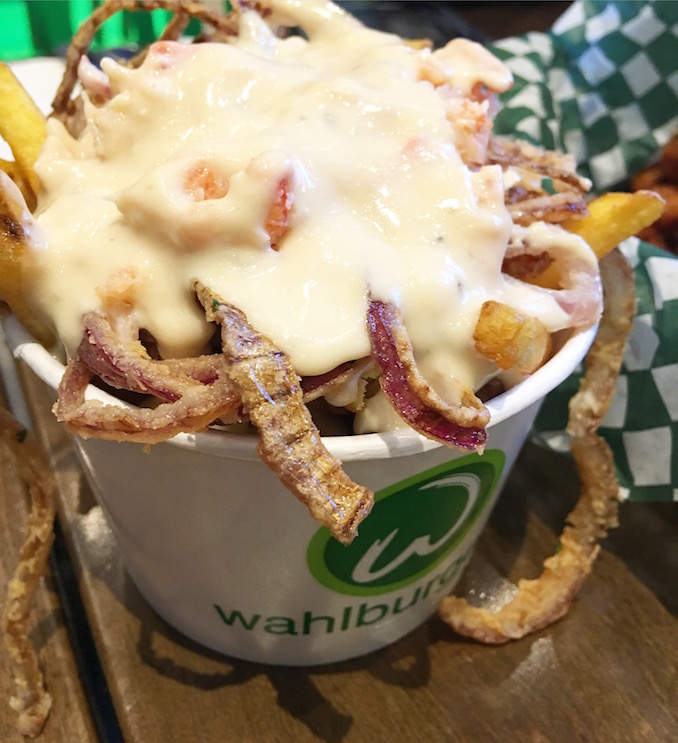 How did you come up with the special items for TIFF
Paul: Chef Vincent here at the hotel came up with the idea of adding a few specialty items during TIFF. The Lobster Poutine is something we had discussed and we wanted to put a twist on it.  I love eating a lot of fried stuff and I like snacky things. But if you come after TIFF you can always ask the chefs here to make something and they'll try to accommodate. We're kinda funny that way. We want our customers to feel comfortable. We had the Patriots game showing here and people stayed for hours.
Is traditional Poutine exclusive to this Canadian outpost?
Paul: It's one of those things we absolutely had to have here but we're starting to introduce it down in the States. It's amazing because we know a lot of the tourists come here for poutine and love it so they've been asking for it. But it's amazing that we're right next door and how many people don't step out of their comfort zone.
What have you eaten lately that may be out of someone's comfort zone?
Paul: I was just in London and I wanted to have Haggis. It was good but it wasn't served in its traditional way – it was served in a chicken breast.  I think people should first experience dishes and get the full experience then maybe branch out with a twist. I'll still look for it.
What are your other favourite foods?
Paul: I love street food and real peasant food. Getting a cook to make something say, out of a sow's ear, I like that. Trying different foods. I like that. If I really want to settle in and get comfort food, I like mom's cooking or getting in my own kitchen to create something with whatever is available. I like going out for a great meal but sometimes you just want to have home cooking. Sometimes that's just baked beans and brown bread. I'm a pretty happy guy.  I also like ice cream a lot.
Okay, can you tell me what is Mark's favourite burger?
Paul: Mark loves Thanksgiving Dinner, the roast turkey, stuffing, cranberry sauce, butternut squash – basically the whole deal. So, when I was working on the menu that was an easy one to put together. (the turkey burger)
That's my go-to burger here! So, what about ingredients used?
Paul: We try and source as much as possible locally. The beef, buns and vegetables are sourced here and our sauces are made here. We want to be part of Toronto and not just a place with a name to sell stuff. You know, people like what they like and they love comfort food so it's been really good for us here. The people here are so nice. It must be the water.
Maybe it's the maple syrup that makes us so sweet?
Paul: Yeah, then I think most of the people here bathe in it.
***
On a side note: while we were chatting with Chef Paul, his brother Mark did pop into the restaurant briefly and yes, I stopped breathing.
Learn more about the Wahlburgers restaurant from their website.