Josie Dye is no stranger to the airwaves as millions have tuned into listening to her interviews with celebrities from Eddie Vedder to Chris Martin and many others. Her fun-loving and down-to-earth chats makes us feel like we could be total friends IRL. Josie has recently returned from mat. leave with a new show called Sugar Beach at 6 with Josie Dye on 102.1 the Edge (CFNY-FM). The hour-long segment explores the best of Toronto with a focus on entertainment, culture, events around the city and the music scene. We had a chance to chat with Josie…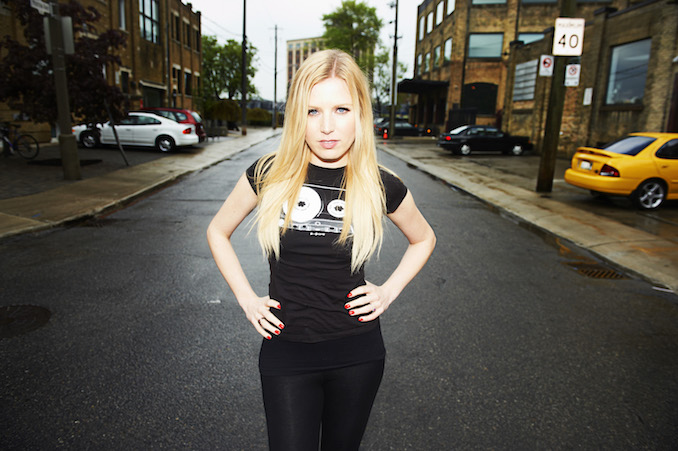 Sugar Beach sounds so delightful! How did the show get to be named after one of our city's hidden gems?
Josie Dye: We broadcast from the Corus building at Corus Quay and our studios face Sugar Beach. Whenever we have a band perform,  we call it a Sugar Beach Session!  The Edge has an amazing view and everyone should spend an afternoon at our beach!!
You're no newbie to radio so what are you looking forward to the most on this new show of yours?
JD: I am really excited about all of the one-on-one interviews and all of the concerts I will get to broadcast from. That's half the fun – I love concerts! The other half is being able to actually talk on air. Often we only get 30 seconds to talk over a song intro. But now, with my new gig, I will be able to actually have an opinion, which is great!
You've interviewed many musicians and you're known to be pretty at ease with them… any interviews really made you say "wow, I got to interview that person?"
JD: Gord Downie was by far my favourite, he is a great man and I am a huge fan. He hung out for over an hour and we sang together at the end of the show! I don't think the record company was impressed but he was smiling so it was worth it! Gord would definitely be up there. Eddie Vedder was also a pretty cool interview, he was on his bike at the venue and he was riding around talking to fans.  He is a super nice guy and loves what he does!
If you could interview (living or in another life) anyone who would that be and what would you really want to ask them?
JD: I kind of like conspiracy theories so I would really love to interview the head of the CIA or Obama and give them truth serum.  (Sorry, I'm currently watching Homeland) Ok realistically,  I wish I could have interviewed Prince – what a talent! Every time I saw him live I couldn't sleep for three days. I would just listen back to his music and relive his live show. Such a sad story.
Wait. You've interviewed Oprah, right? An interviewer asking an interviewer …what was that like?
JD: She was amazing.   She knows what you need in an interview and she gives you 100%.   There was another broadcaster there who was asking some horrible questions and Oprah just ended that other interview in seconds.   It was fun to watch someone so powerful and in control.  I was nervous but we hit it off and she answered all my questions and then asked me all about Corus!   Very cool.
What are your favourite music festivals in Toronto and why?
JD: I recently went to Bestival at Woodbine Park and it was awesome. Probably because it's down the street from my home – hahaha.   I also love  anything at the Molson Amphitheatre, it's such an amazing venue, outside and on the water. We really don't talk about it enough. I'd take Amphitheatre  shows over small venues any day. I also love WayHome…this year's lineup is killer! Osheaga who? Hahaha this year we may give Osheaga a run for its money!
Any other events we may find you at, when you're not working?
JD: I'm a huge sports fan and I love food. So…anything Raptors and Jays or Taste of Toronto; Taco Fest is always fun too! With two kids I spend a ton of time at parks and hanging at the cottage!
Your go-to Karaoke song?
I Will Survive…but isn't it everyone's?   Karaoke has to be cheesy or it's never fun. Weird Al works as well 🙂
Some of your favourite music venues in the city?
JD: Opera House: it's close and old. I love the sound and it has great bars nearby.
Molson Amphitheatre: Big shows at the Amp feel like small shows outside on the water. It's perfect. Lawn seats or 100 level, it doesn't matter.
Danforth Music Hall: I personally love the non-seated venue. Thinking about seeing Arcade Fire at Danforth many years ago still makes me giddy!
Describe yourself in three words.
JD: Passionate, driven, weird
Follow Josie Dye on Twitter.