Doug Ford was officially inaugurated this morning at Queen's Park, and understandably he wanted to celebrate – and the self-styled populist made sure to invite the public he claims love him.
The public, however, had better things to do.
I took a trip down to Queen's Park for the event and was struck by the banks of speakers posted throughout the park. It was sufficient audio equipment for thousands of attendees.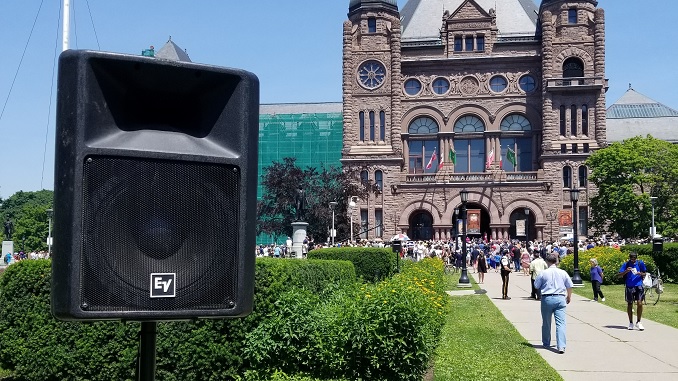 Instead, between one and two hundred people showed up and lined the fences to catch a sight of the new Premier. They managed a ragged cheer when he arrived, although quite a few began to leave immediately after – not too surprising given how hot it was.
Doug Ford's office did not respond to requests via Twitter for information about the expense involved in setting up such an elaborate (and unused) AV system, nor to questions about how many people they had expected while planning and why. I called Queen's Park and asked to speak with the Premier's media liaison, but was directed to Kathleen Wynne's press team. No explanation was offered for why the government was not ready to receive press calls in time for the inauguration.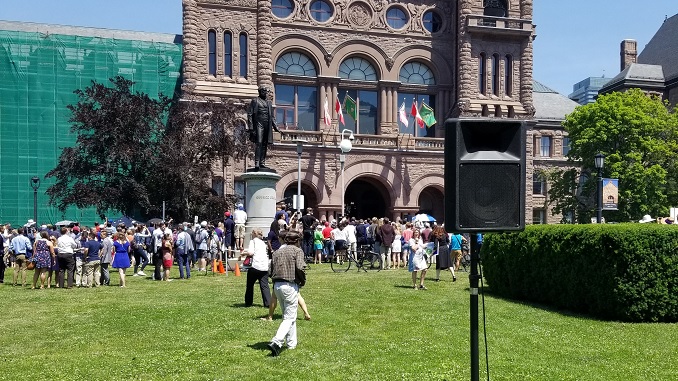 Doug Ford's Conservatives will form a majority government despite winning just 40% of the vote in June's election.