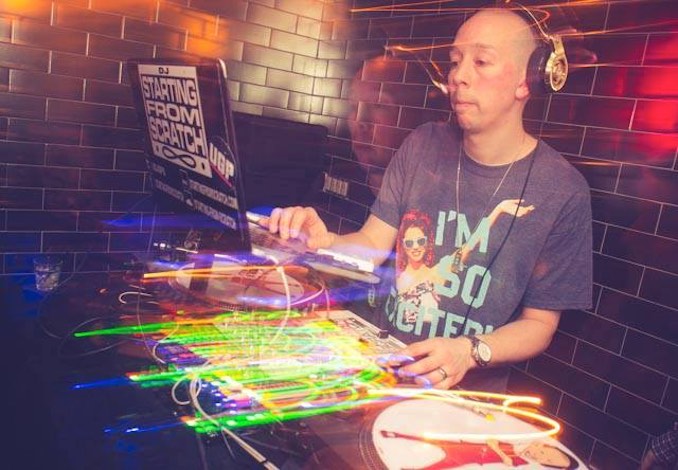 Revered as one of the top 100 most powerful people in music, DJ Starting from Scratch is considered one of the greatest. Originally from Montreal, Scratch moved to Toronto during high school where he was first introduced to the art of DJing. He explored the music world alongside childhood friends like Director X and Russell Peters.  He caught his first break at the age of 18 as a fill-in DJ at a Naughty By Nature show in Toronto.
He's come a long way since then, not only DJing twice daily across the country and on Saturday night's Virgin Radio, but also turing and performing in front of stadium-sized crowds around the world. His friendship with Russell Peters remains as he currently tours with him and DJs. But did you know he's also worked with artists like Usher, Kanye West, The New Kids on the Block, John Legend & Kardinal Offishall? Plus he's also received gold and platinum plaques for his creative work.
It's been 25 years since he started in the music business! WOW! It's hard to believe and there's not one but four events planned to celebrate this milestone this coming weekend in the city November 19-21,2015. (see bottom for details). Big congrats to him from our crew here!
We had a chance to catch up with Scratch recently to find out his secret to longevity…
25 years in this industry is definitely worth celebrating. What are some defining moments for you over the years?
I've had many but these stand out…My years in the early 90's at California Dreams in downtown Toronto because that is what stamped my name in the Toronto Music scene & made people take notice…My tours with Russell Peters because that took me to international status & I was able to be myself & play what I wanted in front of sold out arena crowds worldwide…My tour with Usher in 2010 because he pushed me to my limits & took me out of my comfort zone. I was part of his band, had a solo, was on the mic & had a full segment with just Usher & I, all things I had never done before & to do with it with a megastar like Usher, enough said…My 15 Year Anniversary party in 2005 was where I really realized the impact that I have had on the DJ scene & the support I got from everyone was incredible.

You also travel for your work, anywhere that stands out?
I love Australia…The party scene was great, the weather & atmosphere are incredible…Just has a great vibe overall.

If you weren't still DJing what do you think your career would have been?
I would be a full time music producer.

If you could give advice to a young aspiring DJ, what would you tell them?
Practice every day as much as you can…Learn the history & respect the craft before you go into it…Be creative & unique but always remember that you have to please the crowds, that's your job…Make sure you're doing this for the right reasons.

Describe yourself in three words
Creative, Fun, Determined
INK Entertainment presents DJ STARTING FROM SCRATCH 25th Anniversary Weekend Party:
The Show: A Night Celebrating The Artists: Thursday, November 19 at Tattoo Queen Street West. Performances by: Melanie Fiona, Glenn Lewis, K-OS, Choclair, Kardinal Offishall, Jully Black, Maestro Fresh We, Saukrates and more. Advance tickets: $25
The Party: A Night Celebrating The Clubs: Friday, November 20 at Sound Academy. Music by: Russell Peters (DJ Set), Cipha Sounds, Walshy Fire, Kid Capri and more. Advance tickets $25
The Comedy Roast of Starting From Scratch: Saturday, November 21 at The Phoenix.  Roast Master: Russell Peters. Special Guests: Cipha Sounds, Kardinal Offishall, Jean Paul, Jully Black and more. Advance tickets $50 (includes after-party)
The Roast After-Party: Saturday, November 21, 2015 at The Phoenix. Hosted by Kardinal Offishall, Greg Nice and Melle Mel. Music by Russell Peters, DJ JAzzy Jeff, Spinbad, DJ Scratch & Lindo P. Advance tickets $25