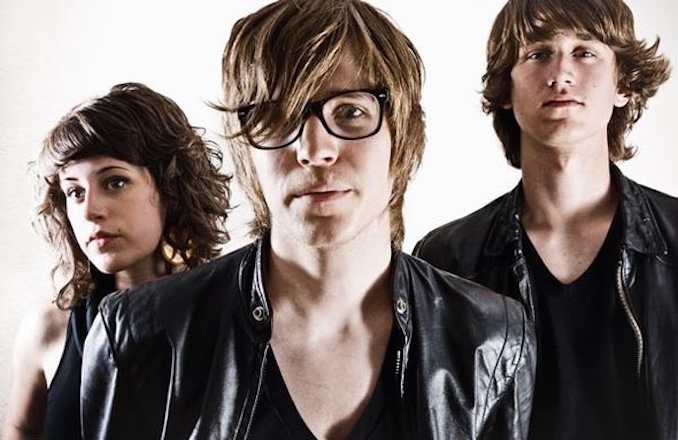 I recently chatted with singer & guitarist Jacquie Neville of the 3-piece Toronto outfit, The Balconies about the band's recent tour, new EP, and their new home away from home, the vibrant city of Toronto. Their mesmerizing and energetic live shows have consistently left fans smitten and have been known to convert nonbelievers nightly. Always gaining momentum, it's looking like 2012 is the year The Balconies make their mark on the Canadian music scene.
F: So you're in the middle of a tour at the moment, how's that going? Biggest highlight on stage & off stage?
J: We've been keeping real busy on the road. A definite highlight for me was going to NYC and playing at Piano's and Arlene's Grocery. I hadn't been to the city since I was 12 years old so it was special for me to return as an adult and be able to explore the city on my own.
F: You are playing a few high-profile festivals including Summerfest, Edgefest & Ottawa Bluesfest. Is this your first time? What are you looking forward to the most?
J: It will be our first time playing Summerfest and Edgefest! We love summer festivals – being able to play outdoors is always a treat. This will be our second year playing Ottawa Bluesfest and I'm looking forward to returning home and be able to be a part of this festival again. I used to go every year as a kid and it really inspired me when I was just starting to write songs and play in bands. I have so many incredible memories of Bluesfest and I feel lucky to be a part of it!
F: Tell me about your experience with opening for the Trews on a few of your tour dates?
J: We are big Trews fans! We were so happy to share the stage with them in Montreal and Kingston. They are such an incredible band!
F: Your recent EP "Kill Count" was released last February. It's a great batch of high energy songs. What are your plans with it this year? Is your full length record on the way?
J: We're focusing on touring at the moment, reaching out to new audiences is key for us right now. We love performing and feel that's when our songs really come to life. Our full length record is ready to go but we don't have a release date for it yet.
F: You relocated from your hometown of Ottawa to Toronto. Are you happy with the move?
J: Absolutely! It's been three years and we feel so happy to be in an exciting city like Toronto. Ottawa is still very special to us but we feel we can reach out to more people this way.
F: What's your favourite venue to perform at in Toronto?
J: We really loved playing at the Pheonix with Cold War Kids. Great sound, beautiful venue!
F: What about your favourite place to eat in Toronto?
J: I eat out a lot…it's so hard to narrow it down to one place. But my top three favourite restaurants in the city at the moment are County General, Oyster Boy and 416 Snack Bar. All three have amazing food, great service, delicious cocktails and good vibes.
F: Your video for your first single, "Kill Count" was well done. What was the story behind the song/video?
J: Thanks, we're really happy with how it all turned out! Working with the Reactiv team was really incredible and fun! Seeing live wrestlers was a definite first for me – so exciting! The song is all about chaotic, raw energy we wanted to capture that visually and we feel the wrestlers were perfect for it.
F: I always found bands that had family members within the group interesting. You must get the sibling question all the time Jacquie (and Steve), but I got to ask: In the context of the band, what's your favourite thing about being related and biggest pet peeve with each other?
J: I've been writing music with my brother since I was about 14 (he was 12). We work very well together because we understand each other so well. We both have the same aspirations for the band and are evolving together musically. I feel it's really special that he and I have this common ground to communicate and express ourselves with. I love the fact that I can create something with my brother. We obviously encounter little sibling tiffs but we both have a lot of respect for each other and always work through our problems.
F: Who does the song writing? Are the songs mostly a collaboration? Does your formal musical training benefit the song writing process?
J: All three of us love songwriting collaboratively. One of us usually comes up with an initial idea whether it's a hook, melody, riff, lyrics… but we feel our songs are at their strongest when we've collectively put our personal "flavours" into the song – which makes up The balconies sound! Our classical training has definitely had a subtle impact on us in regards to our general musical discipline. It's also become so easy to communicate with each other because we come from the same musical background.
F: Who are your favourite bands at the moment? Any major musical influences growing up?
J: Lately I've been listening to a lot of Nick Cave and Coeur de Pirate. Two artists I absolutely adore!
Growing up, I was listening to anything I could get my hands on. CCR, Tom Waits, Alice Cooper, Black Sabbath, the Beatles, and Fleetwood Mac were huge favourites in my family. I was also extremely fascinated with Michael Jackson and Tina Turner. Both incredible performers and singers who I still look up to. In high school, I was constantly listening to punk music – something about the raw chaotic energy really spoke to me. Bands like the Sex Pistols and the Ramones were favorites of mine for sure!
F: Any last words for the people of the interwebs?
J: Check out our video for "Kill Count!" (seen below). Stay tuned for a lot more shows and for the release of our full length! You can always stay in the know by following us on Twitter, Facebook or on our blog.
**The Balconies will be playing Toronto's Edgefest on Jul. 14 @ Downsview Park**