For our first Homegrown Business article we are focusing on a local barista turned coffeeshop aficionado. It is great when you see independent shops stepping it up and inviting people back to the enjoyment of a freshly brewed cup of coffee or espresso. Sam James Coffee Bar which currently has three locations, the third just opening in May, is taking coffee beyond where many shops are capable. I got to ask founder Sam a few questions about his rise to coffee stardom.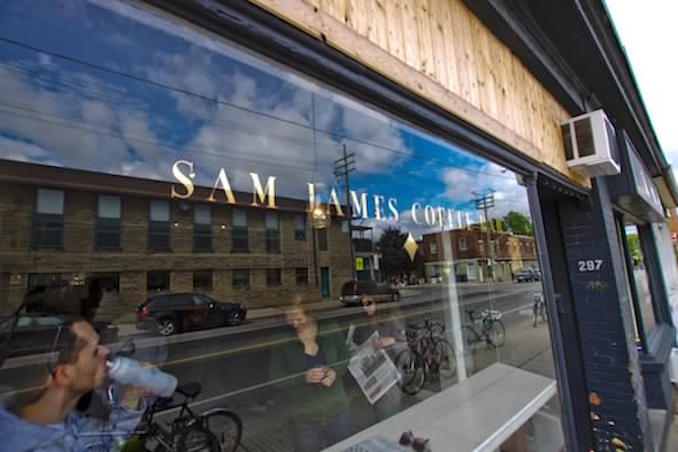 How long have you been open?
My first store opened 2.5 years ago, on Harbord street, followed by another one 1.5 years ago on Bloor street.
What did you do before this?
Before I owned a store, I was making coffee and managing cafes, skateboarding a lot more, thinking about what a dream cafe to work in would be like.
What made you want to open your own coffee shop?
I had grown out of every coffee shop I worked at before mine opened, I had progressed beyond the limitations of the equipment I was working on, and the quality of my coworkers skill, so I figured I had to open my own shop if I wanted to control the quality, and be responsible for it being up to my standards. I wanted to have the power to hire who I wanted to work with, to not have to work with people who had no talent, to choose the best equipment and modify it, to just do it my way and not feel like I might get fired for it.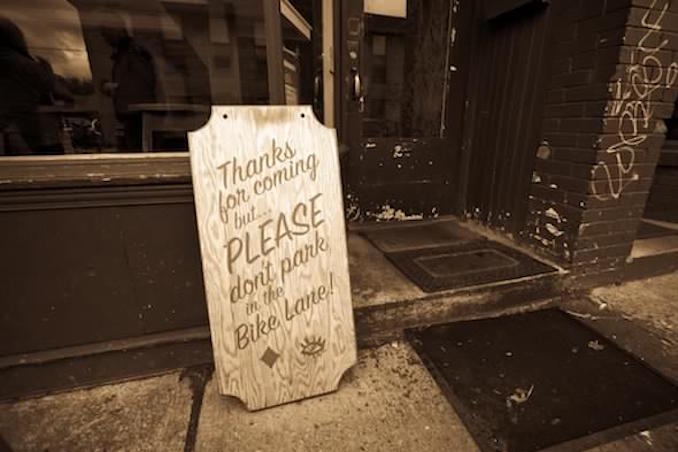 Tell us about your location and what is great about it and its surroundings?
I have 2 locations currently, both w differences and similarities. Theyre both on the small side, one has 5 seats, one has none at all, so its not your usual vapid airy cafe with 50 laptops clicking away, and world beat or easy rock.
They're both there to serve 1 purpose, moving the best quality coffee to customers who want just that minus the boring cafe culture. They're just local spots, so the neighborhood personalities are the culture of it, unedited music, staff with great personalities and interests.
You really get a sense of "this place is for me" or "this is really not for me" as soon as you walk in, so there is no grey area as far as how you feel about it.
What are some of your most popular sellers?
We sell a lot of coffee to go, because of where the shops are, and the size, so by virtue of that, its a lot of lattes and americanos, but we also make a lot of coffee to stay in the traditional smaller sizes for people who really want the best coffee served proper, so we make a lot of espressos and 5oz cappuccinos.
What is unique about your coffee and the way it is prepared?
The coffee we serve is our primary focus, which seems silly for a coffee shop to say, but you'll know what I mean when you come in, and compare us to anything else.
Thats what makes our coffee unique. We take a lot of pride in serving that kind of quality, and we know through experience with our equipment and product when something isn't up to snuff, so we dump it out, and start over again.
We train our staff extensively, even if you've got a lot of experience coming in as a new employee, I make sure that the standard I expect is very clear.
We also use a lot of manual equipment and techniques to control the micro adjustments we need to make, so we can fine tune, and also spend the same energy and attention on every coffee, without leaning on the crutches of automation if we don't feel like being attentive.
Any chance of other locations popping up?
Yep, I got a new location opening in the financial district in May. Gonna be a difference scene for sure, a departure from the neighborhood vibe, but like I said, my shops aren't about the vibe, they're about the product, and I plan to push it like Escobar down there.
What is next for you and Sam James Coffee?
I'm gonna let the dust settle from the new store opening before I make any big plans, but Ive always been curious about roasting coffee, so who knows whats up next.