Alina Fintineanu, also known as ' The Luxe Baker', is a Romanian-Canadian who competed on season five of The Great Canadian Baking Show. Since her season has aired, she has spent her time perfecting new original recipes, including this delicious Pumpkin Coffee Cake with Cinnamon Streusel.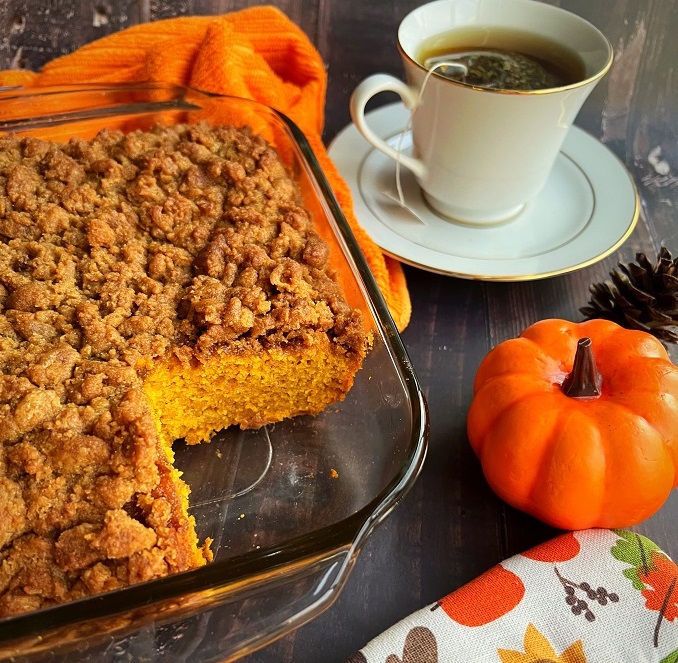 Pumpkin Coffee Cake with Cinnamon Streusel
Ingredients:
Cake:
2 cups (240g) all-purpose flour
1 cup canned pumpkin puree
1⁄2 cup milk, room temperature
1 large egg, room temperature
1⁄4 cup unsalted butter, softened
3⁄4 cup (150g) dark brown sugar
2 1⁄2 tsp baking powder
1 tsp vanilla extract
1 tsp salt
2 tsp ground cinnamon
1 1⁄4 tsp ground cardamom
3⁄4 tsp ground nutmeg
1⁄4 tsp ground ginger
1⁄4 tsp ground cloves
Streusel:
3⁄4 cup (150g) dark brown sugar
1⁄2 cup (60g) all-purpose flour
4 tbsp unsalted butter, room temperature
1⁄2 tsp cinnamon
Pinch of salt
Directions:
1. Preheat your oven to 350F. In a medium bowl, sift the flour, baking powder, salt and spices. Set aside. In another bowl or the bowl of a stand mixer, cream together the butter and brown sugar. Mix in the pumpkin puree, milk, egg and vanilla extract. Add the dry ingredients and mix until just blended. Grease an 8×8-inch pan. Spoon in the batter, smoothing the surface with an offset spatula.
2. Combine streusel ingredients in a medium bowl, and mix together thoroughly using your fingertips to rub the ingredients together. Crumble streusel evenly onto the surface of the prepared batter.
3. Bake for 45-50 minutes or until golden brown and a toothpick inserted in the middle comes out clean. Serve and enjoy!
Note: The cake itself is not too sweet, but the streusel is! This should balance the spices and sweetness, as well as the soft and crunchy textures.